How To Update Your Old Car To Run Like New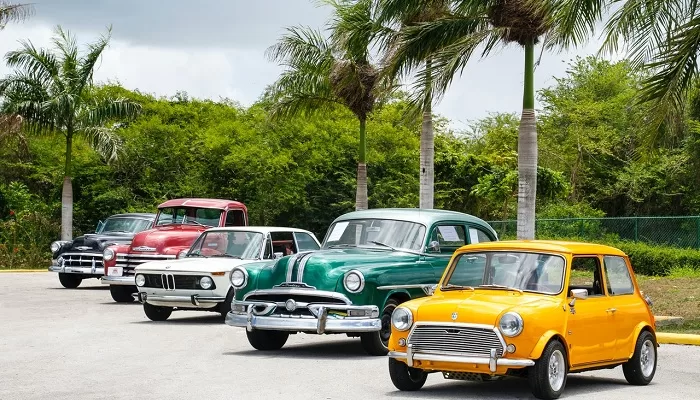 In the consumer culture of today, we see our belongings as more and more disposable as time goes on. Particularly when it comes to vehicles, financing systems like lease to buy mean that when a car reaches a certain age, you can simply trade it in for a new one and start the cycle again. Although there's nothing wrong with these systems, some vehicle owners prefer to keep their older cars and continually maintain and repair them. We all know that retro cars will never go out of fashion – so if that's your bag, you will know that maintaining the safety and smooth running of an old car takes work and knowledge. If you are concerned about an old car you have bought, have it checked over by a professional mechanic who can assess its safety and alleviate any issues.
If you love your old car and don't want to trade it in for a new one, or are considering buying a retro car to remodel, read on to explore all the factors you should consider to make it safe and modern. Fasten your seatbelts, there's no time to waste!
1. Rims and tyres
The rims and tyres on your car are vital for both safety and efficiency. While they aren't the most expensive things you will purchase for your car, tyres are one of the most crucial in terms of quality, size and suitability to your car. This is because the suspension, balance and contact with the surface of the ground that your car has are all determined by its tyres. With old, worn out or outdated tyres, your car would sustain damage over time that will cost you money down the line.
So how do you know how to update your old car's tyres while still suiting the aesthetic of the car? Old cars tend to have thinner tyres in comparison to the large, chunky ones that are so popular in newer models. With your old car, though, bigger rims and tyres don't necessarily mean the car will run better. Consider discussing your tyre options with a reputable mechanic; there is a balance to be struck between huge tyres which will look out of place and thin, bald ones that won't protect your vehicle at all.
When it comes to choosing rims for your car, many people consider this a more aesthetic choice. The rims you choose should be made from cast aluminium alloy which will not rust or become easily damaged by the elements, nor by the movement of the car.
2. A new engine
When you are updating your old car with new parts, the engine will likely be one of the first things on your mind. Outdated car engines tend to burn fuel far more quickly, making them environmentally unfriendly and making them far more expensive to run than a newer car. Not only this, but old engines will not have the same level of engineering and design, meaning that they will be more likely to break down, overheat and generally cause issues. If you have an old car that needs an update, the engine should be a priority.
But how do you know what type of engine your car should have? The first thing to identify is whether the entire engine needs to be replaced, or if it just needs various new parts to be fitted. There is no blanket advice on this; your car should be looked at by a mechanic who can tell you whether it is worth replacing the entire engine altogether, or just updating some parts. There are advantages and disadvantages to each of these options.
If the mechanic advises that your engine should be replaced altogether, this will be the more expensive choice. Nevertheless, don't assume the mechanic is trying to swindle you out of more cash – it might simply mean that in the long run, a brand new engine will be worth your while. A brand new engine has its perks; you will be unlikely to run into issues for some years with a brand new engine, meaning that a higher initial cost will probably even out due to low repair costs.
On the other hand, replacing individual parts in the engine is probably worth it if the car's engine isn't totally shot. Many older car models have extremely well-made engines which might just need a few tweaks and replacement parts for their second life!
3. Bodywork
Updating the bodywork of your old car has two main factors of importance: safety and aesthetic. When it comes to safety, you should have the bodywork of an old car assessed by a professional. Models of car from the late 20th Century often do not have the same strength of bodywork, meaning that you are less well protected in an old car in the event of a crash. Similarly, newer car models like Range Rover have larger engines and tank-like bodywork, meaning that a collision with one of these cars in an old car could be very dangerous. It is essential to have the bodywork on your old car reinforced or rebuilt if you are considering driving it regularly in busy traffic.
Aesthetically, you can take your pick! Many people prefer having the original paintwork of their old car showing for all to see, despite scuffs or scratches – it adds to the retro aesthetic, after all. However, a new paint job would make your old car sparkle like new.
4. Interior upholstery
This is, once again, an aesthetic choice, although the drivers' seat has more purpose than just the "look" your car has. If you are planning to drive every day and take long distance trips in this car, it might be worth replacing the seats in your car to support and protect your back when you drive. If the seats have never been replaced since the car was made some twenty, thirty, or even more years ago, they are likely to be saggy and unsupportive for your spine.
When it comes to choosing new upholstery for your old car, you should consider sticking with the retro feel – think funky patterns and embroidered seat covers – or go for a sleek leather interior which is cool to the touch and easy to clean.
5.The stereo
Old car stereos are the stuff of Hollywood: think Thelma and Louise catching signals on the radio as they steam through the bible belt in blue jeans… The novelty may wear off, though, if you are a music lover who wants to play your carefully curated Spotify playlists while on a road trip or on the way to work. Updating an old car's stereo isn't too much of a challenge; you can usually swap out old stereos pretty easily for an updated version, complete with an aux cable, bluetooth, hands free calling and all the up to date gadgets of a brand new car.
How much will a new stereo cost? This entirely depends on the type of replacement you are looking to install. Brand new dashboard devices with all the trimmings can cost upwards of $1000 to buy, plus installation costs. If you are looking for something far simpler, however, you should be able to have one installed for a few hundred dollars or less. That way, you can cruise in your old car while jamming to the latest tunes and talking on hands free calls. The best of both worlds!
6. Clutch and gearbox
The clutch and gearbox are essential components of any non-automatic vehicle. There's no way around it; you can't drive a stick-shift car without these two components working perfectly. These are parts which wear out over time, particularly if you don't drive carefully. If you 'ride the clutch', meaning resting your foot on the clutch pedal even when you are not actively using it, the clutch can wear out and need replacing every five to ten years. With careful driving and regular repairs, a clutch can last fifteen or twenty years. Nevertheless, these parts will eventually need to be replaced and, unfortunately, they are not cheap.
When buying an old car to remodel it, it is vital that you find out when the clutch and gearbox were last replaced. If the replacement was ten or more years ago, then prepare to factor in the cost of replacement within the first few years of owning the car. These are unavoidable costs which should be carefully considered. Having a reputable mechanic replace the clutch and/or the gearbox in your car will put you out a few thousand bucks, but that's just life in the fast lane!
Conclusion
If you love old cars and don't want to fall prey to the habit of disposing of cars when they begin to age, invest in an old car and update it. Using this comprehensive guide, you can safely drive an old banger into the new generation of vehicles, keeping a retro aesthetic while investing in a vehicle which could last for years and years to come.