How To Buy Bitcoin With A Credit Card – Join The Modern Trends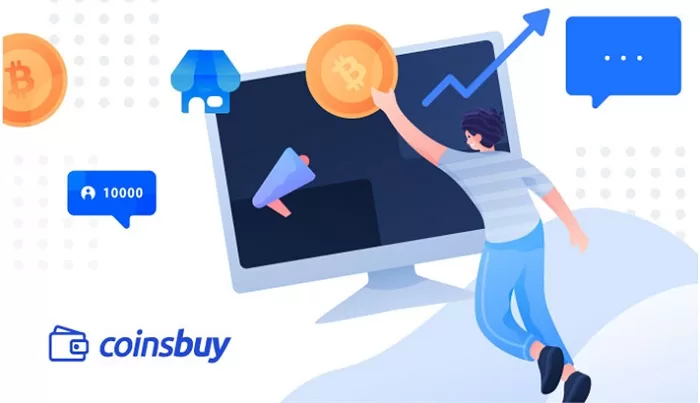 Since the beginning of 2021, Bitcoin has broken its all-time highs four times. If to take into account the yearly growth, BTC has brought holders 951% of profit, overcoming gold, stocks, and other investment instruments. The first crypto attracts the attention of institutional investors, global banks, and world-known corporations. Meanwhile, where to buy Bitcoin with credit card – private investors need to get a straightforward answer to join the modern trend.
Why is Coinsbuy the best answer to your crypto investing questions?
Coinsbuy understands that digital currencies are not just a trend. Humanity is on the threshold of the world's economic revolution, and crypto-assets are step-by-step moving towards mass adoption. This said the platform offers a safe and understandable solution for everyone. No pitfalls attached!
What are the core values the platform relies on?
Newcomers are offered to Complete the registration, verify your account, and become a holder of the first cryptocurrency. You wouldn't have expected that it can be such a simple matter.
Cryptocurrency wallets opened on Coinsbuy are suitable for both investments and everyday use. The platform enables holders to receive, send, and exchange their crypto funds in several clicks.
The platform empowers users to activate the highest level of security that includes 2FA Authentication and the white list of crypto addresses.
Top-5 reasons to buy Bitcoin now
Are you still waiting for new development in the crypto situation? The crypto market shows that the role of a passive onlooker is not the best solution, while Bitcoin is the key driving force of the sector. Why should you buy Bitcoin with credit card?
The first crypto is tooled for constant price growth. Furthermore, every moment the number of unmined Bitcoins decreases; this is why Bitcoin is called the "digital gold".
The number of BTC-accepting businesses grows fast, and holders may buy a set of goods and services for the first cryptocurrency.
Only 5% of Bitcoins are being traded now, while the vast majority of coins are under the management of long-term investors.
Bitcoin has got the support of institutional investors – more than 30% of these major players included the first crypto in their portfolios.
Bitcoin gets the second breath through the establishment of ETFs and investment trusts that grow rapidly.
This said, it's high time to get Bitcoin, and Coinsbuy suggests diverse options to use BTC investments: buy, hold, sell, and exchange popular cryptocurrencies with a safe, straightforward, and multifunctional platform.
The Coinsbuy core mission lies in connecting people and the digitized economy, opening holders access to the financial system where you don't need to waste your time anymore.