How Augmented and Virtual Reality will Change Real Estate Marketing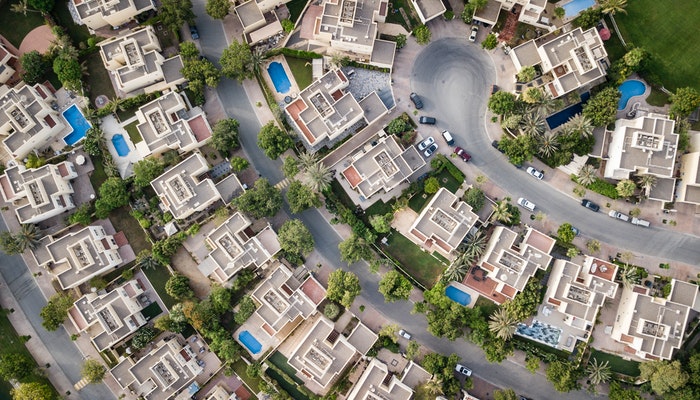 The benefits offered by augmented and virtual reality to the real estate sector are significant; in fact, many real estate companies had already begun to invest in solutions of this kind long before the outbreak of the COVID-19 pandemic.
However, this pressing change in circumstances led to a leap forward in the implementation of AR and VR solutions across the industry – and that progress is likely to continue for some time to come.
So, what are AR and VR, and how will they change the future of real estate? In this article, we'll be exploring this question with a particular focus on marketing within the field.
What is Augmented Reality?
Augmented Reality, or AR, allows the user to enhance images of the real world in an interactive manner using specialist technology.
For example, a smartphone or tablet may utilize AR technology alongside its camera to "superimpose" the to-scale rendering of an object onto the image of any area at which it is pointed.
You'll see the real world surroundings through the screen, but the software will appear to "augment" those surroundings to include the additional element. It's even possible to "move around" the new object as it stays in place.
What is Virtual Reality?
Virtual Reality (VR) is an interactive technology that is not anchored in images of the "real world", but is entirely simulated.
Whether through use of a specialist headset or some other form of hardware, a user can be "transported" into a virtual environment in which they may interact with their surroundings in a number of set ways.
So – how can AR and VR make a difference to real estate marketing?
Virtual Viewings
Virtual viewings are a great way to enable house hunters to explore and examine a property while maintaining a safe social distance and without having to travel to the building itself.
Interactive 3D renderings of a property can be shared online via the relevant agency's website, and anyone interested in buying it can "walk around" this detailed map at any time.
This approach saves time for both the real estate agent and the client, as it helps prospective buyers to significantly narrow down their range of options in a very short space of time, without having to go to each property in person.
This makes it less likely that an in-person viewing will be arranged unless it is highly likely that a purchase will be made.
Agent-Led Walkthroughs
Real estate companies can also facilitate a similar kind of VR viewing experience with the addition of narration or useful information from an agent.
This can either be recorded in advance, or an appointment can be made for the "walkthrough" to take place with the agent interacting with the users live.
The latter option is very helpful if the prospective buyers have any particular questions to ask then and there regarding the property, as the agent can "show" them answers during the "tour".
"With the aid of clever interactive elements, an agent may even be able to suggest certain changes by demonstrating them then and there with the help of virtual reality," comments Ruban Selvanayagam of Property Solvers (a property buying / development company in the UK).
For example, if there is the possibility that a space could be changed to open-plan, viewers could be shown what this might look like by way of the agent "toggling" a wall into and out of the 3D rendering.
BIM
BIM, or building information modelling, is an extremely useful tool in the construction sector. Augmented reality is used extensively here, as it helps construction specialists to visualize exactly how a new project is to be laid out, and in what order each job is to be done.
3D modelling is used to show the stages of a build in detail, right down to the wiring, insulation and pipes, including information on the materials used.
BIM also has great potential as a marketing tool.
Not only does it help construction firms to communicate their process clearly to a client, presenting them with a range of different options and their relevant prices by revealing exactly how they will work in practice, but it also offers a great opportunity to agents selling off-plan.
Using BIM AR or VR, an agent can show potential clients what the area looks like currently, what it will look like finished, and any variation between properties in a wider development that they should take into account before choosing one to buy.
BIM can also be helpful for agents selling or letting similar-looking apartments in a block.
By presenting a virtual "show apartment", potential tenants or buyers will be able to get a clear idea of what each one looks like, without the building having to sacrifice actual space for this purpose.
Property "Staging"
Staging is a great marketing tool; it captures the client's imagination by showing them the potential of the property they are considering.
A bare room can be relatively uninspiring, but a real estate agent may utilize AR to present that space with attractive furniture and artwork in place, in a range of configurations, to make each area feel dynamic and more personally attractive to the client.
The above approaches are just a few of the ways in which AR and VR will continue to make waves throughout the real estate industry. With considerable progress being made every day, it seems inevitable that endless opportunities will continue to arise further down the line.