Healthy Living begins right here at Treetops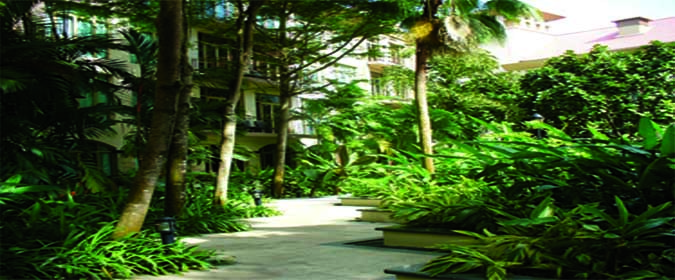 Healthy living in its truest form is about sustaining our state of well-being, be it physical, mental or spiritual.
We aspire to bring to you a holistic experience of healthier living right when you step into Treetops Executive Residences. Take in a glorious medley of flora and fauna set within five acres of native plants and trees and break away from the daily demands of life! Slow down your pace and enjoy the comfort and companion of nature right at your doorstep. Let your body, mind and soul invigorate as you tune in to soothing serenade of the cascading waterfall features. As an award-winning green serviced apartment in Singapore, Treetops harmonizes seamless hospitality with caring for your well-being, ensuring you begin each day with renewed vitality when you stay with us.
With Treetops strong belief in providing an all-rounded approach to sustaining a healthy living, we are committed to providing you with only the best experience. Avail yourself for the range of facilities we provide at the eco-luxurious resort style serviced apartment in Singapore, from the swimming pool, jacuzzi, gymnasium, sauna room, tennis court, jogging track and spa services. In addition, our apartments are equipped with greener touches such as high efficiency indoor air filtration system that will ensure a proper balance of oxygen levels for you to breathe easily, orthopaedic mattress for better rest everyday, as well as organic bathroom amenities to care for your delicate skin.
While the greener environment that one stays in play a role in shaping a healthy living, diet is said to be the other essential factor not to be missed. Here at Treetops, your health matters to us. A well-balanced diet can be specially prepared by our in-house Sunbird Café using the freshest and finest ingredients.
Return to a home away from home where you can truly relax, recharge and rejuvenate your body, mind and soul. Live in the moment, heal your mind and be in harmony with nature. Embark on a healthier journey today, only at Treetop Executive Residences, the greener choice for serviced apartments in Singapore.