GREEN WELLNESS AT TREETOPS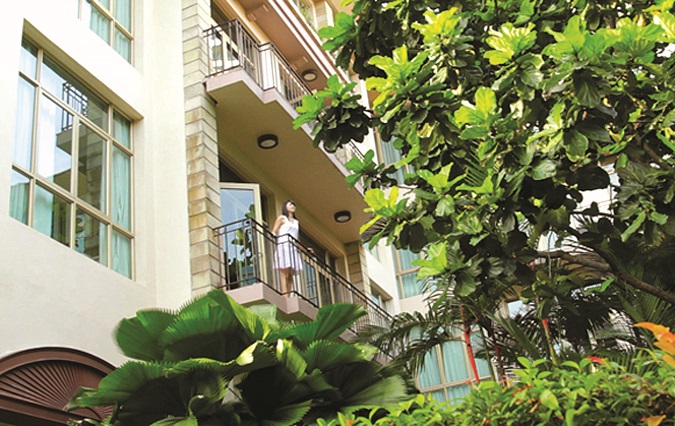 ECO-LUXURY LIVING FOR THE BODY MIND & SOUL
"A healthy body and mind is the key to leading a fulfilling and happy life."
If you seek a relaxing travel experience, where nature, luxury and hospitality meet in harmony for total wellness of the body, mind and soul, Treetops Executive Residences is the place for you. An eco-friendly and holistic sanctuary located near Orchard Road, just steps away from the heart of the Singapore city, Treetops brings the top priorities of comfort and convenience to the traveller. Treetops' philosophy, Discover Green, harmonises their ethos of warmth, hospitality and healthy living, bringing you a residential concept that will nurture your body, mind and soul for total wellness.
Unwind and surround yourself with five acres of luscious greenery at this exclusive green serviced apartment in Singapore. A green environment that greets you every day offers significant benefits for your personal well-being; it enhances recovery and rejuvenation of the body, promotes greater relaxations for the mind and encourages calm and peace within the soul.
In addition, Treetops Executive Residences also promotes sustainability and healthier living with an extensive range of green features. Get started with an exclusive eco-lifestyle at Treetops, one of the only green serviced apartments in Singapore that offers you the finest in eco-luxury living.
With an in-house café that offers healthier food options, guests who are more health conscious can choose from a delectable selection of speciality dishes. In the day, feel free to have a relaxing swim in Treetops' luxurious pool surrounded by cascading waterfall or workout at the well-equipped gym. Finish off with a relaxing massage at their spa boutique for total invigoration.
As a serviced apartment in Singapore, Treetops knows what's best for your body. All the mattresses used in Treetops are certified and designed for correct posture (and backbone) support, ensuring the best comfort of their guests to have good quality sleep. The apartments are also fitted with high efficiency air filters to ensure that the air you breathe in is of the best quality.
For a luxurious escapade in the Singapore City, look no further. Revive your senses, rejuvenate your body and soothe your soul at Treetops.
Amidst Treetops' wide range of amenities and services to care for your daily, recreational and business needs, Treetops serviced apartment Singapore is the preferred choice of home for travellers round the world.