GapKids Launches Limited-Edition Collection with kate spade new york and Jack Spade
Continuing Gap's trend of like-minded designer collaborations for GapKids and a first foray for the Kate Spade & Company brands into childrenswear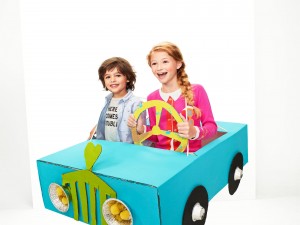 NEW YORK, October 2014 – Gap is thrilled to launch kate spade new york and Jack Spade for GapKids, a limited-edition girls' and boys' apparel and accessories collection for Holiday 2014. This marks kate spade new york and Jack Spade's first foray into childrenswear as well as the first time the Kate Spade & Company brands will partner together.
Launching in select Gap stores in the United States, Canada, United Kingdom, France, Hong Kong and Japan and on gap.com on October 30th, the childrenswear collection, which will be available for two weeks only, embraces child-like imagination with festive and whimsical styles in toddler and kids sizing. The collection blends the playful feminine and colorful twists of kate spade new york and the energetic charm of Jack Spade with GapKids' iconic American style.
Retaining the DNA of kate spade new york and Jack Spade, inspiration was taken from the collection's archives. The collection features recreated signature pieces from the past, downsized and in fabrics more suited to children's play and adventure.
"Collaborating with iconic American brands such as kate spade new york and Jack Spade is a way of bringing style and optimism to the GapKids customer," said Rebekka Bay, Creative Director and EVP, Gap Global Design. "We really wanted to celebrate the best of all three brands, the casualness of GapKids, the playfulness and prettiness of kate spade new york and the quirkiness of Jack Spade."
"I couldn't think of a better partner than Gap to collaborate with on a children's collection," said Deborah Lloyd, Chief Creative Officer, Kate Spade & Company. "Their colorful and playful spirit aligns perfectly with ours and they've helped us realize our vision of dressing little ones head to toe in kate spade new york and Jack Spade for their next big adventure."
Focusing on a child's carefree sense of adventure and excitement, the collection follows a brother and sister imagining their way through a magical journey to grandmother's house during the holiday season. The idea of packing for a family holiday reunion, celebrating the journey seen from the back seat of the car, the actual celebration and the overnight stay, are themes that can be seen throughout.
Collection favorites include charming dresses, clever graphic sweatshirts, witty winter accessories and stylish tech cases marrying the brands' aesthetics and allowing kids to be kids. Fit and flare dresses and button down tops for girls are played up with the kate spade new york signature bow print. Sassy sayings such as "Here Comes Trouble", "Skirt The Rules", "Pretty Sneaky", and "Are We There Yet?" can be found on girls' and boys' fashion and accessories. Mittens with playful quotation marks, knit hats with antlers and hot dog printed scarves speak to the whimsy of the winter collection. Highlighting the fun and quirky nature of the Kate Spade & Company brands, graphic tech accessories feature hamburgers, notebooks and emojis.
With prices starting from $9.95 up to $130, the collection will be available in select Gap stores and on gap.com starting on October 30th for two weeks only.
About GAP
Gap is a global apparel and accessories brand focused on delivering casual, American style. The brand offers classic, iconic clothing that helps customers express their individuality through its Gap, GapKids, babyGap, GapMaternity and GapBody collections. With an optimistic point of view and belief that everyone can make their creative mark in the world, Gap embodies what it means to be bright. Founded in San Francisco in 1969 by Donald G. Fisher and Doris F. Fisher, the brand has grown from one store to over 1,700 company-operated and franchise retail locations around the world. Gap is the namesake brand for leading global specialty retailer, Gap Inc. (NYSE: GPS) which includes Gap, Banana Republic, Old Navy, Piperlime, Athleta, and Intermix. For more information, please visit www.gapinc.com.
About Kate Spade New York
In 1993, Kate Spade designed the utilitarian bag she had been craving for years but couldn't find anywhere and so began a revolution in the accessories market. Simple silhouettes with clever details and crisp palettes soon established a visual shorthand for the brand that's recognizable the world over. In 2007, Kate Spade turned the reins over to the design powerhouse, Liz Claiborne Inc. which then became Fifth & Pacific Companies Inc, and now operates under Kate Spade & Company (NYSE: KATE). Deborah Lloyd, formerly of Banana Republic and Burberry took the helm as Chief Creative Officer with an aim to broadening the line while honoring Kate's rich history. Today you'll find the brand on the arms of women everywhere with nearly 300 kate spade new york stores worldwide and a thriving e-commerce business.
About Jack Spade
Jack Spade began in 1996 out of a warehouse on Warren Street in New York City. It grew out of the idea that useful items could also be stylish. The first JACK SPADE bag was sold to a hardware store in 1997. Today, Jack Spade has grown to include clothing, small goods and accessories. It remains true to the idea that good design solves a problem with straightforward solutions, using timeless and durable materials. Jack Spade can be found online at www.jackspade.com, in their 13 retail stores in the US, Japan and UK, and in top select stores worldwide.