Fun Education: Kaspersky Launch Resources to Further Teach Children About Internet Safety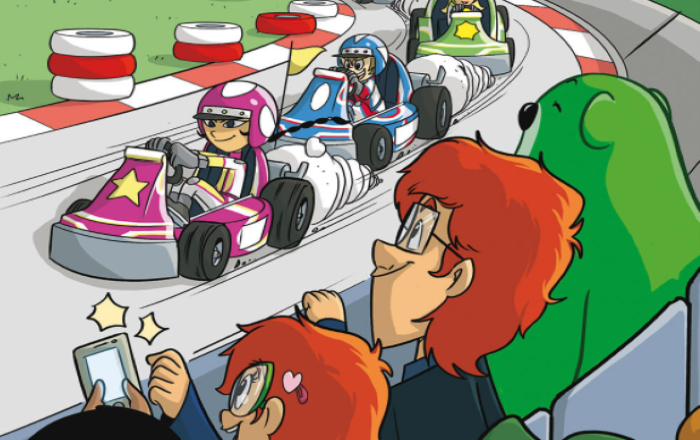 In a drive to educate the next generation of internet users in a fun and engaging manner, global cybersecurity company Kaspersky is set to launch a landing page full of resources in support of the book 'Midori Kuma and a Very Special Race'. The recently published book, which is aimed at six to eleven-year-olds, has been written by well-known children's book author and journalist Alessia Cruciani. From Milan, Italy, Cruciani is also known for her work at newspapers La Gazzetta dello Sport and Il Corriere della Sera.
The book follows the adventures of Midori Kuma, a special green bear who is curious, gentle, and wise. Midori Kuma is Kaspersky's mascot and brand character that helps to educate children on the importance of cybersecurity, and how it provides access to a better future. In the new book, Midori Kuma goes on a special adventure, together with his friends Lola and Peter, to discover the secrets of a go-kart circuit. The book is beautifully illustrated throughout by respected Disney and Pixar cartoonist Gianfranco Florio.
The new special landing page for children will include fun activities to help kids learn how to behave safely online, and a download for the book – which will be available in English, French, German, Italian, Portuguese, and Russian. They can also engage with a coloring book to print off at home and a quiz that, on completion, gives them a special Kaspersky Safe Kids license. The landing page also includes information for parents on Kaspersky's Safe Kids app that help to keep children safe online. Overtime, the website will be updated with additional content and activities for kids.
As well as the book download, there is also an audiobook based on the story, which will be available on a number of online platforms, as well as the landing page. In the Russian version of the audiobook, Eugene Kaspersky reads a part of the book, giving his voice to one of its characters, the wise mechanic who helps the kids to stay safe online.
"In our increasingly connected world, children start using digital devices from an increasingly early age, often not supervised by an adult. Although children are very good at using smartphones and tablets, they don't really know the potential of these tools and also what online threats they can be exposed to. We hope that both the book and the website will help to guide kids in their first steps into the digital world, making them feel at ease with surfing the net and offering them all the necessary skills to face any risks," comments Andrew Winton, Vice President for Global Marketing at Kaspersky.
Kaspersky has also been running educational activities in multiple regions to help educate children about online safety and cybersecurity. For example, in Italy, Kaspersky has partnered with Educazione Digitale (Digital Education Platform), a free educational platform recognized by the Italian Ministry of Education, University and Research (MIUR), to launch the "Midori Motorsport" project to educate and raise awareness of basic cybersecurity issues among children. Kaspersky has made an appeal to over 60,000 Italian school teachers already registered on the platform, inviting them to participate in the initiative.
Young readers and their parents can access the book and all accompanying information to help them use their connected devices safely in the future on the landing page.
About Kaspersky
Kaspersky is a global cybersecurity and digital privacy company founded in 1997. Kaspersky's deep threat intelligence and security expertise is constantly transforming into innovative security solutions and services to protect businesses, critical infrastructure, governments and consumers around the globe. The company's comprehensive security portfolio includes leading endpoint protection and a number of specialized security solutions and services to fight sophisticated and evolving digital threats. Over 400 million users are protected by Kaspersky technologies and we help 240,000 corporate clients protect what matters most to them. Learn more at www.kaspersky.com.