First Bank in Singapore to Launch New Cloud-Based Data Centre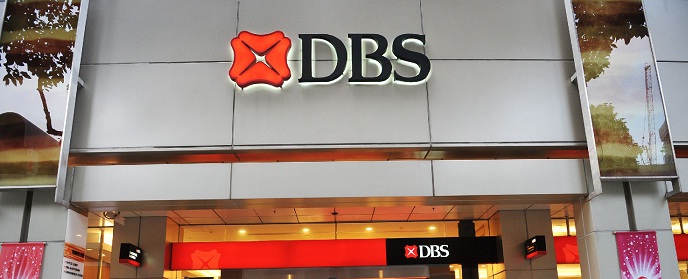 New private cloud data centre to be a quarter the size of existing data centre; 75% cheaper to run
Greater energy efficiency in line with bank's commitment to sustainability
DBS Bank announced a partnership with leading data centre provider, Equinix[1], to transform one of its traditional data centres in Singapore into a cloud-optimised centre.
This new initiative will enable the bank to move its main data centre to significantly smaller premises, which are a quarter of the size of its existing data centre. This will make the new centre 75% cheaper to run.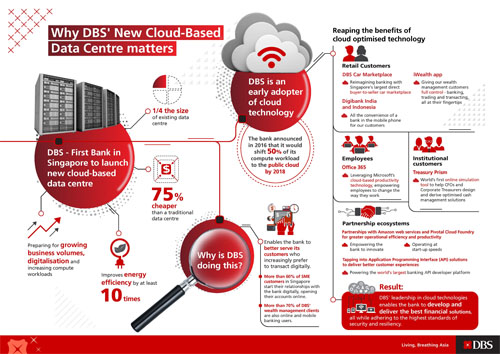 The bank is able to reap these benefits as it has been working on migrating to cloud-optimised technology in recent years, resulting in huge efficiency saves while increasing storage and computing capacity by 7x since 2014. The expertise built up in this time has culminated in it being able to run a more efficient technology architecture and infrastructure, resulting in massive cost savings for the bank.
With growing business volumes and digitalisation, compute workloads at the bank have doubled in the last three years and are expected to see continued significant growth. The Equinix collaboration will further fortify DBS' cloud infrastructure and improve the bank's ability to be even more agile and scalable. It will also contribute towards advancing the bank's sustainability agenda by improving energy efficiency by at least 10 times.
DBS is an early adopter of cloud technology and has announced that it would shift 50% of its compute workload to the public cloud by 2018. Last year, the bank launched cloud partnerships with Amazon Web Services and Pivotal Cloud Foundry, empowering it to innovate and operate at start-up speeds. It has also leveraged Microsoft's cloud-based productivity technology, Office 365, in the workplace, enabling employees to change the way they work, making a leap forward in terms of mobility, efficiency and productivity. As a result, DBS today operates in a hybrid cloud environment, which is optimised for rapid changes of capacity and functionality.
The banks' aggressive drive towards cloud technology for its applications underlines its commitment to digitally transform the bank from client facing functions all the way to backend processes. This will enable the bank to better serve its customers who increasingly prefer to transact digitally[2].
David Gledhill, DBS' Group Chief Information Officer and Head of Technology and Operations said, "By being a leader in adopting cloud technologies, DBS can deliver more customer value through our ability to experiment and scale quickly. Our teams are able to iterate and deliver products to our customers at a much faster rate, while adhering to the highest standards of security and resiliency. With the new cloud data centre, we are able to significantly increase our energy efficiency as well as drastically reduce our carbon footprint."
Last month, DBS joined RE100, a global renewable energy campaign that brings together influential global businesses committed to using 100% renewable energy to power their operations. This is a first for an Asian bank. DBS has set a target to power 100% of its Singapore operations using renewable energy by 2030.
Earlier this year, DBS launched Singapore's first green bond by a financial institution, with proceeds going towards financing green projects. DBS was also the first Asian bank to have its global international express shipments carbon neutral.
In addition, DBS became the first bank to achieve the Green Mark certification endorsed by the National Environment Agency and received the certification for over 20 branches, with two branches awarded the Gold Plus Green Mark Award. The bank was also conferred the BCA Green Mark Platinum and Gold Award for its office buildings at Marina Bay Financial Centre and Changi Business Park earlier this year.
[1] Equinix, Inc. (Nasdaq: EQIX) connects the world's leading businesses to their customers, employees and partners inside the most interconnected data centres in 48 markets across five continents.
[2] For example, more than 60% of SME customers in Singapore start their relationships with the bank digitally, opening their accounts online. More than 70% of DBS' wealth clients are also online and mobile banking users.
About DBS
DBS is a leading financial services group in Asia, with over 280 branches across 18 markets. Headquartered and listed in Singapore, DBS has a growing presence in the three key Asian axes of growth: Greater China, Southeast Asia and South Asia. The bank's "AA-" and "Aa1" credit ratings, is among the highest in the world.