FENTY X PUMA Unveils Avanti: Rihanna's Latest Iconic Collaboration with PUMA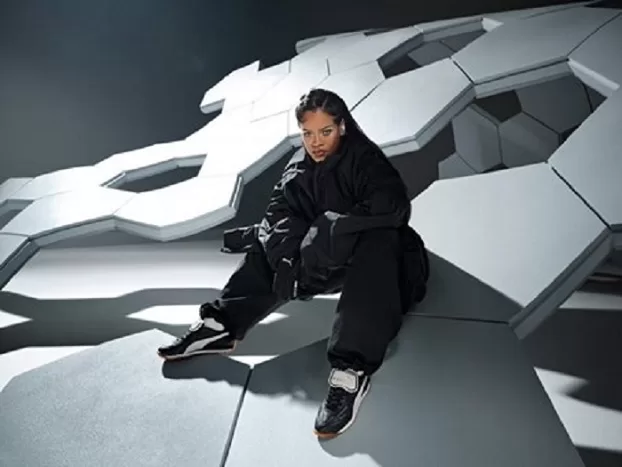 In a dazzling display of creativity and innovation, global icon Rihanna and renowned sports company PUMA have once again joined forces to introduce their latest product franchise: FENTY x PUMA. This dynamic collaboration sees Rihanna return to the helm as the Creative Director, cementing a multi-year partnership with a series of exciting product launches on the horizon.
The revival of FENTY x PUMA beautifully marries PUMA's rich sports legacy with Rihanna's iconic status as a trailblazer in music, culture, and fashion.
The inaugural offering, the FENTY x PUMA Avanti, ingeniously combines the high-quality leather design of the King football boot with the outsole of the heritage running shoe, Easy Rider, resulting in a truly unconventional and captivating footwear line.
With a history of disrupting conventional sport styles, Rihanna and PUMA have left an indelible mark on the world of fashion since their partnership's inception in 2015. From the iconic Creeper to the FENTY x PUMA trainer and fur slide, their collaboration has consistently pushed boundaries. The Avanti, however, stands as a testament to their commitment to redefining sport fashion through bold design.
In 1968, the original PUMA King football boot was born, worn by icons like Eusebio, Pelé, and Maradona. In 1978, the PUMA miele started a new jogging shoe franchise which would eventually evolve into the PUMA Easy Rider. In 1998, Jil Sander and PUMA launched the first ever fashion collaboration blending these two styles with the Jil Sander King. This shoe served as the design inspiration of the Avanti which was later established by PUMA in 2001.
Now in 2023, Rihanna has added her personal design language and creative elements, from the details of the leather to the gum of the outsole, putting her very own spin on this classic PUMA style.
Creative Director Returns: Rihanna renews partnership with PUMA as Creative Director of FENTY x PUMA, signifying a multi-year collaboration with numerous product releases in the pipeline.
Fusion of Heritage and Icon: FENTY x PUMA Avanti, the inaugural footwear line of the collaboration, marries the premium leather design of the King football boot with the outsole of the revered heritage running shoe, Easy Rider.
Legacy of Disruptive Fashion: Rihanna and PUMA have a history of revolutionizing sport styles, dating back to the iconic Creeper in 2015. This collaboration birthed various footwear and apparel collections, including the FENTY x PUMA trainer and fur slide.
Catalyst for PUMA's Impact: With four fashion shows in New York and Paris, FENTY x PUMA has played a pivotal role in elevating PUMA's brand influence and relevance over the last decade.
Football-Inspired Design: Rihanna's passion for football serves as the foundation for this footwear franchise, ushering in a new era of sport fashion partnerships with PUMA.
Inclusive Offering: FENTY x PUMA ensures accessibility for the entire family, offering a collection that exudes coolness for both kids and parents. The Avanti is available as a unisex shoe for adults and kids alike.
Historical Roots: Originating in 1968, the original PUMA King football boot was worn by legends like Eusebio, Pelé, and Maradona. The Avanti draws inspiration from this rich legacy, combined with design elements from Jil Sander's 1998 collaboration, and now Rihanna's personal touch in 2023.
Rihanna's Influence: Rihanna imparts her unique design language to the Avanti, from leather details to the gum outsole, adding her distinctive spin to this timeless PUMA style.
Rihanna's Reflection: "I wanted to bring something iconic from the archives to the street, and the late great Pelé made the Avanti shoe so iconic," said Rihanna.
PUMA's Excitement: Maria Valdes, Chief Product Officer at PUMA, expresses enthusiasm for the partnership, highlighting the collaborative effort to bring the Avanti to life and looking forward to future projects.
Avanti Details: The Avanti boasts buttery soft vintage leather, a fold-over tongue featuring a debossed and printed gold-foil FENTY and PUMA CAT logo. With a gum outsole and leather footbed, it pays tribute to PUMA's extensive history in football. The black and white version is complemented by a chrome execution with laser-etched logos and leather chrome details.
The FENTY x PUMA Avanti signifies not only a brilliant fusion of football-inspired design and fashion but also a celebration of PUMA's illustrious history. Rihanna's imprint on this classic PUMA style injects a fresh vitality into the legacy, creating a shoe that bridges eras and transcends generations. As fans eagerly anticipate the Avanti's arrival, it's evident that this collaboration is poised to make yet another indelible mark on the world of sport fashion. With Rihanna and PUMA at the helm, the Avanti is set to lead the charge into a new era of athletic-inspired style, proving that the power of creative partnerships knows no bounds.
Source: PUMA