Facebook Flash Sales from Accessory Mercado Offer High-End Style Accessories for Low-End Prices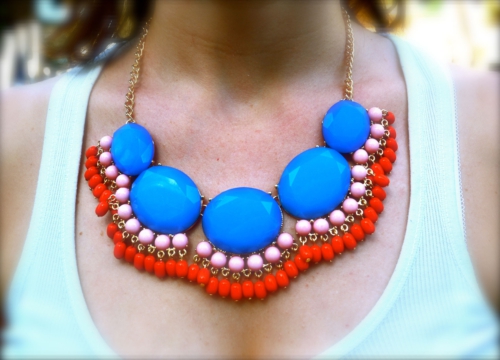 Designer-inspired goods are sold to fastest shoppers exclusively at www.Facebook.com/AccessoryMercado
CHICAGO, June 28, 2013 /PRNewswire/ –– Have you heard about the newest way to shop online? Facebook flash sales are emerging as the most exciting way for consumers to purchase products, and Accessory Mercado is at the cutting edge of this exhilarating, dynamic trend.
Launched in May, Accessory Mercado sells designer-inspired accessories such as necklaces, earrings, bracelets, scarves, and even watches exclusively on Facebook.
Here's how it works: Every Wednesday starting at 8 p.m. Central Time, Accessory Mercado begins a Flash Sale by posting pictures on Facebook of 20–30 of the newest looks in accessory fashion.  Unlike other flash sales, Accessory Mercado's sale is not an auction. The item's price and quantity are predetermined and listed next to the item's photo. 
The winner or winners, depending on quantity, are those lucky ladies to type "sold" in the item's comment section the fastest.  Accessory Mercado then emails the winner an invoice, and, once paid, the purchased item is mailed to her in no more than 48 hours.
Just as the term flash sale implies, Accessory Mercado's flash sale is only 16 hours; however, most of the styles sell out much quicker. That's because Accessory Mercado's collection of super-affordable neck and wrist candy is inspired by the hottest designers like Michael Kors, Tory Burch, and Anthropolgie — but at an attainable price point. In fact, most items cost less than$30. Plus, shipping is always free in the Continental United States.
The entire experience is digital, seamless, and completely fun.
Learn more about Accessory Mercado at www.Facebook.com/AccessoryMercado.
Contact:  
Angie Taggart  
Co-founder, Accessory Mercado  
Email  
312-752-7124
Pinterest: Pinterest.com/accessorymercad
Instagram: AccessoryMercado
Twitter: @AccessoryMercad
This press release was issued through eReleases® Press Release Distribution. For more information, visithttp://www.ereleases.com.
SOURCE Accessory Mercado
http://www.prnewswire.com/news-releases/facebook-flash-sales-from-accessory-mercado-offer-high-end-style-accessories-for-low-end-prices-213480641.html