Experience AR in a Whole New Way: Nebula's Windows App Brings Screen Sharing to Nreal Glasses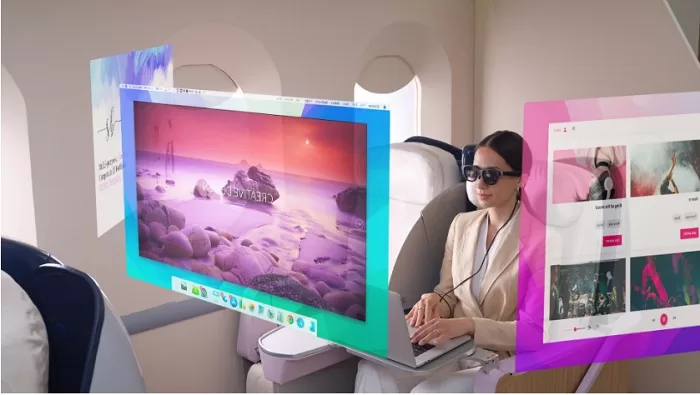 Nebula will soon be available on the Windows platform with enhanced tracking, optimized aspect ratio, and curved virtual screen
Enhanced 3DOF tracking in Nreal Air provides smoother and more accurate tracking, especially for simulation-type games.
Primarily, Nreal Air functions as a virtual screen viewer. Although it does offer AR-native apps, its versatility increases significantly when displaying content from a tethered device, such as a mobile phone or gaming console. The Nebula app enables these capabilities and will soon be accessible on Windows computers.
Nreal's Nebula Ecosystem will undergo changes soon.
Nebula's primary function is to display 2D content in an interactive 3D space. To fully utilize the capabilities of Nreal's AR glasses, such as the Nreal Air, Nebula must be installed on the device. Initially, the glasses only supported the Android operating system, but later updates enabled compatibility with Mac and several gaming consoles.
According to a recent announcement by Nreal, Nebula will soon be available on the Windows platform with additional features such as improved tracking, optimized aspect ratio, and a curved virtual screen. The 3DoF tracking feature was highlighted as particularly useful for gamers engaged in simulation-style games.
Enhanced 3DOF For Nreal AR Glasses
Nreal Air, will feature enhanced 3DOF tracking capabilities. 3DOF stands for "three degrees of freedom," and refers to the ability to track rotational movements along three axes: pitch, yaw, and roll.
According to Nreal, enhanced 3DOF tracking will provide smoother and more accurate tracking for users, particularly those playing simulation-type games. This improved tracking is made possible through advanced algorithms and sensor fusion techniques.
The Nreal Air glasses already offer a relatively lightweight and comfortable design, a wide field of view, and a high-resolution display. Adding enhanced 3DOF tracking should further enhance the overall AR experience for users.
PC Gaming on a Virtual Screen
PC gaming on a virtual screen refers to playing video games on a virtual display rather than a physical monitor or screen. This is made possible through augmented reality (AR) glasses, such as the Nreal Air, which allow users to project a virtual screen in front of their eyes.
With the Nreal Air and its accompanying Nebula app, gamers can tether their PC or gaming console to the glasses and play their favourite games on a virtual screen in a 3D environment. This allows for a more immersive gaming experience, as the screen appears floating in front of the user's eyes rather than being confined to a physical monitor.
In addition to providing a unique gaming experience, virtual screen gaming on AR glasses can also be practical in situations where a physical monitor is unavailable or feasible. It can also be useful for gamers who want to play games in private without worrying about others seeing their screen.
Co-founder Peng Jin expressed excitement about the increasing popularity of Nreal Air among the gaming community and a commitment to providing gamers with the best possible experience. He added that the gaming industry is continuously evolving and that Nebula for Windows will be a game-changer for the desktop gaming market.
When Will Nebula Launch For Windows?
Currently, there is no information about the exact launch date of the Nebula app for Windows. The company has announced that the Windows version of Nebula is in the works, but no specific release date has been shared yet.
Conclusion
Nreal Air, a virtual screen viewer, becomes more versatile when paired with Nebula, an app that allows screen sharing to Nreal AR glasses. The app has been available for Android, Mac, and game consoles, and now it's coming to Windows with enhanced tracking, an optimized aspect ratio, and a curved virtual screen. This is a boon for gamers, who make up the largest user base, followed by those who use it for streaming media and productivity. The Windows version of Nebula is expected to be a game-changer for the desktop gaming market. Additionally, the multiple virtual screens feature can enhance productivity. Though no rollout date has been confirmed yet, this announcement excites productivity and gaming applications.