Emirates Goes All A380 to Manchester; Adjusts A380 Schedule to Birmingham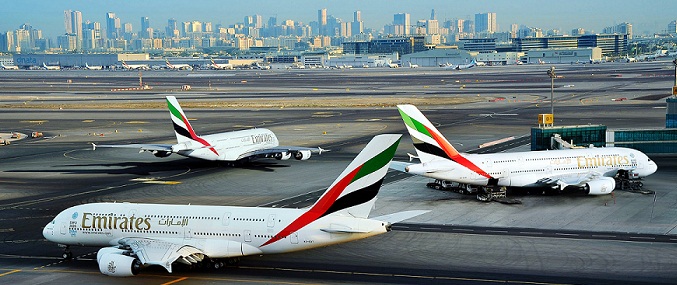 Emirates announced an 11% capacity increase to Manchester with the deployment of a third daily A380 on the route. As of 1st January 2017, the replacement of the Boeing 777-300ER will mean that all Emirates flights to Manchester will be operated by the iconic double decker aircraft.
The airline also unveiled plans to swap its current A380 service at Birmingham from the morning to the afternoon departure slot, in order to offer customers even more connections beyond Dubai to other Emirates A380 destinations – ensuring a seamless "A380 to A380" experience.
Thanks to the new aircraft deployment, Emirates will offer 2,198 additional weekly seats on the route, enabling further business and leisure travel between Dubai and Manchester. The airline also expects to break the symbolic mark of one million passengers carried on the route for this financial year, attesting to the growing demand in the market. With a total of 517 seats in a three-class cabin configuration, the aircraft features 14 private suites in First Class, 76 flat-bed seats in Business Class and 427 spacious seats in Economy Class.
First and Business Class passengers on the Emirates A380 can spend time during their flight relaxing or networking in the renowned Onboard Lounge on the upper deck of the aircraft. Those in First Class can enjoy the exclusive use of the on-board shower spas to refresh during flights. Premium customers are offered complimentary chauffeur drive to and from Manchester Airport, lounge access and priority check-in. Passengers in all classes will enjoy access to free Wi-Fi and over 2,500 channels of films, TV shows, music and games, through Emirates' ice Digital Widescreen, which was recently named the World's Best Inflight Entertainment at the prestigious Skytrax World Airline Awards.
Manchester has been an important destination for Emirates over the last 25 years and the second route launched into the UK after London Gatwick. With 21 weekly flights, Emirates enables convenient and seamless connections to popular destinations such as Bangkok, Perth, Singapore, Mumbai and across Emirates' global network of over 150 destinations. Flight EK21 will depart from Dubai at 0300hrs and arrive in Manchester at 0700hrs. The return flight EK22 will depart from Manchester at 0845, with a 1945hrs arrival time in Dubai.
Emirates is also adjusting its A380 schedule to Birmingham in order to enable even more convenient A380 to A380 connections via its hub in Dubai. As of 1st January 2017, the A380 will operate flights EK37/38 instead of flights EK39/40 as it currently does. Leaving Birmingham at 2045hrs, EK38 arrives in Dubai at 0740hrs; while EK37 departs from Dubai at 1450hrs to arrive in Birmingham at 1845hrs. The A380 service to Birmingham will continue to operate with a two-class configuration aircraft, offering 615 seats in total. Passengers travelling to other destinations across the UK can also take advantage of Emirates' codeshare agreement with FlyBe.
Emirates is the world's largest operator of A380s with 81 currently in its fleet and a further 61 on order. To book your seat on the award-winning Emirates A380, visit www.emirates.com.
About Emirates
The Emirates story started in 1985 when we launched operations with just two aircraft. Today, we fly the world's biggest fleets of Airbus A380s and Boeing 777s, offering our customers the comforts of the latest and most efficient wide-body aircraft in the skies.