Deloitte Consumer Spending Index Reverses Course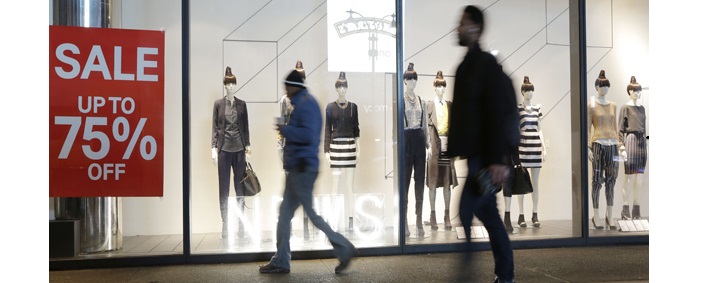 The Deloitte Consumer Spending Index (Index) reversed course, showing an increase in June. The Index tracks consumer cash flow as an indicator of future consumer spendingi.
Source/PRNewswire/
"Strengthening home prices in May and a drop in unemployment claims put the Index in positive territory, showing a consumer's ability and willingness to spend," said Daniel Bachman, Deloitte's senior U.S. economist.  "Although wages are down slightly, there are enough indicators showing the labor market is back, which should offset the wage component's impact on household spending."
The Index, which comprises four components – tax burden, initial unemployment claims, real wages and real home prices – increased to 3.78 this month from 3.67 last month.
"Consumer sentiment is on the rise due to positive unemployment numbers and the so called 'wealth effect' of the stock market, and retailers should look to capitalize," said Alison Paul, vice chairman, Deloitte LLP and retail and distribution sector leader. "As retailers' marketing campaigns go into high gear during the back-to-school season, they will use attractive offers, distinctive events, and promotions to drive traffic.  They should similarly ramp up their analytics capabilities to keep track of where families are shopping and the hot items they buy.  As expected, consumers will use their electronic devices as personal buying assistants, so retailers should also link their marketing messages across mobile and social channels to increase foot traffic and keep that momentum going through the summer."
Highlights of the Index include:
Tax Burden: The tax rate is holding steady for the seventh straight month with a marginal decrease to 11.7 percent.
Initial Unemployment Claims: Claims – at 313,000 – declined 8.5 percent from the same period last year, and 2.4 percent from the prior month's rate of 320,000.
Real Wages: Real hourly wages were up 0.5 percent from this time last year to $8.81, but slightly down by 0.2 percent from the prior month's reading of $8.82.
Real Median New Home Price: New home prices rose 4.2 percent from the prior month to $119,000.  Over the past 12 months they have risen 2.6 percent.
About Deloitte's Retail & Distribution Practice
Deloitte is a leading presence in the retail and distribution industry, providing audit, consulting, risk management, financial advisory and tax services to more than 80 percent of the Fortune 500 retailers.  With more than 1,400 professionals, Deloitte's retail & distribution practice provides insights, services and solutions assisting retailers across all major subsectors including apparel, grocery, food and drug, wholesale and distribution and online. For more information about Deloitte's retail & distribution sector, please visitwww.deloitte.com/us/retail-distribution.
As used in this document, "Deloitte" means Deloitte LLP and its subsidiaries. Please seewww.deloitte.com/us/about for a detailed description of the legal structure of Deloitte LLP and its subsidiaries.  Certain services may not be available to attest clients under the rules and regulations of public accounting.
i The Deloitte Consumer Spending Index is a proprietary methodology that analyzes economic factors to gauge consumer cash flow as an indicator of future spending. Deloitte's analysis includes data from the U.S. Commerce Department, Bureau of Economic Analysis, U.S. Bureau of the Census, U.S. Department of Housing and Urban Development and the U.S. Department of Labor.
SOURCE Deloitte
CONTACT: Courtney Flaherty, Public Relations, Deloitte, + 1 203 905 2708, cflaherty@deloitte.com