Decor Dreams: 5 Tips for Beautifying Your Bedroom Interiors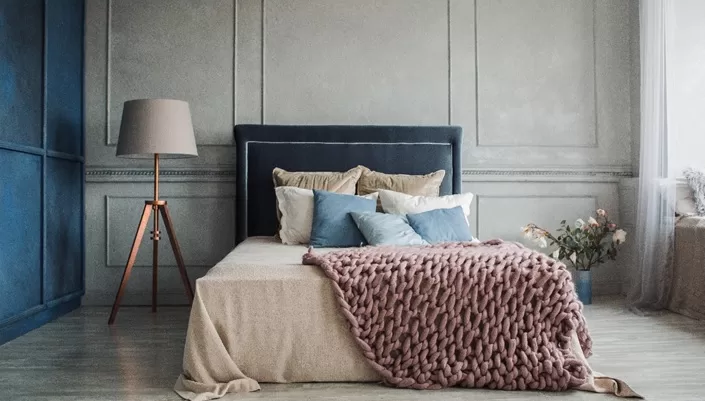 Your bedroom is that part of your home where you spend time with yourself and rejuvenate after a long day. This room should be your peaceful haven and help you take your mind off all the stress that lingers on you throughout the day. Exactly why the décor of your bedroom must be perfect to suit your personality and put you in a calm and refreshed mood. Be it simplistic, vintage or luxury bedroom designs, there's so much to explore.
What follows is a list of seven tips that you can keep in mind to revamp your bedroom interiors and transform your room into your personal safe space.
1. Choose Your Colours Wisely
Colours have a large psychological impact on us – the colour palettes we are exposed to for prolonged periods have a huge part to play in the kind of mood we're in. This is why you must make sure you choose the colours of your bedrooms wisely. Bold, peppy colours might look good for a while, but they can get a bit too much to handle in the long run.
Besides, if you are looking for luxury bedroom designs, it is advisable to go for subdued, neutral hues, or classic accents that calm your mind and instil a sense of peace in your room. Aside from this, lighter colours also tend to make your space appear larger, creating the illusion of a more expansive space for your luxury master bedroom.
If you want a pop of colour for your bedroom interiors, you can go for wall accents and opt for a single bright wall while the rest of them remain neutral.
2. Say Goodbye to Clutter
One of the biggest things that can make your bedroom interiors appear busy and chaotic is clutter. Clutter invites a lot of negative energy into your room and promotes uneasiness and discomfort.
This is why you must get rid of all the unnecessary items from your room and keep the space as open as possible. You can also invest in clutter-busting storage solutions to keep your floor space clean, clutter-free and nail the perfect impression of a luxury bedroom design.
3. Choose the Right Furniture
The right furniture is important to add personality and character to your bedroom interiors. However, there are a few things that you need to keep in mind to make sure you're choosing the correct pieces of furniture for your room. Things like the size, colour, and comfort of your furniture are very important considerations that you need to keep in mind while picking out furniture for your room.
Extremely large and bulky furniture can make your room appear small or cluttered, while extremely tiny furniture can make it appear way too empty. Similarly, off colours can make your furniture appear out of place from the rest of your home décor. So, if you want to achieve a classy setting of luxury bedroom design, choose your furniture carefully.
4. Introduce Multiple Light Sources
Having many different light sources in your room allows you to set the mood as per your liking. You can opt for mood lighting, task lighting, reading lights, lamps, or any other kind of light source that suits your preference.
Having multiple lighting options in your bedroom interiors also allows you to illuminate all the corners of your room and eliminate the chance of having any dark nook.
5. Promote Natural Lighting but Don't Forget the Covers
Natural lighting is one of the most important elements of your bedroom interiors. Windows, balcony doors and other open outlets in your room make it appear open and airy. However, you need to make sure to find appropriate covers for these natural lighting sources to cover them up when you need peace or darkness.
So, these were a few of the most important tips that you can keep in mind while revamping your bedroom. While these tips can help you a great deal, it is always a good idea to get professional advice while starting a project like this.
You will find several excellent interior design brands such as Livspace that can provide end to end bedroom interiors' solutions to help you design the bedroom of your dreams. In addition, they have an extensive portfolio of products and décor offerings that you can explore. To know more about their services, head to their website today!