DBS Hong Kong Makes Banking Intelligent, Intuitive and Invisible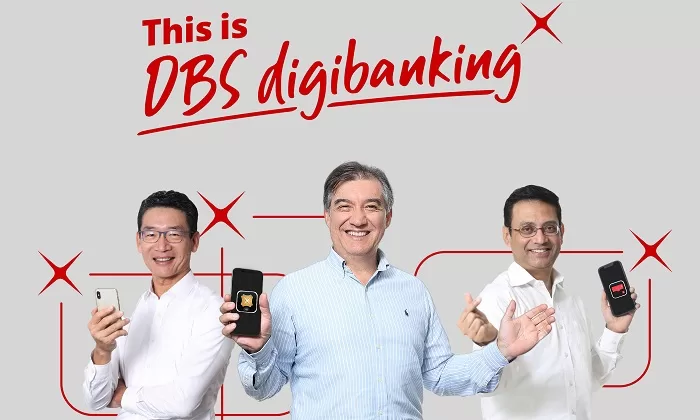 "This is DBS digibanking" campaign takes the center stage and gears up for the digital innovation agenda
DBS Hong Kong is doubling down on its digital banking capabilities amid surging digital adoption under the new normal.  As part of the bank's continuous efforts to redefine banking, the overarching strategy – 'This is DBS digibanking' remains on the forefront of our digital agenda, underpinned by the recent launch of DBS digibank HK app with intelligent banking features and the introduction of Card+ HK app to the market.  The driving force behind "This is DBS digibanking", enables our customers to enjoy a truly personalised digital experience that makes everyday banking, wealth management and private banking intelligent, intuitive and invisible.
Intelligent banking on-the-go with the enhanced DBS digibank HK app, combines predictive analytics and customer-centric design to transform data into a personalised, intuitive – and unintrusive – insights that simplify the way customers manage their finance and investment. Without requiring our customers to step into a branch, customers can manage their wealth effortlessly, and get ahead with actionable insights to make sharper investment decisions amid today's ever-changing market conditions.
This is how banking is redefined with DBS digibank HK app:
Smoother navigation & intuitive design for wealth management
Open a wealth management account fully virtually in just 10 minutes
Invest in equities straight away across 7 international markets
Peek balance of bank accounts and investment portfolio with just one swipe
Prioritise what to see and toggle easily from task to task
Intelligent insights for personalised financial management
View equity watchlists on one personalised screen
Get smart prompts for relevant FX price movements based on customers' needs
Market insights are prioritised and pushed to customers according to investment holdings
Everyday banking solutions done on the go
Scan and pay bills, place time deposits with ease
Transfer funds same day, over 40 destinations, with HK$0 fees
Hassle-free identity authentication with digital token
Coupled with DBS digibank HK app, Card+ HK app is a perfect companion for all your card spend, personal loans and rewards needs. DBS rolled out Card+ HK app in January, pioneered by FinTech innovation, enabling customers to get a new credit card and/ or apply for personal loans with instant cash disbursed in minutes.
Harnessing the power of technology, a newly issued credit card is sent straight to customers' mobile wallet with no paperwork required.  With just a few taps, customers can easily adjust credit & spending limits, report lost card, and redeem irresistible spending rewards anytime, anywhere from one single app – Card+ HK.  Giving customers total control of their finances, payments and rewards. More about DBS Card+ HK here.
DBS Hong Kong CEO Sebastian Paredes said, "'This is DBS digibanking' is a real game-changer that marks another milestone in the bank's consistent efforts to shape the future of digital banking. Our purpose-driven DNA, which made us the world's best bank three years running, continues to drive us forward to make great leaps in accelerating digital transformation in the nascent virtual banking landscape, enabling our customers to 'Live more, Bank less'."
Ajay Mathur, Managing Director and Head of Consumer Banking Group and Wealth Management at DBS Hong Kong, said, "Amid today's market uncertainties and consumer behaviour changing rapidly in the new normal, DBS' unwavering commitment to digital innovation has always been the center of everything we do – putting customers at our core focus.  With DBS' intelligent banking, we deliver actionable insights that enable customers to make informed financial and wealth decisions confidently. Intelligent, intuitive, invisible – this is DBS digibanking."
The impact of the new 'This is DBS digibanking' era goes beyond consumer banking, wealth management and private banking. As a holistic and comprehensive solution to serve all needs of customers, DBS is also committed to provide a full digital journey for SMEs, which account for more than 98% of Hong Kong's businesses. Last year, as part of DBS Hong Kong's on-going efforts to support SMEs in overcoming financial challenges amid COVID-19, the bank enabled them to set up a new business account completely digitally in as quickly as three working days, among other innovative and supportive measures introduced by addressing SME pain points.
About DBS

DBS is a leading financial services group in Asia with a presence in 18 markets. Headquartered and listed in Singapore, DBS is in the three key Asian axes of growth: Greater China, Southeast Asia and South Asia. The bank's "AA-" and "Aa1" credit ratings are among the highest in the world.
Source: DBS