Costa Coffee Launches Colourful New Merchandise Range for Summer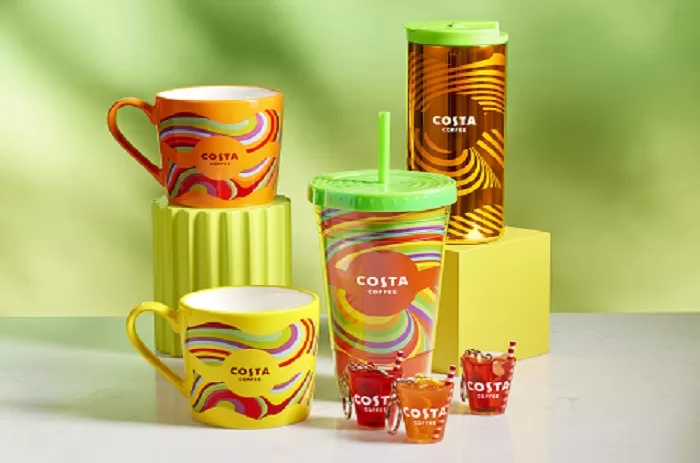 Costa Coffee, the Nation's Favourite Coffee Shop*, has revealed a fun and colourful new collection of merchandise for summer, including new travel cups, Frappé cups and ceramic cups – as well as cute keyrings. The collection is available now to purchase in Costa Coffee stores nationwide.
Costa Coffee's new Summer collection
Stand out whilst out and about in the sun with the new 'Summer Waves' collection, available to purchase now from Costa Coffee stores nationwide:
New Summer Waves 16oz Frappé Cup – £9.00: Catch eyes with the new multi-coloured 16oz Frappé Cup, keeping you and your on-the-go Frappé cool in the sun. The reusable cup features a unique rainbow wave design, with a Costa Coffee logo at the centre, and is complete with a fun neon green electro plated lid and straw.
New Summer Waves 16oz Travel Cup – £12.00: Whether you have gone for a day out at the beach or are soaking up the fun at the local park, take the new 16oz reusable Travel Cup with you – the perfect way to enjoy one of the exciting new drinks from Costa Coffee's Summer menu. Featuring a neon metallic orange swirl design, with the Costa Coffee logo in the centre, the cup has a leak-proof lid.
New Summer Waves Frappé Cup Set – £10.00: The perfect set of cups for a day out with friends, this Summer you and 4 friends can enjoy your favourite Costa Coffee Frappé in one of the new reusable cold Frappé Cups. This 5-pack set comes in a range of enticing bright colours; from pink, orange, yellow, green and blue, and feature the Costa Coffee logo at the bottom of the cup, complete with a coloured straw.
New Summer Waves Keyrings – £4.00: Make your keys stand out with the new Refresher Summer Wave Key Rings. These limited-edition keyrings embody our new mouth-watering Refresher range and look as good as the real thing, including a mini straw and non-edible fruit.
New Summer Waves Ceramic Mug Set – £12.00: Grab your bestie and enjoy your at-home favourite Costa coffee in the new 2-pack ceramic mug set. The pair of yellow and orange ceramic mugs feature a bold rainbow wave design and is finished with a Costa Coffee logo at the centre of the cup. Or why not gift it to your favourite Costa Coffee fan this Summer, as the set comes beautifully gift boxed in a vibrant orange striped design.
Supporting with 'Pride'
Costa Coffee is proud to continue supporting and celebrating LGBT Pride Month in June. As part of its ongoing UK-wide fundraising partnership with Switchboard LGBT+ Helpline, Costa Coffee is launching a limited-edition new Reusable 16oz Travel Cup (£10.00). The design for this year's cup features a rainbow ribbon design and includes a special version of Costa Coffee's logo, designed in partnership with UK-based artist, Ashton Attzs. The cup is double walled stainless steel and features a leak-proof lid.
What's more, £1 from every sale will be donated to Switchboard LGBT+ Helpline, which operates 24/7, 365 days a year. Switchboard LGBT+ Helpline provides information, support and referral service for LGBT people – and anyone considering issues around their sexuality and/or gender identity.
Benefits of being a Costa Club App member and using a reusable cup in store
Costa Club app members can earn an extra 'Green' bean when purchasing a hot or cold handcrafted drink in any reusable cup in store, meaning you can receive a free drink after just four visits. Or, for customers using a non-reusable cup, they will receive a free drink after purchasing eight drinks.
Source: Costa Coffee