Costa Coffee Fans Go Wild for The Exclusive New Popcorn Frappé and Light Whip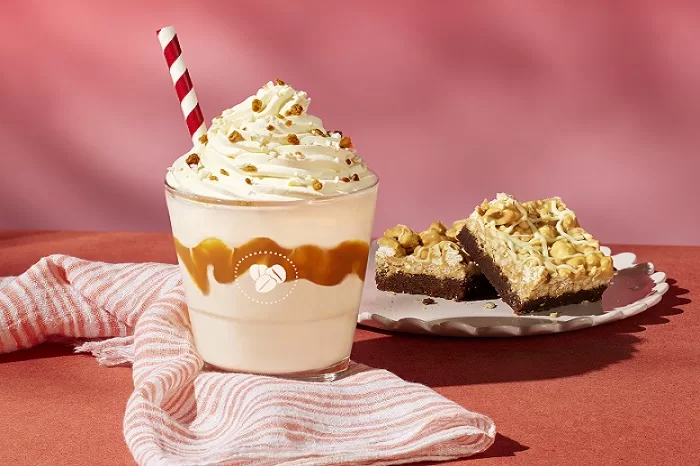 The Nations Favourite Coffee Shop*, Costa Coffee has Frappé fans going crazy for the new limited-edition Popcorn Frappé and Light Whip, which has launched exclusively for customers via the Costa Club app.
Popping into Summer with the new Popcorn Frappé and Light Whip, the delicious cold drink is made with sweet popcorn syrup and is topped with light whip and a yummy popcorn crunch, perfect for cooling down in the sunshine.
The Frappé is already proving to be a hit with Costa Club members, with one customer saying on Instagram: "Had one last week. Absolutely lush" and another commenting that the Popcorn Frappé "was sooooo good!"
Another Frappé-fan declared that the exclusive Popcorn Frappé is one of their new favourites after recently trying the tasty drink, and another person took to Facebook and agreed that the Frappé "sounds delicious."
The Popcorn Frappé and Light Whip is available in both small and medium sizes and can be customised with plant-based milk alternatives. The Light Whip is suitable for vegans.
Sandra Ferreira, Beverage Innovation Director at Costa Coffee said: "We've officially launched Summer at Costa Coffee and as part of our brand-new menu we're offering Costa Club app users exclusive access to our new limited-edition Popcorn Frappé. Don't miss your chance to enjoy by downloading the app today!"
Costa Club app users will have early access to the new Popcorn Frappé and Light Whip in Costa Coffee stores nationwide from Tuesday 9th May 2023 until Wednesday 28th June 2023, while stock lasts.
If you're not yet an app member, don't worry as it's not too late to unlock the exclusive item. Download the Costa Club App and sign up today to gain early access and join in on the fun.
As well as gaining secret access to new drinks, Costa Club app members can also earn a 'Bean' each time they order a drink in-store or from a Costa Express machine. Better still, use a reusable cup in store and earn an extra Green 'Bean'. Customers will receive a free drink once they have eight Beans, so why not 'pop' into store to start your rewards journey today!
Source: Costa Coffee