CommBank Employees Walk, Run and Cycle to Raise $2.7m For Cancer Research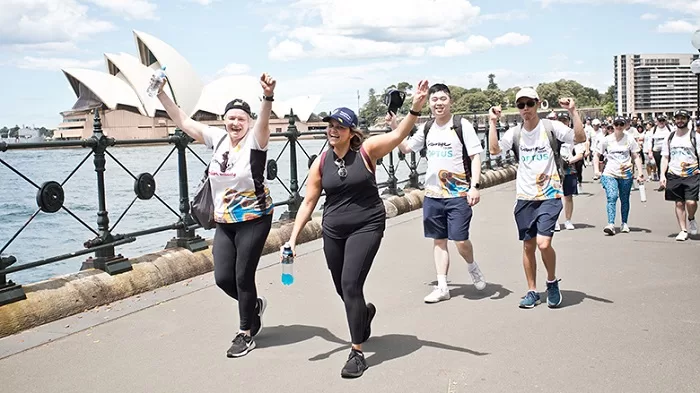 The crowd cheered for Rose Spiteri when she crossed the finish line of the Can4Cancer fundraising walk in Sydney — not because she came in first place, but because she came in last.
Ms Spiteri has cerebral palsy, and wasn't certain she would complete the 21km walking route around the city's famous harbour.
"The thought of it was scary," says Ms Spiteri, who's worked for Commonwealth Bank for more than 25 years and is now a senior manager in supplier management.
She'd never participated in Can4Cancer, the bank's annual cancer research fundraiser that CommBank runs in the partnership with Tour de Cure, but two factors motivated her join this year: her father's death from pancreatic cancer, and her workmates signing up to take part together.
Ms Spiteri ultimately completed the walk in a little over seven hours — about two hours longer than most participants, by her reckoning. By the time she reached the finish line, outside Commonwealth Bank's head office in Darling Harbour, event organisers had almost packed up. They formed a small guard of honour for her as she finished the event.
"I couldn't stop crying afterwards," she tells CBA Newsroom, thanking her supporters for their encouragement. "I was so emotional and proud of myself — I didn't believe that I could do it, and I did it."
Ms Spiteri is one of the more than 7000 Commonwealth Bank employees who participated in Can4Cancer between August and November. This year, the fundraiser included nine events around Australia: 21km walks in Sydney, Melbourne, Brisbane, Adelaide and Perth; a 50km run in Sydney; two- and three-day cycling events across Victoria and New South Wales respectively; and "My Can4Cancer", whose participants can do any kind of exercise on their own time. (See highlights from events around Australia in the video above.)
Cassandra Watters, a home lending specialist from Belmont, near Newcastle, said one thing she loved about the Sydney walk was the opportunity to meet and catch up with fellow employees from across Commonwealth Bank.
"My team, we all work in different branches and so we don't see each other very often," she says. "It's really nice to walk with them [and] get to know them while you're raising money for a great cause."
Caitlin Wilson, an executive manager based near Armidale, was among the riders who cycled about 400km across NSW, from Goulburn through Huskisson then north to Sydney. She decided to join the ride after her best friend's infant son was sadly diagnosed with a malignant brain tumour.
"My friend held my hand when I was nervous before walking down the aisle on my wedding day, and I felt helpless in how to support her now in the most difficult time of her life," Ms Wilson says.
Remarkably, she decided to take part in the ride just six weeks before it started — when she admits she was in "far from peak physical condition". After persuading the tour leaders to let her join so late, she prepared with help from experienced cyclists and an at-home training app.
"It was easily the hardest physical challenge of my life," says Ms Wilson. "I used to think the people that said these events were life-changing were a bit nuts, but it did change my life."
CBA Newsroom can reveal the total raised by Can4Cancer so far in 2022 is $2,779,578.
"This incredible amount proves the care, courage and commitment of our people," says Monique Macleod, Commonwealth Bank's Group Executive of Marketing and Corporate Affairs, and Chair of the CommBank Staff Foundation.
"We're so grateful to all those who participated or donated to Can4Cancer and helped raise much-needed funds for cancer research. We know how much contributing to the community and supporting others means to our teams at CommBank, and that's clear from this year's phenomenal effort."
2022 is the eighth year of Can4Cancer, a CommBank Staff Foundation initiative in partnership with Tour de Cure that raises funds to support researchers working towards curing and preventing cancer. Since its launch, Can4Cancer has raised more than $11 million, funding 50 cancer projects and 30 local grants, and contributing to 17 scientific cancer breakthroughs.
Can4Cancer is set to return in 2023 — and when asked if she'll participate again, Ms Spiteri answers without hesitating:
"Definitely," she says. "Any little bit that we can do to help will hopefully make the difference… it just makes you proud to be a part of that."
Source: Commonwealth Bank