CheapSSLShop Review – Best SSL Certificate Provider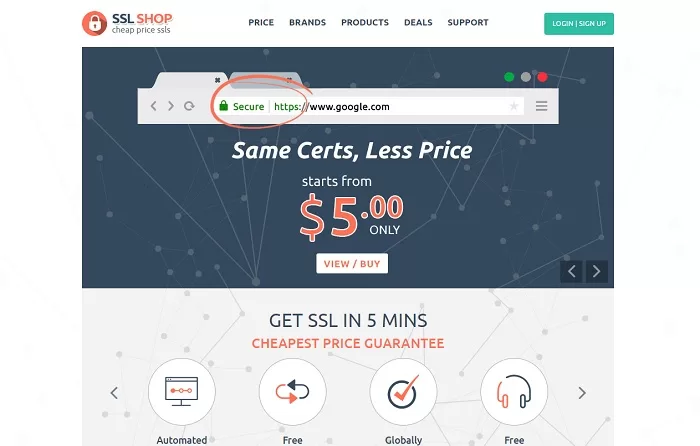 The public love for digitalization comes from its numerous advantages but these pros are also responsible for attracting hackers and cyber-attacks. Malicious people try all technical and latest ways to attack computers and networks, for obtaining sensitive information and fulfilling their desires. This makes cyber-security a top priority in digitalization.
Verizon Data Breach Investigation Report (DBIR) indicates that 94% of the malware was delivered by email.
Though web securities like Anti-Virus Software, Firewalls, Anti-Malware Software, etc. are already in demand and known to web users, SSL certificate surpasses them in terms of security.
What is an SSL certificate?
SSL is the acronym of Secure Socket Layer. This is a digital security certificate that secures your network communication with encryption security. Encryption security uses cryptographic keys and algorithms to convert plain text into gibberish text.
Here only the authorized person who has the decryption key can read the message. Hence even brute force attacks don't work successfully because though the hacker gains access to the encrypted text, they still can't read the message because of the unavailability of the decryption key.
Installing an SSL certificate to a website shows two visible trust symbols, i.e. HTTPS (Hypertext Transfer Protocol Secure) instead of HTTP (Hypertext Transfer Protocol) in the address bar and a padlock in the URL. This extra "S" which is displayed in the domain name ensures that the site is secured and encrypted for transaction safety.
Importance of SSL?
The ease of digitalization has led to an increase in online transactions, online purchases, and sales. Since all these monetary deals require you to disclose your sensitive details like bank account numbers, passwords, credit card numbers, etc. the risk of them being hacked and misused is on the rise.
SSL secures your data communicated between browsers and websites with encryption, thus making it difficult for hackers to misuse the same.
Importance:
SSL certificates help maintain confidentiality, data integrity, and authenticity.
They help establish customer trust and increase SEO ranks.
It helps improve user experience and conversions.
Google and browsers prefer a secured environment that is fulfilled by installing an SSL certificate.
SSL is compulsory as per PCI DSS compliance.
Where to Buy SSL?
There are many Certificate Authorities in the market who sell all types of SSL certificates. It's not always necessary to approach these CA's because many other SSL shops and resellers also provide all global brands of SSL certificates at nominal rates.
CheapSSLShop is one such SSL certificate provider that has all popular brands of SSL certificates at knock-off rates. In this article, we will discuss as to why CheapSSLShop is the best choice for SSL certificates and the benefits of buying SSL certificates from this SSL provider.
What is CheapSSLShop?
CheapSSLShop is a leading SSL certificate provider having a wide range of SSL products of all popular brands like Comodo, GlobalSign, GeoTrust, Thawte, Digicert, RapidSSL, etc.
Since the company's motto is "Same Certs, Less Price", it ensures that customers who approach their shops for buying SSL certificates get the best discounts as per their satisfaction.
Their customer support team and customer-oriented policies help them achieve a high customer satisfaction ratio.
They are efficient in satisfying multiple requirements of individuals as well as businesses, and their rates entice customers to approach the shop for all their digital security requirements.
Apart from being customer-centric, let us see why users around the globe prefer CheapSSLShop for fulfilling their web security requirements.
Why Choose CheapSSLShop?
1. Multiple Options:
CheapSSLShop has multiple types of SSL certificates and a complete range of SSL products of all the brands mentioned above.
Single Domain SSL certificates, Multi-Domain SSL certificates, Cheap Wildcard SSL certificates, etc. are available in all validations and at very nominal rates.
Types of SSL Certificates:
Single Domain SSL Certificate: This SSL certificate secures the main domain of your website. It is the best choice for individuals and small companies having a single website.
Multi-Domain Wildcard SSL Certificate: This SSL certificate secures multiple domains of different websites. It also secures multiple sub-domains at all levels. This COMODO SAN Wildcard SSL certificate is ideal for large enterprises and corporate companies having many sites of various products.
Wildcard SSL Certificate: This SSL certificate protects the main domain and unlimited sub-domains of 1st level only. It is the best for medium businesses having one website and who wish to secure sub-domains too.
Domain Validation (DV) SSL: DV SSL certificates are issued post verification of the domain name with the name registered in the WHOIS register, but it does not verify the business.
Organization Validation (OV) SSL: OV SSL verifies the organization as well as the domain name and assures visitors about the authenticity of the website.
Extended Validation (EV) SSL: EV SSL certificates provide a high level of trust and security and hence they help improve conversion ratio apart from SEO ranks. Since the vetting process is extensive, the issuance of EV SSL certificates takes 1-3 business days.
Code-Signing SSL: This SSL certificate signs software code with digital signatures and authenticating them.
2. Cost-Effectiveness:
Many clients who run businesses on tight budgets are not very keen to invest in web securities due to monetary constraints. But CheapSSLShop is one such SSL provider whose rates may amaze you and hence may entice you for securing your web.
Affordable rates with multiple options and discount coupons, add more customers to this SSL shop.
3. Ease of Enrolment & Installation Process:
If the installation process is tedious, visitors tend to avoid opting for SSL security. You receive complete guidance at the shop when you enrol for an SSL certificate. Their executives will guide you in the enrolment process via email chat or live video call and ensure that your experience is a memorable one. They help in speeding up the process once the enrolment details are filled up by the visitor.
Steps:
Sign as a new user
Fill up the required details
Choose your SSL certificate
Purchase, configure, and Install SSL
Even the installation process is guided and in no time SSL certificate is installed on your website in an error-free way.
4. Money-Back Offers:
In case of dissatisfactions of any products or services of CheapSSLShop, they have a 30-day refund policy, wherein you can claim a complete refund of your amount within 30 days of purchase.
5. Striking Discount & Offers:
Discount coupons on various brands, entice visitors to secure their digital empire with SSL certificates. CheapSSLShop makes customers visit budget-friendly, because there are more discounts on coupons too, and hence SMBs love to grab this opportunity for securing their websites.
6. Very Authentic & Genuine:
This SSL certificate provider is very authentic and genuine and hence customers are care-free when they buy SSL certificates from CheapSSLShop.
"It takes months to find a customer…seconds to lose one" – Vince Lombardi.
CheapSSLShop has made its way on the top by selling genuine SSL products as per customer satisfaction. Hence the word of mouth publicity is bound to increase since the customer trust and satisfaction, both are on the peak.
7. Excellent Customer Support:
Another reason which makes CheapSSLShop customer-centric is its 24/7/365 customer support team, who are available all the time to solve customer queries. Query solving via live chat and emails as per customer satisfaction is highly admirable, which not only helps customers in the smooth installation of SSL certificates but also secures their business at their desired time.
FAQ's including Installation Guides are mentioned on the site too for customer guidance and query solving.
8. Highest Encryption Security:
Mostly all SSL certificates of this SSL certificate provider give 256-bit encryption security and 2048-bit CSR encryption which keeps site data strongly secured from hackers.
9. Free Re-issuances& Server Licences:
CheapSSLShop provides free re-issuances and unlimited server licenses on SSL certificates so the business owner just needs to spend a one-time amount on buying SSL certificates. One-time purchase and benefits for a lifetime is the main reason why this SSL provider is a favourite to many.
10. SSL Reseller Programme:
Businesses thrive to become partners with this Global SSL security supplier because of their genuine web security products. Hence CheapSSLShop has come up with an SSL Reseller Programme wherein business owners can become their SSL partners.
You can sell SSL certificates to other clients at your rates without any interference from the shop. With zero set-up charges and automation of products through the advanced module (WHMCS), you can earn profits and recognition.
Wrapping Up:
CheapSSLShop is a one-stop destination for all your SSL certificate requirements. With genuine global brands and best prices, robust encryption, and expert help, this SSL certificate provider undoubtedly rules the globe.