Budweiser to release bowtie-shaped cans
Bowtie-shaped Budweiser can
The marketing folks at Budweiser have struck again, with an eye-catching "bowtie-shaped" aluminium can set to go on sale Monday. The can shape is a nod to the bowtie logo first introduced in 1956 and expanded with new packaging in 2011.
One of the new cans arrived via mail this morning in typical Budweiser style, packed inside a fancy bowtie-shaped box and accompanied by a logo-shaped thumb drive with a news release, additional images and video.
"The world's most iconic beer brand deserves the world's most unique and innovative can," Pat McGauley, vice president of innovation for parent company Anheuser-Busch, said in a statement accompanying the beer.
A couple of things of note:
The new cans will not replace the original 12-ounce Buds.

More than 10 million bowtie cans were produced for the rollout, with millions more scheduled.

The new cans are 11.3 ounces, instead of 12. Anheuser-Busch notes that this means each can also has  8 1/2 fewer calories than a traditional Bud.

The cans will be sold in 8-packs.

They are, as advertised, "easy to grip," with a good feel in your hand.
A-B officials add some interesting detail about the manufacturing process, which took three years to develop:
To make the new can possible, Anheuser-Busch engineers needed to solve a number of technical challenges, and major equipment investments were required at Budweiser's can-making facility in Newburgh, N.Y. Significant capital investments also were required to upgrade packaging lines at the Budweiser breweries in Los Angeles and Williamsburg, Va., the first breweries with capability to package this unique can innovation.
Newburgh, about 60 miles north of New York City and 90 miles south of Albany, is where proprietary equipment is located that shapes the can. Creating the can requires a 16-step process – 10 steps to form the bottom half of the can, with an additional six steps to form the top portion.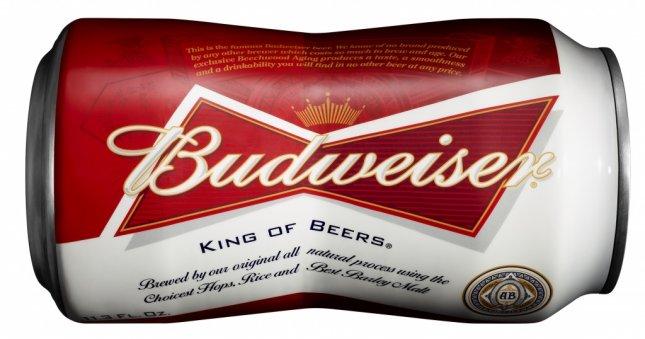 The Anheuser-Busch Global Innovation Group has been investigating potential can innovations for several years.
"We explored various shapes that would be distinguishable in the marketplace, but also viable from an engineering standpoint," McGauley said. "Aluminum can be stretched only about 10 percent without fracturing, which requires that the angles of the bowtie be very precise."
The release also addresses the obvious question of, "Why the bowtie?"
Though there is no written documentation on the origins of the Budweiser bowtie, it is a brand icon found the world over. According to company lore, the bowtie was introduced when too many people were using the "Bud" bar call too frequently, so the double triangles were added to emphasize the full Budweiser name.
The Budweiser bowtie can is a natural progression from the new packaging introduced in 2011 that emphasized the iconic bowtie, a symbol that first appeared in a national advertising campaign for Budweiser in 1956.
I posted a photo of the new can this morning on the Beer, TX Facebook page, where the reaction was swift — and snarky. Among the comments:
I dunno…just…stupid! — Matthew Hommel
That's gonna take all the fun out of crushing them when you're finished. — Brent Taylor
If this lame marketing technique actually increases sales, it will just go to show how mindless the average beer drinker is. — Joey Lee
For years, A-B TV commercials have generally confirmed that they consider their prime customers to be largely mindless. — Craig Stichtenoth
Good tasting beer wouldn't need a packaging gimmick. — Jeremy Ryan Hughes
To find one, A-B says to can call 1-800-dial-Bud.
Ronnie Crocker | Assistant Business Editor
Source: blog.chron.com