Bose Celebrates 25 Years of Aviation Headsets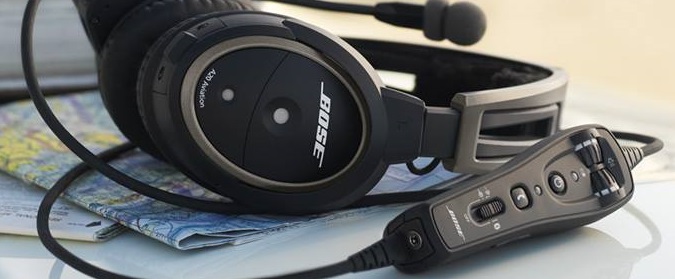 Innovations Revolutionized Flying for Pilots. Twenty-five years ago, Bose announced its revolutionary Bose® Aviation Headset, the first commercial aviation headset ever introduced, and a technological breakthrough that changed flying forever. This year, Bose honors the engineers who made it possible, and the pilots who've chosen Bose for a quarter century.
"We've never stopped working on making our aviation headsets better," said Sean Garrett, vice president of the Bose Noise Reduction Technology Group. "Our research has produced advancements and performance that at one time seemed impossible. But what's really exciting is that we've only just begun."
In 1978, Dr. Amar Bose developed the analysis for noise cancelling technology on an international flight from Zurich to Boston. His equations were the foundation for the company's initial prototype used on the famous Voyager flight in 1986, helping to protect the hearing of the aircraft's pilots who flew around the world without stopping or refueling.
Three years later, Bose introduced the iconic Bose Aviation Headset — a headset unlike anything else commercially available — integrating proprietary technologies that dramatically reduced engine noise and clearly reproduced both speech and music.
The demand for Bose technology grew from there. Bose was chosen by the U.S. Army to supply the Combat Vehicle Crewman headset (CVC) in 1993, and the Performance Improved Combat Vehicle Crewman headset (PICVC) in 1997.
The Bose Acoustic Noise Cancelling® headset Series 2 was introduced in 1995, and named "Product of the Year" by the Aircraft Owners and Pilots Association. The pursuit for "better" continued, and in 1998, new innovations were integrated in the Bose Aviation Headset X®, featuring improved noise reduction, and the first use of Bose's proprietary TriPort® headphone structure in a smaller, lighter, more comfortable design. The Aviation Headset X dominated the category, with Bose being voted as the No. 1 headset manufacturer for nine consecutive years in the Professional Pilot magazine survey. Additional research resulted in the A20® Aviation Headset, made available in 2010. Offering even greater noise cancellation and comfort than its predecessor — and Bluetooth® connectivity for better functionality — the A20 headset propelled Bose to another top honor from Professional Pilot the following year.
Today, the legacy of Bose® Aviation headsets reaches beyond pilots and the military; it can also be seen and heard in the iconic QuietComfort® noise cancelling headphones, now globally recognized as the industry standard for consumer noise cancelling headphones, and in the new sideline headset for the National Football League, debuting in the 2014 season.
"This anniversary is really a celebration of the relationship between our engineers and our customers," said Garrett. "We honor our Founder, Dr. Amar Bose, for starting it all. And we thank every Bose Aviation headset owner — every pilot who has relied on us for 25 years."
More information about Bose Aviation can be found at www.facebook.com/boseaviation.
About Bose Corporation
Bose Corporation was founded in 1964 by Dr. Amar G. Bose, then a professor of electrical engineering at the Massachusetts Institute of Technology. Today, the company is driven by its founding principles, investing in long-term research with one fundamental goal: to develop new technologies with real customer benefits. Bose® innovations have spanned decades and industries, creating and transforming categories in audio and beyond. Bose products for the home, in the car, on the go and in public spaces have become iconic. From the company's home entertainment systems and Wave® music systems, to noise cancelling and audio headphones, digital music systems, Bluetooth® speakers and professional solutions, Bose has changed the way people listen to music.
Bose Corporation is privately held. The company's spirit of invention, passion for excellence, and commitment to extraordinary customer experiences can be found around the world — everywhere Bose does business.