Bike Taxi – How Does the Concept Work and How Successful It is in India?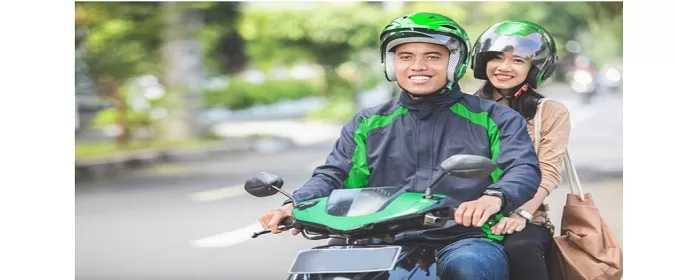 Look at Indian roads, and you can undoubtedly say that India runs on two-wheeler vehicles. There are more than two hundred forty million registered vehicles in India as of December 2018, out of which seventy-five percent are two-wheeler vehicles (Source). From office goers to bike lovers, millions of people in India enjoy a bike ride every day.
Now, think of it from the perspective of road traffic – More two-wheeler vehicles on the roads means more traffic jams, frequently.
If you usually commute using your bike within the city and face unbearable traffic on the roads, you will agree with that.
Leave your bike at home to use public conveyance for regular commute and you will end up spending more time than otherwise. Similarly, avoid using both your bike or public conveyance, and you will have to pay more to book taxis or cabs to travel locally.
At the point of intersection between these two choices lies the option of hiring a bike taxi.
With the arrival of transportation network companies like Ola cabs and Uber in the Indian market, it has become easier to book a cab instantly whenever you need. Bike taxi startups came up with the same line of business, introducing the concept of bike rides for hire at an affordable cost.
Let's dig deeper to know more about the concept of bike taxis in India:
Bike Taxi – Get Set, Go!
Bike taxis offers two-way benefits – the riders can ask for an affordable bike ride through an app, while the bike owners can earn well by offering rides to people within their cities.
The concept is quite simple. You, as a rider, book a bike taxi through the app of a preferred bike-taxi service provider, receive the driver's details, and the approximate time in which he will reach your place to pick you up. All drivers offering bike taxi rides are verified and have valid 2-wheeler insurance policies before they start offering rides.
Bike taxis have become one of the most affordable ways of transportation for all in several Indian cities. The riders only need to pay fares as low as five rupees per kilometers.
Now, coming to an important question related to this new way to commute:
Are Bike-Taxi Startups Riding on the Wave of Success in India?
Traffic on the Indian roads is growing consistently, thus making it difficult for you to save time while commuting. You want to save your time and your money while also decongesting the roads. There are several bike-taxi startups to help you out. They ensure you adapt to sustainable ways of commuting. These startups focus on offering last-mile connectivity.
This out-of-the-box idea sounds like the need of the hour to deal with rising traffic. However, only a few startups like Rapido, Ola Bikes, and uberMOTO have been able to survive in the Indian market. They aggregate bike owners, verify the ownership of vehicles, background checks of drivers and other relevant documents such as 2-wheeler insurance policy and a valid driving license before aggregating riders under their business model.
Some of the main constraints of this initiative include a lack of clarity on the laws governing bike-hailing services and occasional crackdowns by regional transport departments of different Indian states.
As per Section 53 (1), (b) of the Indian Motor Vehicle Act, 1988, a vehicle-registering authority can suspend the registration of vehicles that are being used without a valid permit.
The Motor Vehicles Act also adds that white-plated private vehicles are not allowed to be used to ply passengers. This law makes it illegal to offer bike-ride services in several Indian states.
The recently introduced draft guidelines issued by the central government in 2016 want the state governments to granta license for bike taxis. However, most of the Indian states haven't yet introduced any such regulation.
Telangana, Rajasthan, Haryana, Goa and Uttar Pradesh are some of the Indian states where commercial bike-taxi services have been approved and authorized. However, the traffic regulation authorities of Karnataka, Maharashtra, and Tamil Nadu think of bike-hailing as an illegal activity.
Will Bike Taxis Survive?
Because of the strict regulations of traffic authorities in different states, many bike taxi services, such as Zingo, Dot, TuWheelz to name a few have shut their operations already. However, stand-alone bike operator Rapido has tasted success in business. Similarly, there are deep-pocketed taxi aggregators like Ola and Uber who are struggling to scale their bike-taxi services because of a lack of clear regulations.
The survival of these startups depends a lot upon favorable laws to be introduced by Indian states to accept bike-hailing as legal. Then, the way bike-taxi startups execute their business ideas will tell how long they can survive.