Benefits of Hiring a Professional Video Editing Company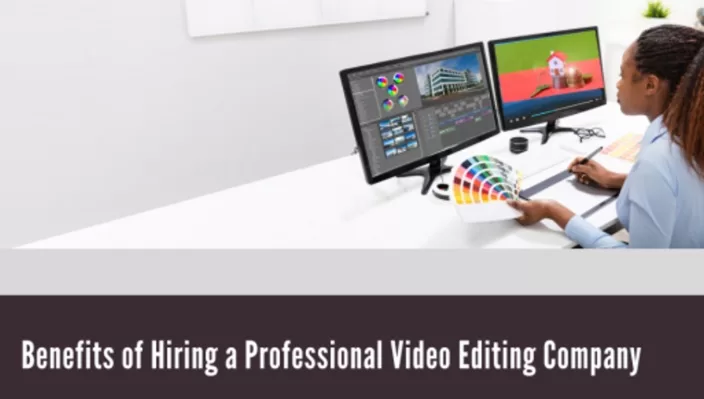 According to research, video content is one of the digital marketing strategies that are expanding the fastest. It's a terrific way to market your goods or service because of a number of plainly apparent benefits. In addition to producing leads, it captures the interest of prospective customers and clients. It needs to be made skillfully in order to provide the intended impact. Employing a video editing company might help make this process simpler for you. Because if it's not done correctly, it could damage your company's reputation in addition to its ability to project a positive picture.
Even if you are able to capture and document your video at first, post-production, which calls for a completely different skill set and the usage of software tools, is still an important step that must be taken. Editing the raw film and applying any post-production effects can take hours or even days. The audio and video must be synchronized, and the entire film must be reviewed to remove extraneous segments.
For certain firms, a self-editing approach could be effective, but if you desire excellent standards, you must hire a video editor. Here are the top five justifications for hiring a video editing company.
Why should you get video editors for hire –
1. Professionalism at its top –
Many people believe they can easily create a video independently because they have access to information, instructions, and online forums. While this is true for personal films like blogs or honeymoon compilations, creating Craft providing various for a polished commercial film is trickier than it seems.
The filmmaker from your family function lacks a substantial amount of experience compared to companies who generate commercial videos.
When you hire a video editor experienced enough to manage your film project, you receive a talented group of individuals who, besides possessing a film school degree, have experience and expertise working on similar projects.
They contribute skills and information that enthusiasts may lack. These abilities include taking pictures, recording audio, lighting, directing, editing, and using after effects.
Aside from precision and professionalism, working with a video editing company can give you access to the greatest video production equipment, saving you money on cameras, high-quality microphones for sound, the best lighting, post-production, and editing software.
2. Proper lighting and illumination –
Proper lighting and illumination are the keys to any professional video shoot. Be it a regular photoshoot of an object or a person, and if the lighting and illumination are proper, it can steal the attention of the viewers.
Secondly, if the ad shoot needs to focus on one particular object, only proper, efficient lighting can make it possible. There can be some images or objects in the background that need to be blurred, and some need to be sharpened to lay the emphasis on an object. This is possible only when you hire a professional photographer or videographer to do it.
For example, in some film shoots or ad shoots, you must have seen the emphasis on a specific item, place, or person. This is done to increase the attention or focus mainly on the item that needs to be advertised.
3. The sound effects –
Usually, people do not pay much attention to the video's sound or background music. But it is a quintessential feature and can add a lot of value to your professional video shoot.
The most crucial feature of adding proper sound to the video is that it displays emotions and sentiments to the audience that are not clearly mentioned in the video through text or speech.
Professionals will have the necessary equipment to ensure the sound recorded at the shoot is also of the highest quality. This will eliminate distracting background noises and record the voice in crystal clear audio definition.
Apart from this, the sound effects and music sometimes need mixing. Only a professional video editing company can improve sound effects and bring proper fusion. Also, they will improve and eliminate any background noise or disturbances that may be present in the video.
The sound systems and pieces of equipment that can be used for proper mixing of the sound and background noises can be facilitated only by a professional video editing company.
Conclusion – Thus, in a nutshell, it can be concluded that no matter how efficient you are at recording your own video shoot, it is always advisable to hire a professional video editing company. Production and video marketing is a long and arduous process. To eliminate any blunders or any lack of details, you must hire a video editor. Why worry when you have Alex drone photography by your side? There are many professional video editors, but you must always choose the best video editing company based on customer testimonials and reviews so your work can be hassle-free. Also, hiring a video editing company will be more beneficial and fruitful if you are shooting for a commercial purpose.