Be the Family That Eats Together!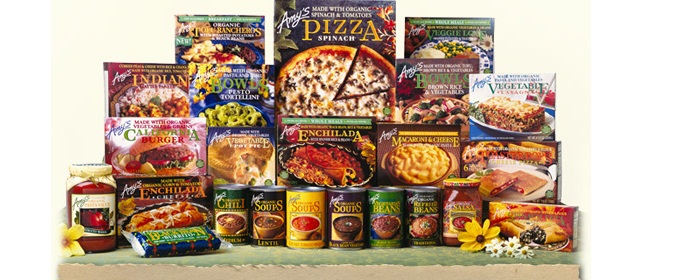 Amy's Introduces Six Family Size Versions of Its Top Selling Frozen Organic Entrees
Santa Rosa, California – Amy's, the nation's top-selling brand of natural and organic convenience foods, now celebrating its 26th year, is pleased to introduce Amy's Family Size Entrees. Studies suggest that children who participate in family meals at least three days a week not only eat healthier foods and are less likely to be overweight but have greater academic success.
These six new Family Size entrees make it easier than ever to enjoy dinner together. Each box contains four or more one-cup servings, ready to heat, serve and eat. The larger packaging size makes it a cinch to entertain friends and guests, too! Keep all six top-selling varieties on hand to cook whenever you need a home-style main dish in a hurry. All are made with love by Amy's family, with yours in mind.
Family Size Macaroni & Cheese (SRP: $9.49/28 oz.)
A true comfort food and kids' favorite. Tender organic elbow macaroni in Amy's own creamy cheese sauce.
Family Size Broccoli Cheddar Bake (SRP: $10.49/28 oz.)
Organic rice pasta baked with creamy, aged English Cheddar sauce, crisp organic broccoli florets and gluten free toasted bread crumbs. Gluten Free.
Family Size Cheese Enchilada (SRP: $11.49 /27 oz.)
Forget takeout: Amy's Cheese Enchiladas offer the same quality and flavor as a genuine Mexican restaurant. An authentic sauce recipe, fresh, organic white corn tortillas, and a filling of Jack and Cheddar cheeses accented by olives and peppers are so satisfying. Gluten Free.
Family Size Mexican Casserole (SRP: $10.49/28 oz.)
Made with organic white corn masa, black beans, sweet golden corn, olives, tomatoes and a blend of chili peppers and spices. Gluten Free.
Family Size Vegetable Lasagna (SRP: $10.49/28 oz.)
Organic pasta layered with cheese and organic vegetables in an authentic Italian sauce made from organic tomatoes. Worthy of your favorite Italian neighborhood restaurant.
Family Size Gluten Free Thai Red Curry (SRP: $13.29 /28 oz.)
This is Amy's dad's favorite dish. It has finely cut organic vegetables – sautéed onions, broccoli, carrots, tofu and delightfully sweet butternut squash in an authentically spiced (but not too hot) smooth coconut milk-based curry sauce. Fragrant jasmine rice completes this delicious entree, which has no dairy or wheat. Gluten Free, Dairy Free.
About Amy's
Founded 26 years ago in Sonoma County, California, Amy's is a world leader in the production of natural and organic convenience foods. Named after Andy and Rachel Berliner's daughter, Amy, the company remains a privately held, family-owned business and is one of the few remaining U.S. companies to craft its own recipes, source its own ingredients, and make its products inhouse. Amy's prides itself on being like a home kitchen, only bigger. "Other companies manufacture food,ˮ explains co-founder Andy Berliner, "we cook it."
Amy's uses certified organic ingredients sourced from organic farms located mostly near the company's production facilities in California and Oregon. All dairy ingredients are made with pasteurized rBST hormonefree milk and do not contain animal enzymes or animal rennet. No dishes contain meat, fish, shellfish, poultry, eggs or peanuts. Amy's products are non-GMO and do not contain hydrogenated fats or oils. The company supports educational and outreach efforts for agriculture and ecoliteracy programs and is a substantial contributor to the Redwood Empire Food Bank and COTS, a nonprofit agency that aids homeless families in Sonoma County.Amy's products are available nationally in most supermarkets, natural foods stores and select warehouse club stores, as well as internationally