Banks and Fintechs: "Collaboration improves the customer experience"
One of the most discussed topics in the financial industry last year, was probably how banks are dealing with financial technology companies (fintechs). Exactly that was the theme of the panel discussion ING's Director of Corporate Strategy Dorothy Hill was on during the Money 20/20 conference in Las Vegas on Tuesday 27 October.
One of the other panel members was Rob Frohwein, CEO of Kabbage, a fintech ING just announced to start a partnership with. A pilot in Spain will soon be launched to provide loans via Kabbage's automated platform to small and medium enterprises (SMEs). Kabbage has been successful in the US already offering around USD 1 billion loans to small businesses in a fraction of the time it normally takes and in a fully paperless process. It recently raised USD 135 million of capital in a financing round ING was part of as well.
Collaboration that leads to happier customers
"Collaboration leads to an improved customer experience", said Rob Frohwein during the discussion. "Banks have a longtime experience of managing risks of loans to businesses and know the challenges of the industry. We are able to very rapidly analyse an SME applying for a loan and to come up with a credit score which exactly tells ING and us if that company is eligible for a loan. That collaboration leads to happier customers and that's what it's all about."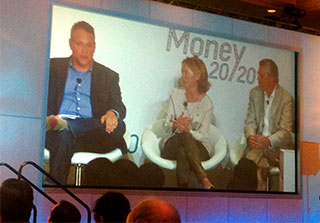 Differentiating customer experience for SMEs with a very high net promotor score
Dorothy Hill added: "'One of our strategic priorities is to expand our lending capabilities, particularly in ING Direct countries where we want to expand to SMEs, which is a segment typically under served by banks. By partnering with Kabbage we think we can accelerate that strategy. For us it was important to find a partner that was as committed as we are to creating a differentiating customer experience, with a very high net promoter score."