BackNewsletter subscriptionPrintShare Airbus delivers first A320neo to Mexico's Viva Aerobus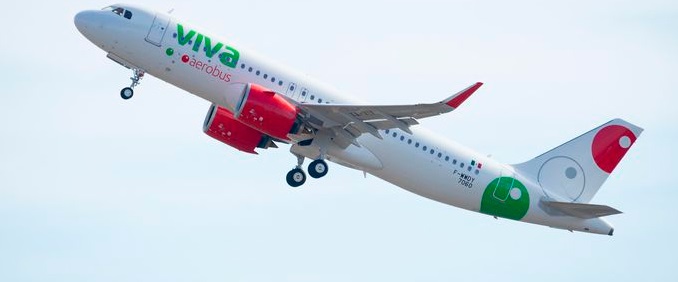 Low cost carrier becomes latest operator of ultra-efficient aircraft in Latin America
Low-cost carrier Viva Aerobus has taken delivery of its first A320neo, becoming the latest operator of Airbus ultra-efficient single-aisle aircraft in Latin America. Viva Aerobus became an Airbus customer in 2013 when it placed the biggest order for Airbus in Mexican history for 52 A320 Family aircraft, including 40 A320neo. Viva Aerobus operates 20 A320 aircraft and has nearly completed its transition to become an all-Airbus operator by year end.
The Viva Aerobus A320neo is powered by Pratt & Whitney Pure Power PW1100-JM engines. The aircraft is configured with Airbus' innovative Space-Flex cabin seating up to 186 passengers in wider 18" seats, for unmatched passenger comfort.
The A320neo Family incorporates latest technologies including new generation engines and Sharklet wing tip devices, which together deliver more than 15 percent in fuel savings from day one and 20 percent by 2020.
"The arrival of the A320neo is a historic milestone in the transformation of the new Viva Aerobus," said Juan Carlos Zuazua, CEO of Viva Aerobus. "With this first A320neo we are one step closer to reaching our year-end goal of becoming an all-Airbus operator and offering our passengers the youngest aircraft fleet in all of Latin America."
"Airbus is proud to support Viva Aerobus evolve into one of the fastest-growing and most dynamic airlines in Mexico," said Rafael Alonso, President of Airbus Latin America and the Caribbean. "Mexico's strong economic growth presents a unique opportunity for airlines such as Viva Aerobus to expand their fleets with the industry's top performing A320neo to improve their efficiency and environmental footprint."
The A320neo Family is the world's best-selling single aisle product line with nearly 4,800 orders from 87 customers since its launch in 2010 capturing some 60 percent share of the market. Thanks to their widest cabin, all members of the A320neo Family offer unmatched comfort in all classes and Airbus' 18" wide seats in economy as standard.