B2Broker Launches White Label cTrader Ready Made Solution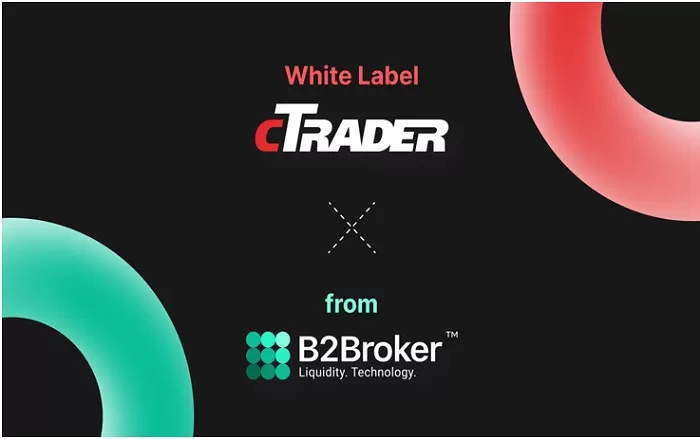 B2Broker is a leading international group of companies in the delivery of technology and financial operations to the forex and cryptocurrency industries. Today, we are pleased to share with you the successful release of the new product – the cTrader White Label solution. Our goal is to provide brokers with connections to numerous multi-asset trading platforms available in the industry. The cTrader platform is recognized amongst active traders due to its revolutionary capabilities and robust trading systems. The new White label package allows brokers to provide their clients with a comprehensive trading experience on the cTrader platform.
About cTrader White Label
Using our elegant user interface, which can be personalized into any style you wish to, the fully-featured broker design enables both corporate enterprises and retail organizations to create personalized encounters that represent each company's own style or desire!
White Label cTrader is a trading system that allows you to start your own Forex, cryptocurrency, or multi-asset brokerage instantly. If you already have an active brokerage, you can use this While Label solution to offer more options to your customers. Our new solution is a robust and easy-to-use trading platform with all essential tools without any unwanted distraction. Moreover, the White Label cTrader delivers all of the capabilities and resources required to achieve success without the requirement of extra expenses, such as obtaining a cTrader server licensing, adjusting settings and other parameters, or finding and implementing a dependable liquidity provider. Furthermore, you will not be required to integrate with CRM or back-office systems, set up crypto processing or a whole infrastructure by yourself. This is in addition to a contact center that is open 24 hours a day, seven days a week, to solve any concerns or answer any inquiries. You have access to a completely functional, proven solution for your brokerage with the White Label cTrader.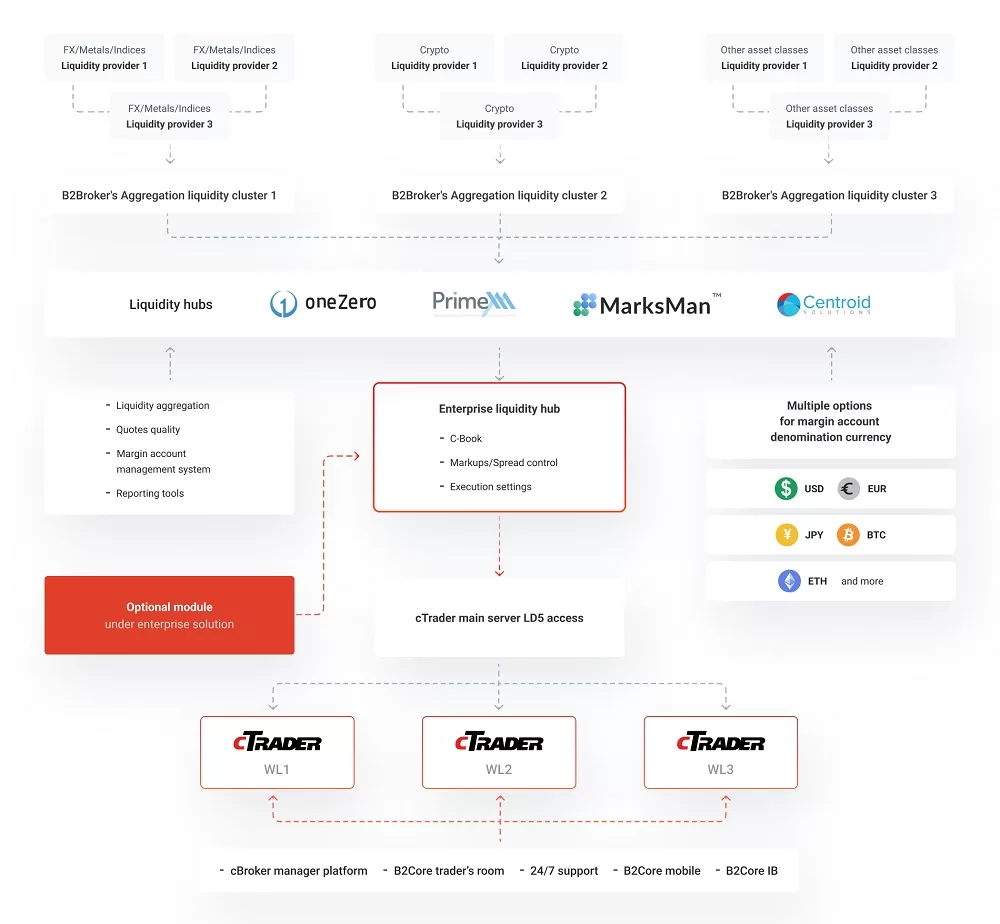 cBroker – Powerful Tool for White Label cTrader
It is worth talking about cBroker separately. This program is a back-office tool that manages everything about transaction queries and monitors customer information together with their accounts. Besides that, cBroker integrates and monitors all information that flows through the system, making it an essential arranging tool and control interface. cBroker was created to be highly user-friendly, giving you full control over the business process. You can always count on having complete access to all functions and information, giving you complete control over every single aspect.
cTrader Copy
On a fully configurable investing platform, traders may easily replicate the tactics of other investors or even contribute their own techniques for copying by other traders using cTrader Copy. This service is an excellent method to broaden your audience, acquire new clients, and produce more income.
Like every product we develop, the cTrader Copy platform perfectly fits every trader and offers numerous options. Traders can also choose assets they want to trade, the quantity of how much they want to invest, the risk level, as well as the Copy Stop Loss feature.
cTrader Open API
Another unique feature is that you can develop your own platform on top of the cTrader open API together with specialized trading applications.
Many of the platforms currently available on the market often don't let businesses construct and modify their own trading interfaces, nor build mobile trading apps. However, with White Label cTrader, you may customize the platform's interface to suit the style and look of your firm as well as the needs of your traders.
In addition to that, our new solution can easily be connected to your trader's room. Such an option will enable you to maintain utilizing all of your core trading functions as well as any other apps you desire to implement. You can design your own or utilize one of the many popular ones presently accessible, such as TradingView or other prominent platforms. Custom platform labels, customized visuals such as posters, and other symbols that will represent your brand, together with indicators and technical analysis tools, are all accessible thanks to cTrader White Label.
Prime of Prime Liquidity Pool
B2Broker currently offers direct access to the market's best trading tools, including 110 FX symbols and 150 cryptocurrency CFDs. That said, the cTrader White Label solution includes a Prime of Prime liquidity pool, which provides you with the most competitive rates from the world's biggest major banks, prime of primes, and financial institutions. Forex, Metals, Commodities, Indices, Cryptos, and other asset classes are also available. It is worth noting that they are all covered by Top global liquidity and are provided with over a thousand trading instruments.
B2Broker and cTrader
"cTrader is a well-known platform with a proven track record of success, and it is used by all the market's top brokers. A quick search on the Appstore for cTrader will reveal all the major companies that use this platform.
We believe that in today's ultra competitive markets, every broker must offer a wide variety of trading platforms to its clients. Otherwise, the broker would lose clients who wish to trade on the cTrader platform. In addition to the traditional trading capabilities provided by the MT platform, cTrader will almost certainly attract a new category of traders and investors.
When it comes to managing your crypto brokerage, and its algo capabilities, cTrader is one of the top solutions on the market.
Since 2021, we have been seeing a growing demand for cTrader among cryptocurrency brokers. Since many cTrader brokers use our liquidity offering, we decided to open a whole new world for brokers that want to grow more sophisticated and cater to traders' needs, rather than requiring them to use a single platform," B2Broker CEO Arthur Azizov.
No matter if you're a new or already established business, the B2Broker cTrader White Label platform was designed for everyone and will help you to meet your business goals quickly and effectively.
With B2Broker's cTrader White Label platform, you can expect even more advantages and features. Please keep visiting our projects and wait for new developments coming soon. Shall you have any questions, do not hesitate and please get in touch with us. We are always happy to help.