A Long-Awaited White Label Platform for Margin Trading is Launched by B2Broker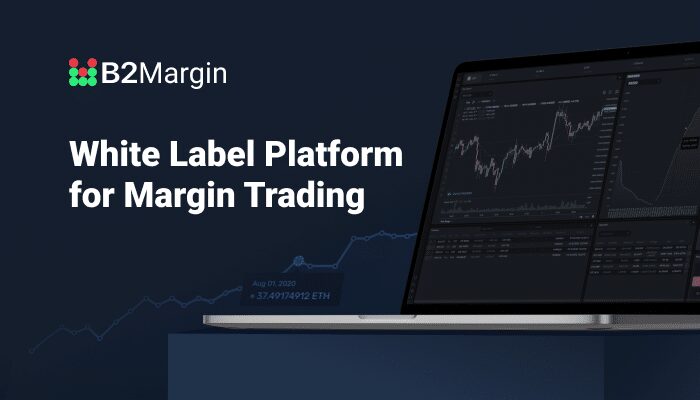 B2Margin is a brand new solution on the global map of margin trading. The year 2020 made traders look at the sector from a different perspective, realising its pros over spot trading. Margin trading is well on the way to expanding its influence in just the Forex market, and is now gaining popularity within the crypto industry.
Crypto industry development is speeded up several times over, and leveraged trading presents more capabilities for crypto traders, increasing their profits. For this reason, margin trading cannot be ignored anymore – even the largest crypto exchanges support this new trend, adding leveraged trading to their functionality.
Hence, 2020 was definitely the time for B2Margin. The White Label platform has already been adopted by a number of new clients. According to statistics, margin trading volumes grew by 38.6% within the last year, and now this trend is set to continue. Furthermore, margin crypto trading impacts on an exchange's safety and security, minimizing the threat of hacking.
B2Margin is a one-step-ahead-of-its-time product, offering exchanges a brand new solution for providing clients with up-to-date capabilities.
What is B2Margin?
B2Margin's goal lies in multiplying traders' profits by offering them leveraged funds. However, the platform goes far beyond just a product for margin trading. It is an entirely new solution mixed with numerous benefits and pros over traditional instruments. B2Margin's functionality includes compliance, risk management, price settings, and professional analytics for traders.
The product perfectly meets the needs of both private traders and corporate clients, offering them a specific range of useful and effective services. B2Margin is compatible with different classes of assets, including Forex, digital currencies, metals, ETFs, etc. This product implementation enables every broker to offer both leverage and cash trading for their clients.
Furthermore, B2Broker is on course to bring its dividend distribution module into the loop to empower broker-dealers with the option of liquidity providing for STOs shares and cash equities.
Professional and Customized Graphical User Interface
B2Margin makes for maximum comfort for every trader as its principal goal. In this respect, the interface is equally efficient and convenient for all customers, from beginners to experienced clients. High-end customization makes it possible for users to adopt the layout according to their demands. The platform classifies trading instruments and tools by several groups which are all available at a users' fingertips. Traders can also customize their workspacel. The following features illustrate the convenience and progressiveness of the platform:
Different Types of Orders
Users rely on diverse trading strategies, hence, B2Margin supports different types of orders to make it easy to adjust orders to the chosen strategies. Regardless of the stage the trader is at i.e. entering or leaving a trade, the platform provides users with all the instruments they need to handle the trading process. B2Margin supports diverse orders, starting with Protection ones and ending by Time in Force or Pending orders.
Advanced Charts
This enables users to change measures and time periods of charts to get the fullest control over their trades. All trading instruments and tools are available at your fingertips. Experience more than 50 indicators to make your analytics as precise as possible!
Secure Wallets
Security is always an aspect traders take into account. B2Margin offers completely secure wallets that are difficult to hack as all assets are stored offline, protecting users' funds from any risks and threats.
Watchlist for the Highest Customization
No matter how many trading instruments and tools are on offer, all traders have some favorite ones, and B2Margin's "Watchlist" is all about accessing the chosen instruments in seconds which makes trading even more effective. Furthermore, this section contains price changes of the chosen assets.
Depth of the Market
The order book is updated in real-time mode, providing traders with an understanding of the market depth for each asset.
Adaptable Leverage Index
B2Margin empowers brokers with the opportunity to offer their clients customized leverage indexes which are changeable, depending on a certain order. Such a feature serves as a unique, additional risk management option, therefore, adaptable leverage indexes can be regarded as a competitive advantage.
Advanced Risk Management
Most brokers provide traders with A-Book and B-Book risk management instruments, but B2Margin goes beyond this, offering brokers access to C-Book. Traders get the chance to obtain customized spreads, markup, and even fees, hence, the platform empowers brokers to offer great advantages that will catch users' attention. This can be implemented for certain traders or certain groups of users.
24/7 Customer Support
Users obtain multilingual technical support for easy and timely resolving of any technical issues.
So what is B2Margin? A set of unique features to allow traders to get their activities under maximum control and customize the trading process itself as much as possible to obtain maximum profits. The solution opens new perspectives for both brokers and their clients.