An Impartial Review of SSL2BUY to Help You Make An Informed Decision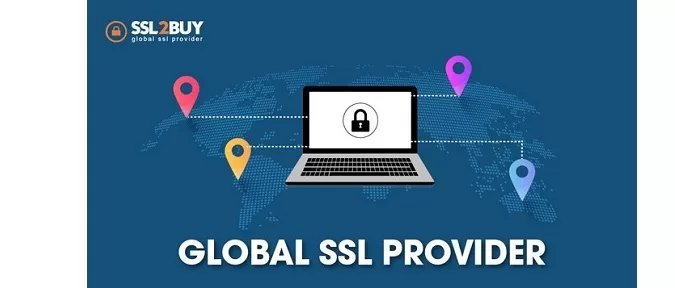 The online world is increasingly being hit by newer and more sophisticated forms of cyberattacks. And, the cost to prevent and recover from these infiltrations for your blog, corporate website, or online store can go all the way from dwindling customers, lost revenue, expensive litigations to complete shutdown. There is an ever-growing need to protect yourself and your customers from data theft to not only thrive in on the internet but even to survive.
You don't have a choice anymore. What can you do to add an active layer of protection to your website quickly? The answer is getting an SSL certificate. It is the best value for money solution out there and can be implemented quickly.
Let us begin by looking at the basics of SSL, why you need one, and where should you shop for it.
The basics of SSL
Have you ever wondered what the padlock on your web browser means when you visit reputed websites? This security symbol signifies that a valid SSL certificate protects the site you are visiting and you can browse around, fill forms, submit your personal information, and perform financial transactions without worrying about your data being stolen.
The SSL certificate activates the more secure HTTPS (Hyper Text Transfer Protocol Secure) protocol which encrypts the data flowing between the web server and the site visitor's browser. This prevents anyone tapping the wire from making sense of the actual information being exchanged and stops data theft.
Do you need an SSL certificate?
Your users may need to share sensitive and personal information with your website during their browsing session. An SSL certificate will prevent their data from getting stolen while it is being transmitted by encrypting all communication.
The customers will feel more confident in working with your website due to the visual cues they see on their browser (like a secured padlock) to indicate that the data exchange is being encrypted with an SSL certificate. This will convert your potential customers with trust and will lead to increased ROI.
You will also benefit from the SEO boost you get from search engines for using SSL/HTTPS, so you get more free organic targeted traffic.
Who should you go shopping for your SSL certificate?
Once you've made up your mind to buy an SSL certificate, you will be amazed and confused at the number of options available. How do you know which SSL certificate provider to use for your security needs?
Evaluate them on their reputation, price customer service, reliability, and variety of offerings. SSL2BUY seems to be one of the best bets out there. Now, we do not want you to take our word for it. Don't jump to a conclusion before checking out our impartial review where we examine SSL2BUY on various parameters.
SSL2Buy – An impartial review
SSL2BUY provides a wide range of authentic SSL certificates globally.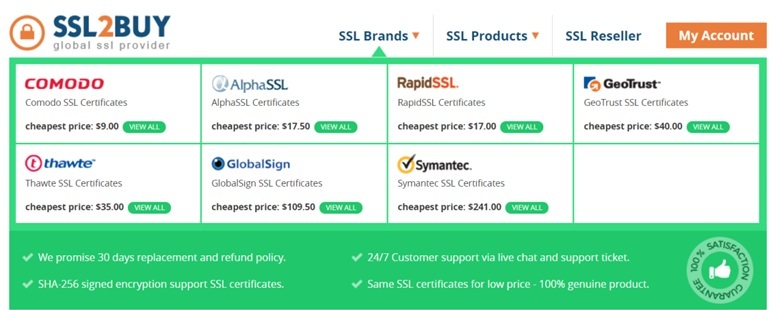 SSL2BUY being an authenticated resellers works with the most trustworthy and globally known CAs (Certificate Authorities) directly. It has entered into accredited partner programs with the likes of GeoTrust, Symantec (who also owns VeriSign), GlobalSign, AlphaSSL, Comodo, RapidSSL, and Thawte. So, you can depend on SSL2BUY for the lowest prices on authentic products.
SSL2BUY has the reputation of being one of the finest global SSL certificate providers. They offer a comprehensive range of security solutions to protect your online properties and crucial applications.
Range of security products and SSL certificates
SSL2BUY offers you a wide range of SSL certificates, and you are sure to find the one that suits your needs. If you are not sure of which one to get, contact their helpful and courteous customer service agents who will gladly guide you correctly – they don't oversell and will provide you with the best deal.

Here are some of the security products SSL2BUY offers:
Single Domain SSL – to protect a single domain
Wildcard certificate – to secure multiple subdomains
EV SSL certificate – to get the highest authentication on your website that will gain customer confidence
Organization Validation – for SMBs looking for enhanced online trust
Multi Domain SAN SSL – to protect multiple domains
Exchange Server (UCC) –to secure multiple domains and related Microsoft exchange services
Code Signing certificates –to put an authentication seal on software's code with digital signatures
Multi Domain Wildcard SSL –to protect multiple domains and its unlimited of subdomains
Other advantages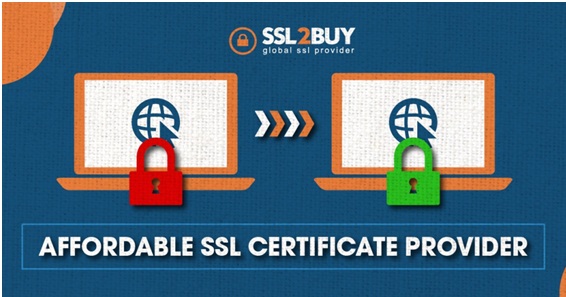 Here are some of the advantages of working with SSL2BUY:
Their outstanding customer support is available 24/7
All their products are priced very competitively, probably the best bargains you'll find anywhere
You can rely on them for the authenticity of their products as they are authorized by the majority of international CAs and global security brands
SSL2BUY backs all its sales with a 100% money-back guarantee for 30 days
This is a company with an international footprint in excess of 65 countries
Their support team works closely with you to capture your security and business needs before offering you tailor-made solutions to suit your budget
And they have fantastic ratings on various reviewing platforms
SSL2BUY's Partner Program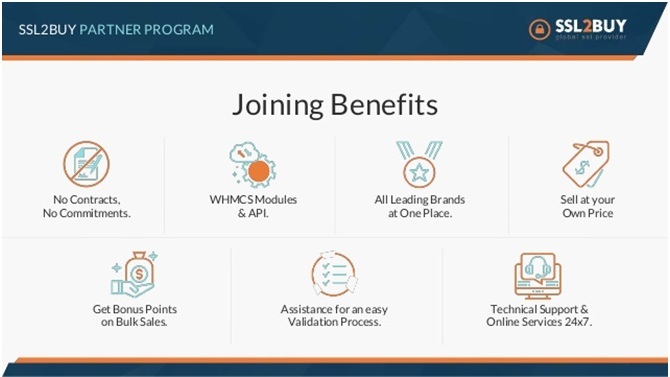 SSL2BUY also has an amazing reseller program for anyone looking to make some extra by offering their authentic products as part of their portfolio. Here are some of the key features of the partner program:
Zero setup fees
A very well-designed partner portal that you can use to manage your client orders, service enrollments, product reminders, certificate cancellations and reissuances easily
Get their products at the lowest price by signing up for volume contracts
Your Customers get security certificates directly issued by the trusted CAs
You can easily integrate their offerings in your platform using their powerful APIs
Use SSL2BUY's white label solutions to offer their products under your own reselling brand
You are free to sell their products at your own prices
In summary, SSL2BUY seems to be an excellent option to fulfill your SSL and digital certificate needs. They provide the best prices on authentic products procured from internationally recognized companies. Their tech and sales support enjoys an excellent reputation amongst their international and local customers. The 100% money-back guarantee is good to have in case you don't like what you get. All-in-all, SSL2BUY should be one of the top ones in the list of companies you may want to get your digital certificates from.