Americans vs Brits: How do our work wear buying habits and culture compare?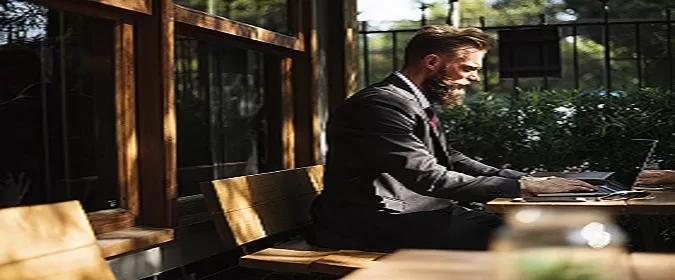 From James Bond to Wall Street, there have been varying portrayals over time of British and American business cultures. The associations that come with London and New York might not be worlds apart, with Paternoster Square and Wall Street both revelling in the constant buzz of finance and investment. But how different is business culture across the pond, and have they been dramatized? We take a look at online retail spends on formal wear, as well as analysing some of the ways that Americans and Brits tackle office informalities — such as socialising with colleagues out of office hours and approaching small talk.
Go bold or play it safe: US vs UK Shirt choices
A crisp white shirt has been the base layer of a suit for decades now. But it has evolved over the years. From stain-resistant fabrics to non-iron products, men's shirts have gotten just as smart as the main statement pieces.
It's clear that men still enjoy opting for a crisp white or plain shirt. According to UK retailer CT Shirts, 47% of shirt sales are plain men's formal shirts, whereas in the US, this figure isn't far behind at 40%. The least popular option for buyers in both countries for formal shirts is a spot pattern, implying that from both sides of the Atlantic men still shy away from anything too unconventional!
One of the most notable differences in shirt preferences is that the US spends considerably more on checked shirts. Checked shirts accounted for 29% shirt sales revenue in the US, as opposed to just 20% in the UK. Both countries appear to have a mutual love for a classic formal striped shirt though, accounting for 12% of sales in the UK versus 10% on the US.
Your shirt choice has the power to make or break your signature office look. Brits are shown to play it safe by purchasing more plain or semi-plain shirts to tie their everyday office looks together. This ensures that they aren't taking any attention away from the all-important suit!
Differences in work habits
Clothing aside, one of the biggest differences between the two nations is the average amount of hours spent in work. In 2017, the Organisation for Economic Co-operation and Development produced its annual Employment Outlook report, finding that Britons worked an average of 1,676 hours per year, equating to 32 hours per week. The US crept ahead, with the report finding that American workers put in an average of 1,783 hours per year, totalling 34 hours per week. The cultural perceptions of British and American business hours also differ. Many suits and briefcases populate the numerous pubs in London after the clock has struck half past five, and outside of working hours British business professionals typically socialise more than their American counterparts. In fact, after-work drinking has its own etiquette in the UK. There is a 'work hard, play hard' mentality it seems — en masse trips to the pub and having a pint of your favourite tipple in hand by half past four on a Friday is far more common in Britain.
Across the pond, it's a different story. A study from the University of Michigan found that Americans are less likely to socialise with their colleagues outside of the workplace. This is reflected by the significant contrast in CT Shirts reported split between UK and US spending habits on formal attire as a whole — the American site boasted an 83% mix of formal purchases versus only 22% for casual garment sales, and this was notably smaller in the UK's spend on formal attire, with a 65% split recorded.
Dressing to impress in the boardroom
Having an important business meeting spring up in the weekly schedule means one thing — it's time to pull out your best suit and shoes combination. The Americans and Brits approach this in a relatively similar manner. Due to the sheer geographical scale of the US, face-to-face meetings are less common in large, multi-state corporations. But in the UK's major cities such as Manchester and Glasgow can be travelled between in a matter of hours via train or by air. Both countries clearly value a good suit though, with a revenue mix of 11% for suits in the UK and a 9% mix in US suit sales. The Brits appear to be more conscious of the footwear that ties their suit together though, with a notable spend of £2,153,711 on shoes, whereas this figure is more than halved in the US.
Having a go-to tie is essential. Whether you choose to play it safe with a plain old pop of colour, a dashing spot print, or a suave knitted number, having the perfect tie for the office is a must! US online shoppers spend twice as much on ties as compared to the spend reported from CT's UK site. It's also handy to always keep an windproof umbrella to ensure your workwear is always protected from unpredictable weather conditions.
Cut the small talk, can the gossip
Every business will have a wide variety of conversations echoing through each department. But the UK and US tackle this differently and the content of office dialogue does tend to differ! Americans are more likely to delve into celebrity topics and the latest high-profile pop culture dramas, meanwhile the Brits sway more towards discussing politics and the latest news — it's no surprise with Brexit negotiations ongoing!
So, it appears that Americans and Britons do have some different approaches when it comes to business etiquette. But, who do you think does it better?
Author bio: Megan Johnstone is a copywriter at Mediaworks who specialises in fashion, lifestyle, and contemporary culture. She has a Bachelor's degree in History with a keen interest in the American Civil Rights movement.