Adidas Terrex Launches Hiking Shoe Made for The Female Foot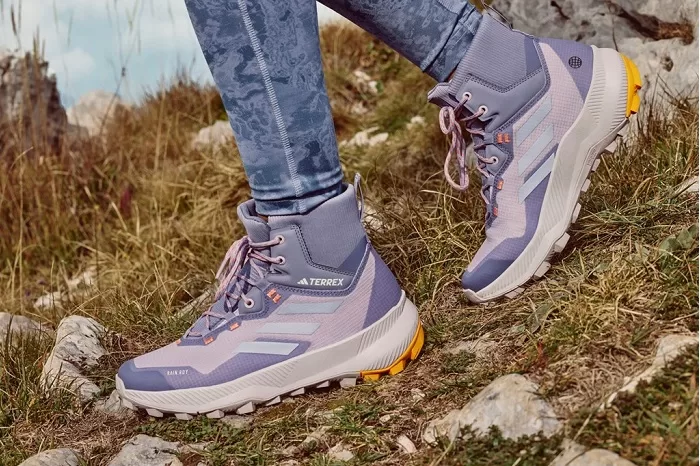 Adidas TERREX's product design team worked in collaboration with women hikers to identify a biometric and experience-based insight to understand the audience need
The resulting product offers bold new innovations that turn insight into benefit including the Adidas TERREX WMN Hiker Mid Rain.Rdy
The Adidas TERREX WMN Hiker Mid Rain.Rdy will be available from 8th March on the Adidas app, via www.adidas.com/terrex and selected retailers.
With four in 10 (43%) women starting hiking during the pandemic*, Adidas TERREX is driven to develop products that are specifically designed for this growing community. The latest step on this journey is the launch of the new Adidas TERREX WMN Hiker Mid Rain.Rdy – a hiking shoe developed specifically for the female anatomy.
Informed by women-specific insights and tested alongside one of the largest women-only hiking communities in Europe, the shoe allows female hikers to connect with nature in comfort. Alongside the shoe, Adidas launches an all-new apparel range.
"Our research shows that being outdoors in nature motivates 96% of women across countries to hike, as they look to connect with nature and escape the everyday" says Rebecca MacKay, Product Manager at Adidas TERREX. "Working alongside our internal last-specific team to gain insights from thousands of foot scans, we were able to analyse and design a shoe that matches what our research showed women are looking for: hiking products that are comfortable, durable, and importantly, offer performance. We hope this new range will continue to help women all over the world to experience the transformative power of the outdoors."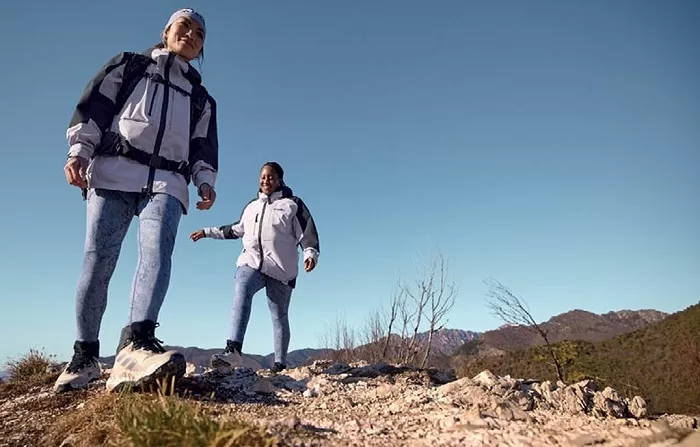 DESIGNED WITH AND FOR WOMEN
During the development process, adidas TERREX's design team explored the ways the female foot hits the ground whilst hiking and the impact this has on the Achilles tendon. The insight from groups in the mountains, anatomic foot specifications, and women's testing feedback made this hiking shoe superior in comfort and support.
With these insights in mind, the team created a number of potential female-specific lasts and gathered the thoughts on these from a selection of members from the Munich Mountain Girls, a community of over 24,000 mountain-loving women, who connect and empower women, digitally and in real life. Their invaluable insight allowed the team to assess which placement of cushioning and support provided the most effective hiking experience, as well as tracking durability between prototypes.
Leveraging these unique insights, the adidas TERREX WMN Hiker Mid Rain.Rdy was formed making it the perfect shoe for women looking to enjoy the outdoors, from casual walks to weekend hike trips. Key features of the shoe include:
Waterproof: Hikers can feel dry even when the weather surprises, thanks to the RAIN.RDY waterproof materials and construction.
Continental™ Rubber outsole: For extraordinary traction in wet and dry conditions.
Comfort meets protection: The stretchy collar material and padding provides an extra layer of comfort while helping keep hiker's ankles protected.
Made with recycled materials: Made with at least 50% recycled content, this product represents just one of adidas' solutions to help End Plastic Waste.
Launching alongside the adidas TERREX WMN Hiker Mid Rain.Rdy is an all-new women-focussed adidas TERREX apparel range, ensuring hikers are equipped with the latest technology from head to toe. The apparel range is all made in part with recycled materials and features:
Women XPLORIC RAIN RDY. JACKET – A waterproof jacket that features a hidden zippered security pocket and a two-way front zipper. RRP €330.
Women MT Full Zip Fleece – The breathable grid fleece jacket for layering includes an extra soft collar lining for a nice stand and soft feel. RRP €75.
Women MT Tee – Design inspired by the outdoors, this tee features layered back shoulder seams and a longer back hem drop. RRP €40.
Women MT all over printed tights – With its subtle print, these tights include an extra wide waistband together with reflective branding.
The adidas TERREX WMN Hiker Mid Rain.Rdy (RRP €150) will be available on the adidas app, via www.adidas.com/terrex and selected retailers.
Source: Adidas