Adidas Introduces ADIZERO Adios Pro Evo 1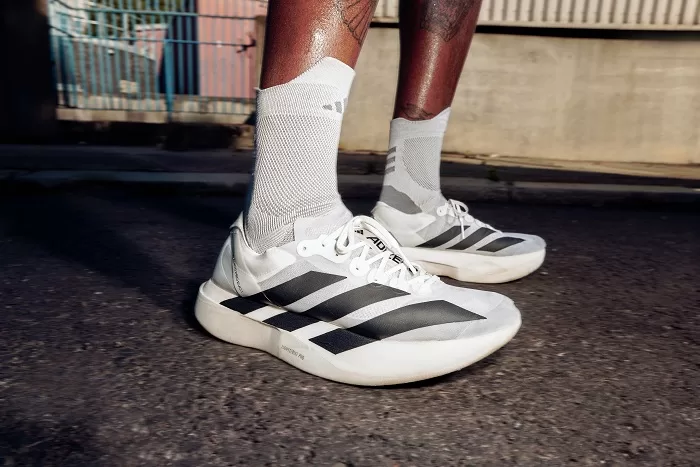 Weighing just 138g, the revolutionary road-racer is 40% lighter than any other racing supershoe adidas has ever created
The shoe is inspired by the same record-breaking technology as the race winning ADIZERO Adios Pro 3 alongside a new forefoot rocker, lab-tested to improve running economy
The shoe will be worn by world's fastest athletes this upcoming marathon season with ambitious runners able to sign up for a chance to get their hands on a limited number of pairs.
Adidas unveils the 138g ADIZERO Adios Pro Evo 1, its lightest ever innovation-packed racing shoe.
With lighter footwear comes the opportunity for greater speed. The revolutionary road-racer is the lightest racing shoe within the adidas running footwear range* – 40% lighter than any other racing supershoe it has ever created. Lighter than ever and packed with the latest technology, the industry-defining shoe is optimized to improve running economy and provide runners with greater energy return.
THE ADIZERO ADIOS PRO EVO 1 IS OUR OWN 'IMPOSSIBLE IS NOTHING' STORY. WE SET OURSELVES THE GOAL TO CREATE A RACING SHOE THAT IS PACKED WITH THE TECHNOLOGY AMBITIOUS RUNNERS HAVE COME TO LOVE IN THE ADIZERO FRANCHISE, BUT AT A WEIGHT WE'VE NEVER SEEN BEFORE AT ADIDAS.
Patrick Nava, VP Product, Running & Credibility Sports at adidas
"To do this, we explored every element of a racing shoe, balancing what we could remove or change to reduce the weight. Created with and for the fastest road racing athletes, this shoe is designed to help ambitious runners go even faster on race day. We are excited to see some of our best athletes lacing up in these shoes in Berlin and other Major Marathons this fall season".
Epitomizing the evolution of the ADIZERO franchise, the ADIZERO Adios Pro Evo 1 features a revamped geometry with a first-of-its-kind forefoot rocker, placed at 60% of the length of the shoe. This innovation is lab-tested to trigger forward momentum and improve running economy.
The shoe also benefits from adidas' latest material innovation including:
REVOLUTIONIZED LIGHTSTRIKE PRO – The newest version of the record-breaking LIGHTSTRIKE PRO foam is crafted in a non-compression molding process. Created with a cutting-edge manufacturing process, this not only reduces weight significantly, but also provides greater energy return for runners. Alongside this, the construction of the shoe has been optimized to reduce the weight, including the removal of the sockliner.
NEW OUTSOLE TECHNOLOGY+ LIGHTWEIGHT UPPER – The outsole features a new cutting-edge outsole technology for optimum traction at a significantly lower weight. A new lightweight mesh upper completes the lightweight approach of the whole shoe.
Throughout the development process insights were gathered from elite athletes during in-camp training and testing in Kenya and in the adidas labs at the HQ in Herzogenaurach, Germany including reigning Olympic champion and two-time Major Marathon winner Peres Jepchirchir and two-time Major Marathon winner Benson Kipruto. Insights were also gathered from German national champion Amanal Petros and last year's Berlin Marathon winner Tigist Assefa.
Speaking about the shoe, Tigist Assefa said: "This is the lightest racing shoe I have ever worn and the feeling of running in them is an incredible experience – like nothing I've felt before. They enable me to put my full focus on the race, which is exactly what you want as an athlete. I feel ready to defend my title in Berlin and can't wait to lace up at the start line in these."
The shoe, minimalist in design, features translucent and see-through materials, acting as a metaphor for its lightness.
Source: Adidas