A-List Line-Up Of Winter Sport Stars To Lead Discovery's Beijing 2022 Coverage Across Europe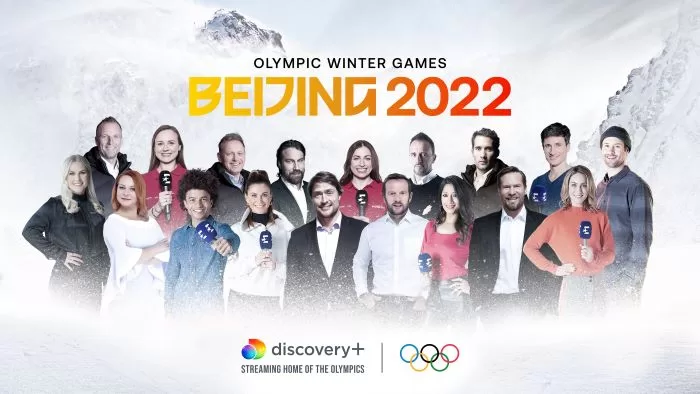 Discovery announces most decorated expert line-up of all-time across Europe, with a combined total of 80 Olympic medals and 215 Olympic Winter Games appearances
'Team Discovery' to include Olympic legends such as Martin Fourcade, Kevin Kuske Anni Friesinger-Postma, Henrik Lundqvist and Justyna Kowalczyk
Scott Young: "Our stunning on-screen roster of global sports stars and experts for Beijing 2022, reads like a Winter Sports Hall of Fame"
Discovery, the Home of the Olympics in Europe*, has revealed its most decorated expert line-up of all time to lead its mission to unlock the power of sport at the upcoming Olympic Winter Games Beijing 2022.
Team Discovery for Beijing 2022 features a 107-strong cast of winter sports experts and presenters with a combined medal tally of 80 Olympic medals, including 26 gold medals.
With an astonishing 215 Olympic Winter Games appearances between them, Discovery's team of experts will offer unparalleled insight and know-how to millions of sports fans across Europe, on the only place to watch all of the Olympic Games in Europe, discovery+**, Eurosport and the Eurosport App.
The stunning roster includes:
Five-time Olympic biathlon champion Martin Fourcade (France / International)
Quadruple Olympic bobsleigh champion Kevin Kuske (Germany)
Triple Olympic speed skating gold medallist Anni Friesinger-Postma (Germany)
Double Olympic cross-country skiing gold medallist Justyna Kowalczyk (Poland)
Turin 2006 ice hockey gold medallist and NHL legend Henrik Lundqvist (Sweden)
Additional star names such as PyeongChang 2018 ski slalom gold medallist André Myhrer (Sweden), giant slalom gold medallist Viktoria Rebensburg (Germany) and Salt Lake City 2002 figure skating gold medallist Marina Anissina (France) mean that Discovery will be the go-to destination for sports fans looking for an innovative and entertaining Olympic viewing experience.
Discovery's team of experts will operate both on-the-ground – in the three clusters of Beijing, Yanqing, and Zhangjiakou – and from their own local 'in-country' studios to deliver 360-degree analysis using ground-breaking technology ensuring every story from every angle is covered.
Scott Young, Senior Vice President, Content and Production, Discovery Sports, said: "With 80 Olympic medals between them, our stunning on-screen roster of global sport stars and experts for Beijing 2022 reads like a Winter Sports Hall of Fame. This the most decorated team we've ever had at any sporting event with an incredible 215 Olympic Games appearances between them.
"Viewers of the Olympic Winter Games on discovery+, Eurosport and the Eurosport App across Europe will have access to an unparalleled font of knowledge, big enough to satisfy even the most die-hard winter sports fans.
"Just six months ago at Tokyo 2020, discovery+ and our digital platforms transformed the way we tell stories at major sporting events and we will continue to push these boundaries during our coverage of Beijing 2022 with 'Team Discovery' leading the way. Our stellar line-up of experts will not only provide in-depth knowledge and analysis, but an inside view that can only be told by elite athletes who have lived through the Olympic experience and triumphed at the greatest sporting event in the world.
"With just two weeks until the Opening Ceremony, we're really excited to see what Beijing 2022 has in store and 'Team Discovery' will play its part in ensuring our audience enjoys the best viewing experience possible."
Further names are expected to be added to 'Team Discovery's' line-up of experts in the lead-up to the Opening Ceremony on 4 February.
Olympic Winter Games Beijing 2022 officially starts with the Opening Ceremony on Friday 4 February with discovery+**, Eurosport and the Eurosport App broadcasting coverage from the first event on 2 February in over 50 markets in Europe*.
*Discovery will screen Beijing 2022 across Europe except Russia
**Beijing 2022 will be available to watch on discovery+ in Denmark, Finland, Italy, Netherlands, Norway, Sweden and United Kingdom. In all other European markets, except Russia, Olympic Games Tokyo 2020 will be available on Eurosport.
About Discovery: 
Discovery, Inc. (Nasdaq: DISCA, DISCB, DISCK) is a global leader in real life entertainment, serving a passionate audience of superfans around the world with content that inspires, informs and entertains. Discovery delivers over 8,000 hours of original programming each year and has category leadership across deeply loved content genres around the world. Available in 220 countries and territories and nearly 50 languages, Discovery is a platform innovator, reaching viewers on all screens, including TV Everywhere products such as the GO portfolio of apps; direct-to-consumer streaming services such as discovery+, Food Network Kitchen and MotorTrend OnDemand; digital-first and social content from Group Nine Media; a landmark natural history and factual content partnership with the BBC; and a strategic alliance with PGA TOUR to create the international home of golf. Discovery's portfolio of premium brands includes Discovery Channel, HGTV, Food Network, TLC, Investigation Discovery, Travel Channel, MotorTrend, Animal Planet, Science Channel, and the forthcoming multi-platform JV with Chip and Joanna Gaines, Magnolia Network, as well as OWN: Oprah Winfrey Network in the U.S., Discovery Kids in Latin America, and Eurosport, the leading provider of locally relevant, premium sports and Home of the Olympic Games across Europe. For more information, please visit corporate.discovery.com and follow @DiscoveryIncTV across social platforms.