8 Social Media Management Tips to Stay Productive and Positive While Working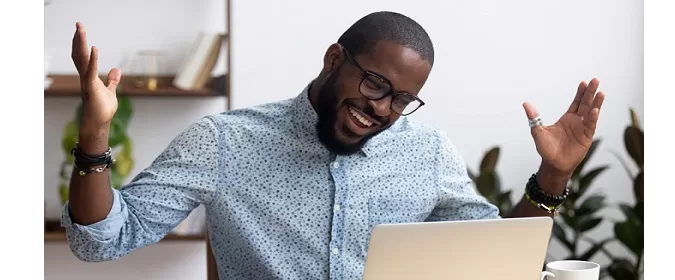 As a social media manager, you have to be on social media all day…which can be quite distracting if you're trying to be productive at the same time.
While many mindset and productivity gurus tell people to get off social media during work hours, that's not exactly possible for you!
Not to mention, there are other challenges when you're working in social media. For example, you may get sucked into a comparison trap when looking at everyone's fabulous vacation photos or pulled in a dozen different directions by clients who expect things to happen right away just because it's the internet.
If you're a remote social media manager, you may also have to deal with distractions from your surroundings, such as kids, pets, neighbors, and even the snack stash! Some people even assume that they can barge in any time just because you're home – which can send half of an afternoon down the drain if you aren't careful.
To become a social media manager who's highly productive, you need to upgrade your mindset, pay attention to self-care, and set yourself up with the right tools. Here's how:
1. Invest in the Right Social Media Management Tools
There are many software applications that can help you do your job better and faster. One of the best social media management tools that allows you to manage all social media in one place is Socialbakers.
There are also some smaller specific tools for automation software (e.g. Zapier, IFTTT) or team collaboration (e.g. Slack). It's important to choose applications that integrate with software that you are already using so you can manage everything on a single dashboard.
Also, responding to messages on social media pages can be very time-consuming. Taking two minutes out to handle messages every 15 minutes will make it extremely difficult to focus on other tasks. You can leverage chatbot technology to help you respond to and route messages on Facebook business pages so you can spend more time focusing on other tasks.
Be strategic about how you invest in these tools. Don't get sidetracked by the fear of missing out (FOMO) and always keep your objectives in mind. Set up a standard process for working with clients and streamline your workflow so you can maximize the time you spend on income-producing project work. The next good thing you can do is to use Hashtag Generator tools for Instagram posting, to perform all well with hashtag thing without doing so much work on research. Such tools help you quickly in generating the right hashtags for your brands or business.
2. Establish Clear Boundaries
A strong boundary is essential if you want to stay in control of your schedule. Remember, it doesn't cost a client anything to ask you to bend over backward. You have to advocate for yourself and know when to say "no" to protect your time and energy.
You may not realize that most clients simply don't understand that they're asking for something out of scope and are very reasonable if you clarify what's covered. Of course, you can accommodate special requests occasionally but explain to the client that it's a one-time occurrence so they don't take it for granted.
You also need to draw clear boundaries with people around you, especially if you're working from home. Being at home doesn't mean you're available to walk the dog or serve lunch on-demand. Communicate your rules and stick to them.
Cultivate a "CEO mindset" whether you're interacting with clients or designing your life. Having proper boundaries allows you to protect your time, energy, and attention so you can focus on what matters and be productive where it counts.
3. Be Disciplined
It's easy to get distracted by the many dramas happening on social media. Everyone has an opinion and some posts may trigger you. When you're working, keep your own ideologies and opinions at bay. Don't become reactive or get sucked into rabbit holes that can take you away from the tasks at hand.
Set a timer to limit how long you spend on each social media channel and log out when the time is up. Know your Achilles' heel – if you can't resist looking at interior decoration boards on Pinterest or scrolling through your Facebook news feed, then be extra mindful and avoid those actions whenever possible.
You can also set your status to "offline" whenever possible to prevent friends from hitting you up on chat or direct message when you're working.