Zara Opens Its New Global Concept Store on New York City Fifth Avenue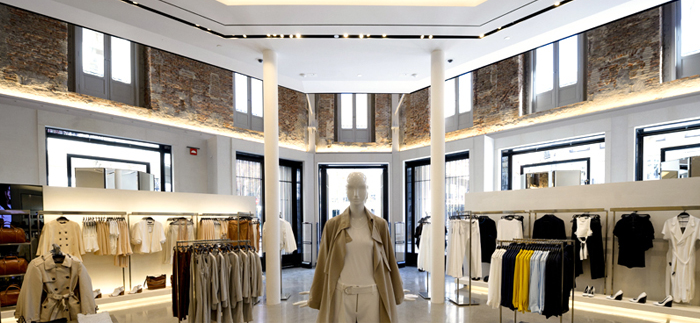 Zara's largest US store designed with the latest advancements in sustainability and will be used as the global standard for the international retailer
Zara, the Inditex Group's fashion retailer, tomorrow inaugurates a New York Citystore showcasing Zara's revamped architecture and interior design scheme. The establishment, in the Tishman Building (666 Fifth Avenue, at the intersection of 52nd Street), enjoys a unique location at the heart of one of the world's prime shopping destinations. The shop's layout reflects an innovative approach to interior design that puts Zara fashions at centre stage.
The new Fifth Avenue Zara is the retailer's largest outlet in the United States, encompassing more than 3,000 square metres spread over three floors. The shop opens onto Fifth Avenue and 52nd Street with five display windows and a facade spanning more than 23 metres. The store will employ 450 people.
The new store image is based on four principles: beauty, clarity, functionality and sustainability. The store's design emphasizes simplicity as part of the retailer's ongoing mission to facilitate direct contact with customers.
In each of the three floors, the store is organized around two long corridors or "catwalks" that lead to intimate boutique-like cubes on each side. Each space showcases a specific collection. The wood furniture is finished in neutral elegant colors and textures reminiscent of fabrics such as linen or silk.
Additionally, the shop includes all of the sustainability features of Inditex's eco-efficient stores, marking further progress in the Group's environmental commitments as outlined in its Sustainable Inditex 2011-2015 Plan. The following are a few highlights of the Fifth Avenue Zara's environmental sustainability features:
Motion detectors in the storeroom dim the area's lights by 80% when no one is present. Motion detectors for lighting are also installed in less-transited areas (toilets and back-of-store corridors).
The store's lighting dims to 66% of normal during janitorial and merchandise loading and unloading shifts.
The shop is equipped with the most efficient heating and air conditioning on the market thanks to its Variable Refrigerant Volume system.
Energy-intensive systems are turned on in a sequential pattern to prevent demand spikes.
Thermostats automatically adjust for heating and air conditioning.
Electronically-regulated air curtains at store entrances prevent the influx of colder or hotter air from outside.
Speed-controlled mechanical escalators.
Automatically opening double entrance doors.
Wood used in store fittings and furnishings bears the PEFC seal (Programme for the Endorsement of Forest Certification), which guarantees that it comes from sustainably, responsibly harvested forests.
Zara shopping bags also bear the PEFC seal, while plastic bags are biodegradable.
The result of these measures is a store that consumes 30% less energy annually than the average for a conventional shop, uses 70% less water and prevents atmospheric emissions of more than 150 tonnes of CO2  per year.
A global presence, with more than 5,500 stores
The Inditex Group welcomes shoppers in more than 80 countries with more than 5,500 stores and eight retail formats: Zara, Pull&Bear, Massimo Dutti, Bershka, Stradivarius, Oysho, Zara Home and Uterque­. With total net sales exceeding 12.5 billion euros in 2010, Inditex is renowned for a business model that enables it to quickly meet changing market needs. All establishments worldwide receive new product twice weekly, enabling them to constantly refresh their merchandise with the latest fashion trends and tweak their collections to account for their own customers' changing tastes and desires. More than 1,000 product design and development personnel at Inditex receive ongoing feedback from Group stores, helping them to mobilise rapidly to offer customers the items they crave at an attractive price.
 SOURCE Inditex