What to Wear to Different Sports Events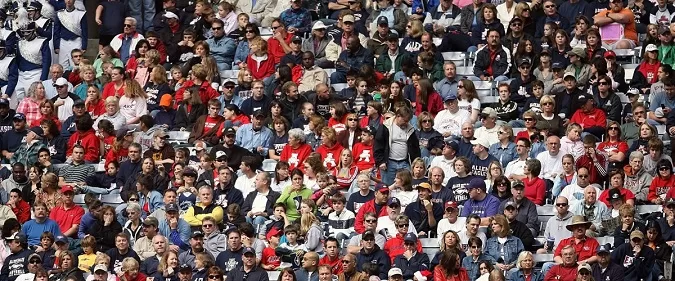 The last thing you will likely want is to stand out in a crowd for all the wrong reasons. To attend an exciting sports event without feeling self-conscious about your appearance, you should understand the types of outfits permitted/expected at a venue. To feel confident while watching your favorite team or player, here are some top tips on what to wear to different sports events.
Wimbledon
Wimbledon is one of the most prestigious tennis tournaments in the world, arguably rivaling the likes of the US Open and French Open. However, you will stick out like a sore thumb if you don the wrong clothing to the event.
It is traditional for men to wear a fashionable suit with a tie when attending a Wimbledon match. Women are encouraged to dress in either white or summery outfits when watching from the stands. If in doubt, find an outfit you would be more than happy to wear to an outdoor summer wedding, but you will, of course, be able to wear white to the sporting event.
Royal Ascot
Ascot Racecourse is one of the most popular racecourses in the UK. It hosts an incredible 13 of the nation's 36 annual Group 1 horse races. The biggest highlight of the event is, of course, The Gold Cup, which offers a £500,000 purse. However, it is no match for the Golden Slipper Stakes, as Oddschecker has stated this is the world's richest race with a £3.5 million purse.
There is, however, a strict dress code that all spectators must adhere to when attending an event. After all, members of the royal family are often in attendance, including Queen Elizabeth II. For instance, the racecourse requires both dresses and skirts to be a modest length, so they should fall just above the knee or longer. Shorts are prohibited, you are not permitted to show your midriff and all dress and top straps are required to be an inch or more long.
Every spectator must also adorn a hat at the venue, so it provides the perfect opportunity to have some fun with your personal style. For example, you could make a bold statement by wearing a colorful fascinator or a bold headpiece, which should continually be worn.
An NFL Game
If you like to dress a little more casually, you should make your way to an NFL game. You'll be happy to know there is no strict dress code to adhere to at most stadiums. In fact, you can blend in with the crowd by sticking to everyday wear, which could range from a t-shirt and jeans to a sweater and chinos. Of course, you should review the weather forecast before you step out the door, as you might need a coat, hat and gloves if temperatures plummet when cheering on your team to victory.
Boxing Matches
A boxing match dress code will be determined by both the location of your tickets and the scale of an event. For instance, if you are lucky enough to secure front row seats to an upcoming title fight, you should wear a more formal outfit, such as a smart suit or a sophisticated dress. If, however, you are sitting in the back row, you could wear less formal attire, such as shirt and trousers. If, however, you are attending a youth boxing event in your neighborhood, it is more than likely appropriate to wear casual clothing.
Henley Royal Regatta
The Henley Royal Regatta is, without a doubt, the most recognizable regatta in the world. While the rowing event is bound to become the highlight of your summer, there is a strict dress code. To enter the Stewards' Enclosure, ladies must wear dresses with a hemline below the knee. They are also not permitted to wear skirts, trousers or culottes. Gentlemen must also wear lounge suits, a jacket, or a blazer with flannels, and they all must be worn with either a cravat or a tie. There is, however, no dress code for those entering the Regatta Enclosure.
In addition to a dress code, the Henry Royal Regatta also has a strict mobile phone policy. For instance, the receiving or making of phone calls is prohibited in the Stewards' Enclosure.
So, if you are set to attend any of the above sporting events, you should keep their dress codes in mind.