What are the Different Types of Flatbed Trailers?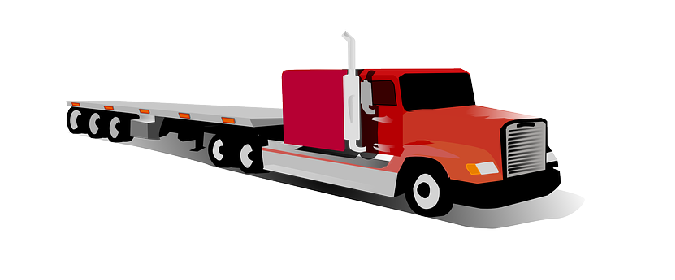 Flatbed trailers are absolutely essential in the shipping industry and in many other industries that rely on transporting merchandise and equipment from one place to another. Many businesses utilize containers of various types, but certain items such as construction equipment, extended pipes and rails, or even anything palletized that can be strapped down are prime cargo for a flatbed. However, many people who have a need for a transporting device do not realize there are several types of beds that range in size and structure. Just like having the right container such as a refrigerated box for environment-sensitive hauling projects, there are different types of flatbeds that may work better for specific assignments. It is important to do some research before making a decision because it could save both time and money as well make the job much easier when loading and unloading before and after transit.
Standard Straight Steel Flatbed
The most common flatbed is no doubt the standard steel one-level flatbed that runs the entire frame of the structure. The highest quality of these beds are factory manufactured and engineered for safety and durability. While they can be rented from reputable transportation leasing outlets, many businesses or owner-operators actually opt to buy a flatbed trailer when they have a regular need for the equipment and can locate the exact trailer they want. They are indeed a reliable standard in the shipping industry.
Bi-level Flatbeds
Specific flatbeds are also available that work very well when multiple pieces of cargo are being shipped and it is necessary to offset the load. They come with an elevated platform close to the tractor cab and a lowered bed at the rear. They can also be engineered for ease of loading and unloading depending on the hauling job, and many companies find them very handy for certain projects.
Lowboy Flatbeds
Another very useful flatbed trailer is called the lowboy, and they are often multi-level as well with a very low platform on the rear over the back axle. These beds are excellent for transporting tall or wide equipment, and are especially effective when cargo is being loaded or unloaded.
Tippers
Some loads are much more easily hauled on flatbeds with tipping hydraulic systems that will allow for a slow and controlled unloading when the bed can be "tipped" upwards in front and lower the cargo in the back for dismount. Of course, they are also great devices for loading as well, and especially for transporting rolling stock cargo.
Walking Floor Trailers
Another extremely useful flatbed is the walking floor trailer that can unload cargo by sliding the floor backwards toward the rear of the trailer. It works well for open top walled containers used for hauling loose cargo such as sawdust and the like because the floor can actually provide a safe and slow method of dumping the contents without need for much manual labor.
These are just several options when a hauler is considering whether to rent or buy a flatbed trailer for any particular transporting job. Always make sure you contact an established and reputable transportation equipment company when making a purchase because of the investment level and potential customer service needed in the future. Where you purchase your trailer is just as important as which type you choose, and having a solid working relationship with an equipment outlet is always an advantage.