What Are Japanese Pachinko Machines?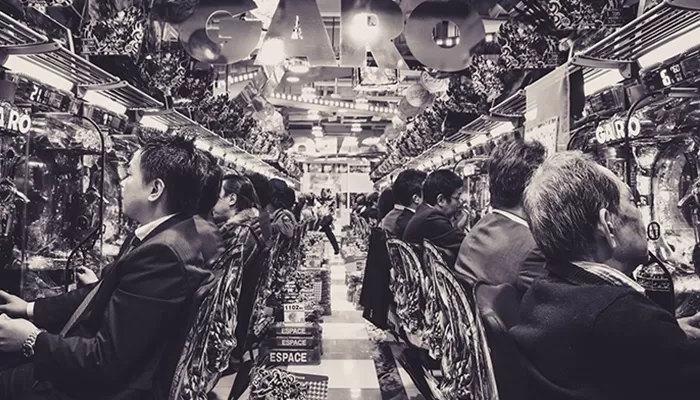 If you've ever played arcade games, you're probably familiar with pachinko machines. These machines are a variation of skee-ball machines, but with a twist: instead of ski-balls, players use metal balls. These balls, or tickets, can be exchanged for prizes. Today, the machines are more electronic and sophisticated.
History of Japanese Pachinko machines
The history of Pachinko machines dates back to the early 1900s. These games were originally designed as children's versions of pinball games like Bagatelle. These machines were exported to Japan and soon became very popular. After the World War II, the Japanese market grew significantly, and the game became a multi-billion-dollar industry.
Pachinko machines were originally designed for home use but soon made their way into markets, festivals, and candy stores. Early prizes included pencils, sweets, and fruits and vegetables. Later, pachinko parlors added tobacco prizes. Takeichi Masamura, a native of Nagoya, improved pachinko machines by adding a skill element.
Pachinko machines are still popular in Japan. The industry has become an integral part of daily life. Many people enjoy the simple thrill of watching a ball fall into a bucket. While the results are often based on chance, players enjoy the challenge. During the 1980s, video games introduced new characters and themes, and many pachinko parlors began to feature these characters.
Types of machines
Pachinko is a popular game in Japan. The main objective of the game is to collect as many balls as possible, which can be exchanged for prizes. The original pachinko machines were mechanical, but today they contain extensive electronics. In many ways, pachinko machines are similar to video slots. However, some pachinko machines do not use steel balls and are simply filled with coins or tokens.
There are several types of pachinko machines in Japan. The first, known as pachinko, were built in the 1920s as toys for children. The name was inspired by the sound that the game makes when it is played. In 1930, the Aichi prefecture granted its first license to open a pachinko parlor. This was the first pachinko hall in Japan. The term "gachinko" comes from sumo wrestling and literally means "fevered." Modern electronic machines often incorporate a 'fever mode' to simulate a high-speed and furious shot.
Another type of pachinko machine is the kenrimono machine. This one has more rules and a higher payout prize, but it can be more difficult to win. The kenrimono machine is not as common, but it is more challenging to win at than a traditional slot machine.
Similarity to video slot machines
Video slot machines are very similar to pachinko machines in some ways. While pachinko machines were traditionally mechanical, most of the latest models incorporate extensive electronics. The machines are similar to slot machines in many ways, including gameplay and betting options. Those who have played video slots may have a better understanding of pachinko games.
Many video slot machines in Japan are similar to pachinko machines. Both have spinning reels, jackpots, and multiple game modes. The jackpot amount increases as the number of winning pockets increases. You can also exchange your winning balls for a variety of items, including cosmetics, anime figurines, and local souvenirs. Although gambling is not legal in Japan, many pachinko parlors offer prizes that are more useful than money. This makes pachinko a popular choice for casual players, children, and newcomers.
Although many Japanese video games have video slot machine counterparts, pachinko machines are more popular in video arcades. Although pachinko machines use the same technology as video slots, pachinko games require more skill and calculation. Players must be able to slide the small steel balls into a pocket to win prizes.
Loophole in the law that allows players to gamble for money
Although gambling for cash is illegal in Japan, there is a loophole in the law that allows players to bet real money on pachinko machines. When a player wins, they exchange their pachinko balls for special prize tokens, which are sold to a vendor off-premises. Once they've cashed in their tokens, they can exchange them for cash at an exchange center nearby. This makes it possible for foreigners to enjoy pachinko games without worrying about breaking the law.
While the Japanese government outright bans gambling, many people choose to participate in the industry anyway. Players can even sell their prizes to other players at neighboring booths, which are usually the pachinko parlor operators. This industry is worth over $200 billion in the country, and millions of people enjoy the game.
This bizarre system only works if all parties involved in the business play by the rules. The employees of a pachinko parlor must be impartial and not let players exchange their prize tickets for real money. If the employees did this, the business would be illegal in Japan.