Volpod Launches A New Mobile Charging Device That Eliminates The Need For Outlet Chargers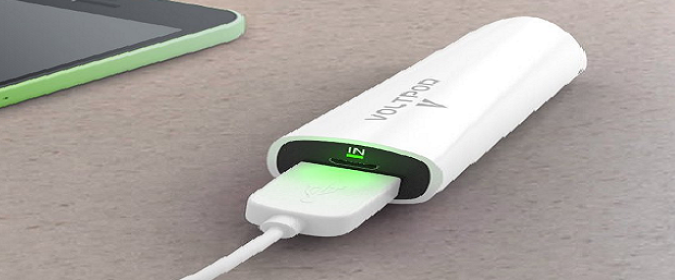 We live on our mobile devices these days, the new Voltpod Mini portable charger can breath new life into your battery when you need it most.
 Delray Beach, FL — What: You've seen it everywhere people travel, and it's become a staple after major disasters – people huddling around outlets to get phones, laptops, tablets and other devices charged up so they have a means to communicate and to entertain themselves. Photos even circulated in the media after major disasters where businesses and residents were placing multi-outlet surge protectors in the open for people to charge their devices and reach out to loved ones.
Why: Being able to communicate at any time (especially during hard times) is critical, and cell phones make that easy. No matter where you are they give you a way to reach out to people to let them know you're safe. That is, until the power goes out and the battery dies. When that happens, mobile devices become a paper weight.
A Mobile Charger that Keeps the Lights On
When phones and mobile devices around you are failing, the new Voltpod Mini portable charger can provide your battery with new life. Huddled in darkness, the light of the screen on your mobile device can bring hope. At just 2.2 ounces, it's the most compact portable charger you can take anywhere, ensuring that you always have a line to friends, family and help should disaster strike.
Most importantly, the Voltpod Mini portable charger is a universal device, providing reserve power to virtually any device that utilizes 5 volt USB for charging – including Apple and Android devices. It's like having a full battery in your back pocket, ready when you need it.
"One thing that caught my attention after Hurricane Sandy hit the northeast pretty hard were news stories I saw about people offering their neighbors outlets and extension cables so strangers could charge devices and call family" said Paul Turner – CEO of Voltpod "That really inspired me. It made me want to create a better device so that people didn't have to hunt for outlets. When their device died, they could just plug into it and let their mobile phones recharge quickly right back to full. That led to the creation of the Voltpod Mini."
The device is the most compact in its class compared to other mobile chargers with similar features. This makes it easy to pack into any go bag during an emergency, to keep in the vehicle, or to keep charged in your pocket when you need it most. And according to Turner that's the number 1 goal.
"We want everyone to have one. Sure that's great for our revenue as a company, but as a people we should always be able to reach someone in an emergency. When disaster strikes, knowing that people were able to reach family or emergency services because of something we created… that's why we do this."
The Voltpod Mini is currently available for sale through the Amazon Marketplace with a retail price of $19.95 and is available white, allowing mobile users to easily match it to any color device they have.
About Voltpod
Voltpod sells premium mobile device chargers and accessories with a strong focus on great customer service. This portable lipstick-style external battery charger is the most compact charger of this type on the market.