Volkswagen of America Unveils Five-Car Enthusiast Event Fleet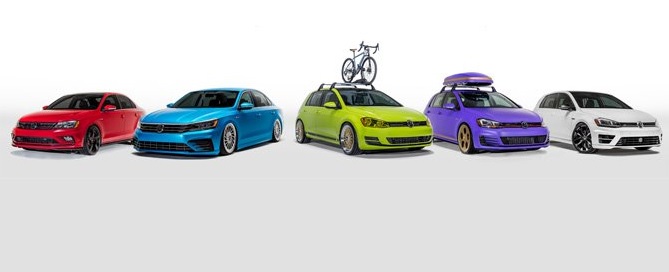 With the summer enthusiast season just around the corner, Volkswagen of America, Inc. has unveiled its enthusiast show fleet for 2016. Featuring five models from the brand lineup, these special show vehicles are inspired by the diverse interests of Volkswagen enthusiasts. The fleet is comprised of cars focusing on performance as well as pure style—vehicles that both reflect the rich tradition of Volkswagen heritage, and models which embody a sleek, modern flair.
Golf 1.8T
Inspired by the famous Bali Green paint color from the Mk 1 Volkswagen Rabbit, this 2016 Golf 1.8T show car brings this classic look to the modern day. Yellow headlight tinting mirrors the gold spokes of 19-inch BBS Super RS wheels wrapped in a set of Michelin Pilot Super Sport tires, while the car rides 2 inches closer to the ground courtesy of a set of H&R Street Performance coilovers. A black heritage stripe along the bottom of the doors finishes off this vintage design that's steeped in Volkswagen tradition and history.
Jetta GLI
This GLI is a show car that's comfortable on the street while still providing plenty of speed on the racetrack. The car will be shown in its track configuration, wearing a set of BFGoodrich g-Force Rival tires on 18-inch Neuspeed RSe52 wheels, mounted to H&R Street Performance coilovers for improved grip and handling. Also on display will be all the tools necessary to convert from road to track use. A jack, stands, wrenches, sockets, and wheels all fit neatly into the GLI with the rear seats folded, making this the ultimate in track car convenience.
Passat
This Passat is a nod to the large contingent of Volkswagen enthusiasts whose cars ride on air. It features a custom AccuAir E-Level TouchPad air management package installed by Boden Autohaus in Costa Mesa, CA. The trunk is outfitted with custom wood flooring and houses the intricate brightwork of the air suspension system. The suspension's lowest setting accentuates the lines of the new body styling, working in concert with the highlights of the Satin Ocean Shimmer wrap to provide the sleek look so many Volkswagen owners love. For now, the car rides on 20-inch forged LC-106T Vossen wheels with full polish and gloss clear. Currently, the wheels are fitted with Michelin Pilot Sport tires, but these will be changed throughout the season to highlight the full range of the wheel maker's offerings.
Golf GTI
The GTI show car embodies the dual qualities of speed and style, mating a unique color scheme to this iconic hot hatch. This show car is lowered with H&R Street Performance coilovers and rides on a set of 20-inch forged LC-103 gloss gold wheels from Vossen that carry Michelin Pilot Super Sport tires. The color of the wheels is carried through to the heritage stripe on the GTI's doors which is mirrored again on the carrier box, proving that practicality, looks, and performance can exist simultaneously in the same vehicle.
Golf R
Inspired by the Scirocco GT Black Edition that's available in the U.K., this Golf R manual show car features a few subtle modifications that make it stand out from the crowd. A matte black roof wrap matches a set of Michelin Pilot Sport Cup 2 tires, which are fitted to VW Zubehör 19-inch black aluminum-alloy Lugano wheels. H&R Sport Springs—engineered specifically to accommodate the Golf R's DCC® Dynamic Chassis Control—give the car a lower look without sacrificing handling. The overall package adds a touch of unique flair to the Golf R while preserving its modest appearance and under-the-surface performance.
The Volkswagen Enthusiast Fleet will be making stops at events around the country. To catch a glimpse of these cars in person, be sure to visit one of the following enthusiast shows:
Waterwerks at the Park: Tacoma, WA—6/26
Waterfest: Englishtown, NJ—7/16-17
Wolfsgart: Burlington, VT—8/5-7
Fastivus: Fontana, CA—8/13-14
H2O International: Ocean City, MD—10/1-2
NOLA Speed and Style: Westwego, LA—10/8-9
About Volkswagen of America, Inc.
Founded in 1955, Volkswagen of America, Inc., an operating unit of Volkswagen Group of America, Inc. (VWoA) is headquartered in Herndon, Virginia. It is a subsidiary of Volkswagen AG, headquartered in Wolfsburg, Germany. VWoA's operations in the United States include research and development, parts and vehicle processing, parts distribution centers, sales, marketing and service offices, financial service centers, and its state -of-the- art manufacturing facility in Chattanooga, Tennessee. The Volkswagen Group is one of the world's largest producers of passenger cars and Europe's largest automaker. VWoA sells the Beetle, Beetle Convertible, CC, Eos, e-Golf, Golf, Golf GTI, Golf R, Golf SportWagen, Jetta, Passat, Tiguan and Touareg vehicles through approximately 652 independent U.S. dealers.