Visa Opens San Francisco Technology Center to Advance Innovation in Payments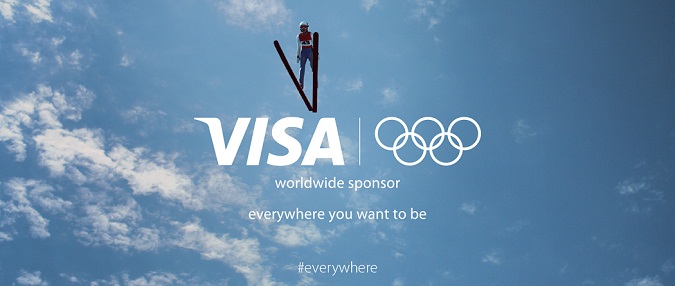 New "One Market" location designed to foster collaboration among Visa technologists, clients and a growing global marketplace of payment innovators and developers
SAN FRANCISCO–(BUSINESS WIRE)–Jul. 16, 2014– Visa Inc. (NYSE:V), the global leader in payments, today announced the opening of One Market, a 112,000 square foot innovation center and office space at One Market Street in San Francisco. The move provides Visa technologists, clients, partners and the Bay Area tech community an innovative space to jointly develop the next generation of commerce applications.
Visa One Market, lobby view (Photo: Business Wire)
According to ABI Research, more than 30 billion devices will be wirelessly connected to the "Internet of Things" by 20201. Additionally, a recent survey conducted by the Pew Research Center found that 83 percent of technology experts and engaged Internet users agreed that the Internet of Things, and embedded, wearable computing, will have widespread and beneficial effects on people, businesses and communities by 20252. Visa's new One Marketoffice and innovation center will be home to more than 500 Visa employees, including technology experts and developers whose mission will be to ensure that every Internet connected device, appliance or wearable computer, can become a secure place for commerce.
"Realizing our vision to remain the best way to pay and be paid – for everyone, everywhere – requires a commitment to collaborate and foster innovation," said Charlie Scharf, chief executive officer, Visa Inc. "One Market will enable our product developers to directly engage with clients and partners in the tech community, and extend the security and simplicity of Visa payments to billions of connected devices and new consumer applications."
The centerpiece of One Market will be an innovation center designed to provide an immersive experience for clients and partners, where they can interact with Visa subject-matter experts, and explore new products and technologies that advance the payment experience in areas such as mobile, security and cloud-based technologies. The space has been designed to encourage dynamic interaction and real-time experimentation, and is expected to attract Bay Area technology talent who want to develop the next generation of commerce solutions by working with the industry leader in payments.
"I am excited that Visa has chosen San Francisco as home for its new technology and innovation center," said Mayor Edwin M. Lee. "With our world-class, diverse workforce, San Francisco is an ideal hub of innovation for Visa and their many clients and partners."
Today, in celebration of the grand opening of One Market, Visa is hosting clients, merchants, technology partners and press from around the globe to showcase innovations relevant to the future of commerce. As part of the event, Visa will launch a new online payment service called Visa Checkout, which makes purchases from a desktop, mobile device or from within a mobile app intuitive and simple. Please join us via web cast to view the eventlive.
About Visa
Visa is a global payments technology company that connects consumers, businesses, financial institutions, and governments in more than 200 countries and territories to fast, secure and reliable electronic payments. We operate one of the world's most advanced processing networks — VisaNet — that is capable of handling more than 47,000 transaction messages a second, with fraud protection for consumers and assured payment for merchants. Visa is not a bank and does not issue cards, extend credit or set rates and fees for consumers. Visa's innovations, however, enable its financial institution customers to offer consumers more choices: pay now with debit, ahead of time with prepaid or later with credit products.
1 Internet of Everything Research Project, May 2013
2 Pew Research Internet Project, May 2014
Elvira Swanson, 650-504-4537
elswanso@visa.com
globalmedia@visa.com