VELVEETA™ Enlists 11-Year-Old "Mini Chef" To Debut Mini Blocks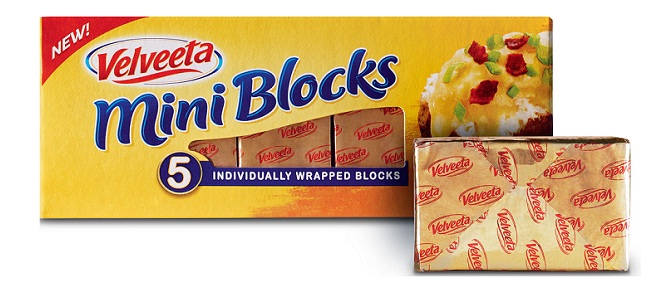 VELVEETA® Mini Blocks are the mini-est, meltiest innovation from iconic American brand VELVEETA since its inception in 1928. They deliver VELVEETA's classic Liquid Gold taste and melt…now in a convenient smaller size. To introduce Mini Blocks, VELVEETA is enlisting a "Mini Chef,"Addison Osta Smith, to take the reins at a bustling Manhattan kitchen under a new name, "Melt," and bring cheesy VELVEETA goodness to the masses.
"People know me from Master Chef Junior for my fancy desserts and miso-glazed cod, but when I'm at home with my family, we like to keep it fun and easy," says Addison Osta Smith, award-winning chef and playtime and sports enthusiast. "VELVEETA Mini Blocks are the easiest way to add amazing flavor to our everyday dinners."
VELVEETA is transforming Blank Slate Coffee + Kitchen, located at 121 Madison Avenue, into "Melt" to serve up complimentary versions of award-winning "Mini Chef" Addison's three signature VELVEETA Mini Block dishes – Cheesy Bacon Risotto, Cheesy Pulled Pork Taquitos and Cheesy Potato Waffles. VELVEETA fans nationwide can recreate Addison's cheesiest, meltiest recipes at home by visiting VELVEETA.com.
One Ingredient. Endless Gold. VELVEETA Mini Blocks are perfect for satisfyingly cheesy dishes such as loaded baked potatoes, mini taco bowls, and spicy bacon and spinach sliders. Each carton contains five 4oz. individually wrapped Mini Blocks, so families can easily incorporate Liquid Gold into everyday meals and side dishes, while unused blocks stay wrapped and sealed until ready to use.
"It is common knowledge that VELVEETA makes an amazing dip and mac & cheese, but what a lot of people don't realize is that it's also the cheesy answer to hundreds of dinner solutions," says Jamee Pearlstein, Brand Manager for VELVEETA. "Addison is the perfect mini chef to help us launch these pre-portioned mini blocks, because they help chefs of all ages make a great-tasting meal."
VELVEETA Mini Blocks retail for $5.79 and are available at major grocery stores nationwide. For more information on VELVEETA Mini Blocks and delicious Liquid Gold recipes for the whole family.
About The Kraft Heinz Company
The Kraft Heinz Company (NASDAQ: KHC) is the third-largest food and beverage company in North America and the fifth-largest food and beverage company in the world, with eight $1 billion+ brands. A globally trusted producer of delicious foods, The Kraft Heinz Company provides high quality, great taste and nutrition for all eating occasions whether at home, in restaurants or on the go. The Company's iconic brands include Kraft, Heinz, ABC, Capri Sun,Classico, Jell-O, Kool-Aid, Lunchables, Maxwell House, Ore-Ida, Oscar Mayer, Philadelphia, Planters, Plasmon,Quero, Weight Watchers Smart Ones and Velveeta. The Kraft Heinz Company is dedicated to the sustainable health of our people, our planet and our Company. For more information, visit www.kraftheinzcompany.com.