UrbanDaddy Mobile App "The Next Move" Now Available On Windows OS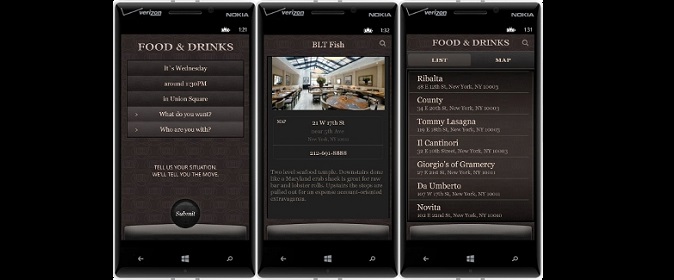 UrbanDaddy's Mobile Application Launches on Windows OS, Together With Nokia
Digital lifestyle media company UrbanDaddy announced today the release of its award-winning mobile application, The Next Move, for Windows phone devices. Already available for iOS and Android devices, the app now enables Windows users to access a nightlife concierge providing insight into the latest hot spots and entertainment using its award-winning geolocation technology.
Since its initial launch in 2009, The Next Move has received over 6 million active downloads and counting.
The Next Move has become widely recognized for insider recommendations on food, nightlife, culture and entertainment. The application guides users to the latest hot spots with a unique, proprietary real-time "concierge engine" providing nightlife enthusiasts with a tool to find the most relevant experiences in their city, tailored to their situation in real time. The Next Move allows consumers to find exactly what they're looking for through an engaging set of questions that establishes the "what," "where," "when," "why" and "who" that goes into almost every decision that involves going out.
"There has been an uptick in our user base of those using Windows Phone devices and we don't want to leave these users hanging. We're excited to offer The Next Move to lifestyle enthusiasts on Windows devices and to continue developing on this platform," said Lance Broumand, CEO of UrbanDaddy.
The Next Move Windows edition is sponsored by Nokia, which has tied the launch of the application to the debut of the Nokia Lumia Icon smartphone—the latest Nokia flagship device with access to over 200,000 Windows apps. The Nokia Lumia Icon is recognized for its 20-megapixel camera and four integrated microphones designed to capture high-definition photos and superior-sound-quality video.
UD MEDIA
UD Media is a digital media company, creating diverse lifestyle content nationally and targeted to hyper-local geo-located contexts for a number of different audiences. Founded in 2005, UD Media publishes several titles including UrbanDaddy (www.urbandaddy.com), Kempt (www.getkempt.com), Driven (www.driven.com), Perks (perks.urbandddy.com) and Manero (www.manero.com).  UD Media and its various publications have been have been leading pioneers of the native ad industry, creating award-winning native programs for Fortune 100 brands across multiple channels including email, mobile, video, commerce, online and offline.
NOKIA
Nokia is a global leader in mobile communications whose products have become an integral part of the lives of people around the world. Every day, more than 1.3 billion people use their Nokia to capture and share experiences, access information, find their way or simply to speak to one another. Nokia's technological and design innovations have made its brand one of the most recognized in the world. For more information, visithttp://www.nokia.com/about-nokia.
SOURCE UrbanDaddy
CONTACT: UD MEDIA, Stacey Federico, Public Relations, 212-929-7905 ext. 184, sfederico@urbandaddy.com