Unusual Places to Stay in Scotland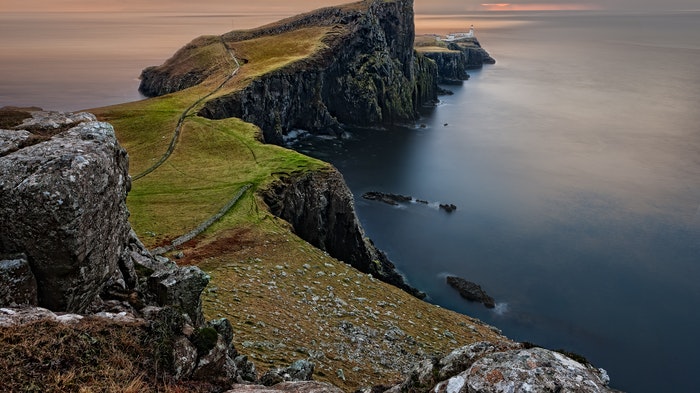 Are you excited about your trip to Scotland but quite tired of visiting the same hotels? Need a change or something crazy? Lucky for you, we have prepared a list of unusual places to stay in Scotland for those who like to think outside of the box. Check it out!
Great Glen Yurts
Located near Fort William in the Highlands, Great Glen Yurts is the perfect getaway for any nature lover who enjoys humble surroundings and does not shy away from an insect! These Mongolian yurts are set in mind-blowing flowery meadows so that everything is like in a fairytale. The interior is the farthest thing from minimalistic; exciting with its fluffy beddings, colorful rugs, and candles. What an aesthetic! If you have never slept in a field of flowers, with the roof of traditional Mongolian yurt over your head, now is the time!
Sumburgh Head Lighthouse
This one is for any sea lover out there! A nice, welcoming cottage is built around the Sumburgh Lighthouse, and while it may not be weird, you could surely say it is somewhat unusual. Positioned on the imposing sea cliffs at the southernmost part of the Mainland, the lighthouse is the perfect finale for a day of bird-watching or simply trekking along the water. It has been modernized to serve as a high-end hotel if needed, so you will get all the conveniences and services.
Check out all the ways you can plan one of the best Scotland tours.
Treehouses at Harvest Moon
Set conveniently close to the city of Dunbar, these treehouses provide fun, exciting, and unexpected stay. So let your inner child run free as you make the best you can out of the swing set that comes with each house! The quarters consist of two separate bedrooms, connecting only by a covered walkway, not so different as the ones from the playground that links the slide and, let's say, another set of swings. We think you would really enjoy yourself here, and it is definitely an upgrade from a common hotel room!
Iona Campsite
Back to the very basics with this one. Yes, yes, we know what you are thinking, that sleeping in a tent or in a sleeping bag is not a very new, progressive way of spending the night. However, this campsite is set in a particularly friendly neighborhood, so you will get to meet the locals, admire the ridiculously green grass and the crisp, calm water, begging you to take a dip. Stay for a conversation near the campfire, a shared meal with your neighbor, and, most importantly, try to feel the unity the Scotts feel with nature, with cliffs, and with water. Trust us, Iona Campsite will be quite the experience!
The Nest Glamping Pod
Yet another perfect cabin, surrounded by nature and serenity. This one, however, is settled in the Scottish Highlands. Spend time in a remote, little housing with no interruptions of the real world. The accommodations are pretty small, and there is nothing pompous about the design of this pod, but, most likely, that will only make you feel cozy. Additionally, there is absolutely no pollution in the area, so nothing really beats an afternoon outside or a night of stargazing. Nothing will bother you; you can relax!
The Four Sisters Boatel
Cleverly named, the Four Sisters is a hotel/boat and one of Scotland's quirkiest places to stay. Although it does not look like much from the outside, the inside interior might actually surprise you. There is nothing dramatically modern or outrageous about it, but the pristine manner in which the accommodations are presented makes it clear that the hotel matches its 4* name. The boathouse is self-catering, of course, so you will have to tend to your own needs, but there is a cozy, lovely kitchen that is fully equipped and even has a breakfast bar! However, if cooking is not your cup of tea, the convenient location of being next to the heart of Edinburgh gives you access to multiple nearby restaurants and cafes.
So, now you see there are many fun and exciting ways to spend your holiday in Scotland without having to stay at hotels or Airbnb apartments. So, let your soul run free with these choices – whether it is a boathouse, a lighthouse, or a fairytale-looking cabin in the woods that will make you feel all princessy. Whichever it is, just take a chance and live a little!