United Puts the Days of the Weary Business Traveler to Bed for Good With Debut of Reimagined United Polaris International Business Class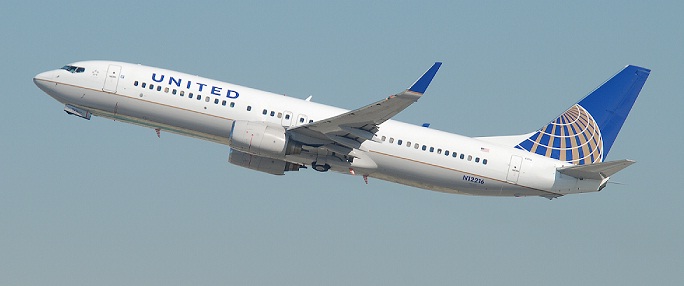 First phase of airline's premier lounge-to-landing experience begins roll-out on December 1
Includes new inflight food and beverage experience, new amenities, and the first United Polaris lounge at Chicago O'Hare International Airport
This week United Airlines begins the roll-out of its all-new United Polaris business class, the airline's most significant product transformation in more than a decade, featuring a reimagined, sleep-enhancing experience for intercontinental travelers. United Polaris begins service at 12:01 a.m.local time on December 1 in all of the airline's markets.
Announced in June, the first phase of United Polaris features an elevated inflight food and beverage experience, tranquil custom bedding from Saks Fifth Avenue, exclusive amenity kits with products from Soho House & Co's Cowshed Spa, and the opening of the first of nine United Polaris lounges around the world, at Chicago O'Hare International Airport.
"In our quest to be the best airline in the world, we are rethinking and reimagining all we do. United Polaris offers an elevated customer experience and redefines the meaning of premier business travel," said Oscar Munoz, CEO of United. "The high quality of amenities United Polaris provides is matched only by the service and care our employees demonstrate from lounge to landing."
Sleep-Enticing Amenities
In rethinking the international business class experience, United conducted more than 12,000 hours of research, and sleep emerged as the single most important priority for international business class travelers. United Polaris' path-breaking design and sleep-enhancing focus was inspired and informed by insights from hundreds of customers and employees, inflight product simulations and more than 100 product evaluations.
"With United Polaris, we set out to put the legacy of the weary business traveler to bed for good," said Julia Haywood, Executive Vice President and Chief Commercial Officer of United. "What we heard from our customers, and what resonated as a very consistent theme, was that they needed a tailored experience that would maximize comfort and sleep. Arriving at your destination well rested is something we all strive for when we travel, and for our customers traveling halfway around the world, optimal performance when they arrive at their destination is the only option."
In a first-of-its-kind relationship, United has worked with leading luxury specialty store Saks Fifth Avenue for custom-designed bedding. All designed to provide the best sleep in the sky, the new bedding collection will feature plush duvets, lightweight day-blankets and a large and small pillow for each United Polaris customer. In addition, mattress cushions will be available upon request.
Slippers will be available on all flights, and customized United Polaris pajamas will be available by request on flights longer than 12 hours. Flyers will also be able to request a gel-cooled pillow. New amenity kits will feature ergonomically designed eye shades, calming pillow mist and additional products from Soho House & Co's Cowshed Spa.
With the introduction of United Polaris, the airline intends to donate tens of thousands of pillows, blankets and other inflight service items to Fisher House Foundation, which United and its employees have long supported.
Additionally, United will offer a new and unique channel for customers on its inflight entertainment system focused on sleep and relaxation. Customers will be able to relax with soothing nature scenes, guided meditation sessions from Headspace, and experience Slow TV as they settle-in onboard.
Elevated Dining Experience
Upon boarding their flight, each United Polaris customer will be welcomed with a pre-departure beverage of his or her choice and gourmet chocolate. On morning flights, passengers can choose a sweet and bubbly Mimosa or create their own savory and spicy Tito's Handmade Vodka® Bloody Mary. On afternoon and evening flights, passengers can create their own wine tasting menu, with a customized wine flight with the highest-quality options curated exclusively by United's Master Sommelier. While in the air, customers will enjoy regionally influenced in-flight menus updated seasonally, developed in partnership with The Trotter Project and its critically recognized chefs, including Chef Bill Kim of Chicago restaurants Urbanbelly, bellyQ and Belly Shack and Chef Jesse Dunford Wood, chef-owner at Parlour in London.
Inflight service will also include made-to-order signature ice cream sundaes and a dessert cart with a variety of petit dessert options. On daytime flights longer than eight hours and on all flights longer than 12 hours, hot mid-flight snacks such as lobster macaroni and cheese will be available.
Renewed Focus on Service
United is transforming its international business class experience to provide customers with truly best-in-class service. The airline has invested heavily in extensive training for all employees who will help deliver United Polaris. This included a training module delivered by Saks Fifth Avenue, known for their extraordinary program of customer service.
Every decision related to the development and implementation of United Polaris was rooted with employee and customer feedback in mind. United Polaris business class will include enhanced flight attendant service procedures for greater efficiency, including a shorter meal service so customers can have undisturbed sleep times.
One-Of-A-Kind Lounges
United will also open an exclusive portfolio of United Polaris business class lounges in nine locations around the world – the only lounge of its kind offered by a U.S. airline to business class customers – that will feature custom-designed chairs, private daybeds, spa-like showers, bespoke art installations by artist Wolfgang Buttress, and chef-inspired hot meals served in a boutique restaurant setting so customers can refresh and dine before boarding their planes. Premium sparkling wines and spirits, refreshing snacks and bottled water will also be offered.
The first United Polaris lounge opens at Chicago O'Hare International Airport near Gate C18 and lounges in eight other locations – Los Angeles, San Francisco, Houston, New York/Newark, Washington Dulles, Tokyo Narita, Hong Kong and London Heathrow – will follow.
Innovative Design
The all-new United Polaris business class seat will first take flight in 2017 on Boeing 777-300ER aircraft and subsequently on Boeing 787-10 and Airbus A350-1000 aircraft, as well as on Boeing 767-300 and 777-200 retrofits.
In setting out to create a transformative business class experience, United chose to outfit its widebody fleet with a custom-designed, exclusive-to-United seat, rather than select an option already in the marketplace. Designed in partnership with Acumen Design Associates and PriestmanGoode and manufactured by Zodiac Seats United Kingdom, each United Polaris seat will offer direct access to the aisle, 180-degree flat-bed recline and up to 6 foot 6 inches of bed space.
Crafted as individual, forward-facing, suite-like pods, each customer's personal suite will feature a "Do Not Disturb" sign, mood lighting, one-touch lumbar support, several storage areas, multiple surfaces for simultaneous working and dining, a 16-inch high-definition entertainment screen and, for seats in the center of the cabin, electronic privacy dividers. Complementing the new seats, United and PriestmanGoode have also conceived an all-new look for the United Polaris cabins.
About United
United Airlines and United Express operate more than 4,500 flights a day to 339 airports across five continents. In 2015, United and United Express operated more than 1.5 million flights carrying more than 140 million customers. United is proud to have the world's most comprehensive route network, including U.S. mainland hubs in Chicago, Denver, Houston, Los Angeles, New York/Newark, San Francisco and Washington, D.C. United operates more than 720 mainline aircraft, and this year, the airline anticipates taking delivery of 21 new Boeing aircraft, including 737NGs, 787s and 777s, as well as six used Airbus A319 aircraft. The airline is a founding member of Star Alliance, which provides service to 192 countries via 28 member airlines.