Transforming Nike Air to Help Frontline Healthcare Workers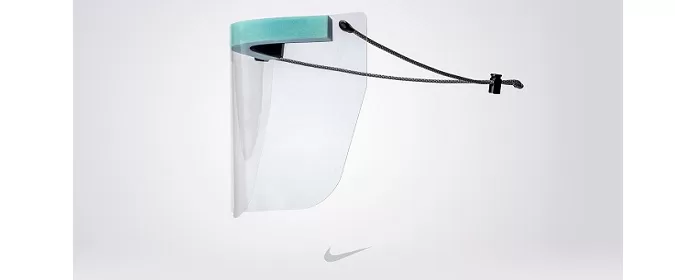 Working closely with health professionals at Oregon Health & Science University (OHSU), Nike's innovation, manufacturing and product teams have come together to provide for an urgent need: Personal Protective Equipment (PPE) in the form of full-face shields and powered, air-purifying respirator (PAPR) lenses to protect against the coronavirus (COVID-19).
When OHSU shared its current face shield, finding a way to reproduce the equipment with Nike-owned materials and manufacturing facilities became an immediate goal. The aim was not just a high-functioning shield, but also one that allowed a simple model of production. OHSU's healthcare workers instantly became field testers of the prototypes and validators of the final equipment.
Nike's version of the full-face shield transforms elements of the brand's footwear and apparel into much-needed PPE. Collar padding once destined for shoes is repurposed; cords originally earmarked for apparel reconsidered; and, most important, the TPU component of a Nike signature—the Nike Air soles—reimagined.
"Without proper facial protection, healthcare workers are at a higher risk of contracting the virus, which could place substantial strain on the healthcare workforce in the months ahead," says Miko Enomoto, M.D., associate professor of anesthesiology and perioperative medicine, OHSU School of Medicine. "The full-face shields help protect healthcare workers' faces and also help to prolong the length we can safely use a surgical or N95 mask. Nike's generous response to the COVID-19 crisis helps to instill an added layer of confidence and support for healthcare workers, that we can safely carry out the jobs we were born to do."
The three parts of the full-face shield come together in a streamlined nine-step process. This has been formalized through a collaborative effort between Nike's Innovation teams and manufacturing groups at Nike's Air Manufacturing Innovation (Air MI) facilities in Oregon and Missouri.
Simultaneously, TPU will be employed to create new lenses for PAPR helmets. This equipment is used in situations with the most airborne pathogen exposure and is essential to the most critical procedures and care of infected patients. Nike's PAPR lenses take the same TPU as the face masks, and have welded segments to fit the specifications of PAPR helmets.
While both shield and lens are a new output for Air MI, specialization in custom extrusion of polyurethane film and sheet makes the facilities uniquely suited to serving this urgent need. Nike's St. Charles, Missouri, facility has decades of experience in designing, developing and manufacturing an extensive range of TPU-based products. To serve the current response, Air MI is rapidly adapting its capacities, while also adopting new production line procedures in keeping with rapidly-changing government guidelines.
We were proud to deliver the first shipment of donated full-face shields and PAPR lenses to OHSU on Friday, April 3, 2020.
"OHSU's mission is to support the health and well-being of all Oregonians, and we can't do that without adequate supplies of personal protective equipment," says Danny Jacobs, M.D., M.P.H., FACS, president, Oregon Health & Science University. "I've been so inspired by how our community has united to meet this health crisis. We are forever grateful to the commitment of our colleagues at Nike, as their dedication to our united effort will help save lives."
The PAPR lenses and full-face shields will be provided to health systems in Nike's World Headquarters region, including Providence, Legacy Health Systems and Kaiser Permanente, and others across the state of Oregon.
Nike will continue to seek ways to further support the courageous healthcare workers in their tireless efforts to support, heal and comfort our communities through these extraordinary times.
Source: Nike