TOP BRANDS recognised by Global Brands Magazine at the Global Brand Awards night at Waldorf Astoria, Palm Jumeirah – Dubai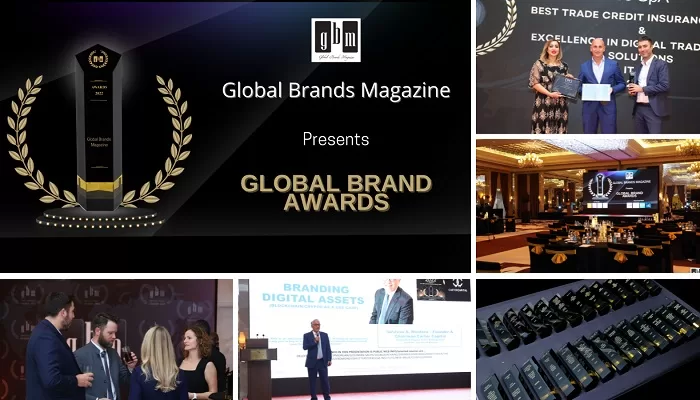 Global Brands Magazine's prestigious awards night took place at the Waldorf Astoria, Palm Jumeirah, on the 10th of December 2022 in its bid to identify the world's most prominent brands under various categories. The iconic evening was marked by the presence of some of the biggest brands in the world in the ballroom.
As part of the judging process, more than 18,000 companies from 130 countries were evaluated. At the end of the year, more than 3,000 companies across different regions were announced. There were several top brands present at the event from around the globe. The awards ceremony was marked by guest speeches by Mr Emmet Kelly, Mr Gustavo A. Montero, Dr Emmanuel Lamptey, and Mr Ritu Kant Ojha, followed by the awards presentation by H.E. Dr Sania A. Ansariand  Mr Gustavo A. Montero.
This year's Global Brands Magazine awards night provided executives from top brands across the globe with an opportunity to come together and receive coveted awards. The event was embraced by diverse brands such as Etihad, Dubai duty-free, Tecno Mobile, FBN Bank, AG&P, Awe Research, Labaid and other prominent brands.
Commenting on the awards, Jay Reddy, Director at Global Brands Magazine, stated, "The awards this year were quite elaborate with more than 18000 companies being evaluated across various categories and criteria. The combined brand value of these companies was more than 1 trillion pounds. At the end of the process, we are honoured to have these prestigious companies under one roof. The companies place the greatest value on building long-term brand value through long-term customer satisfaction."
About Global Brands Magazine
Global Brands Magazine (GBM) has been at the forefront, bringing news, views, and opinions on brands shaping the future of their industry. The UK-based magazine provides the latest news and information on best-in-class brands across the globe. Each year, GBM develops a series of awards for companies that stand out and have a unique vision, exceptional service, innovative solutions, and consumer-centric products among their industry leaders. Global Brands Magazine Awards provide high levels of recognition and reviews to its Partners, which significantly impact their BRANDING in SOCIAL & DIGITAL spaces.