Top 10 Benefits of Online Academic Conferences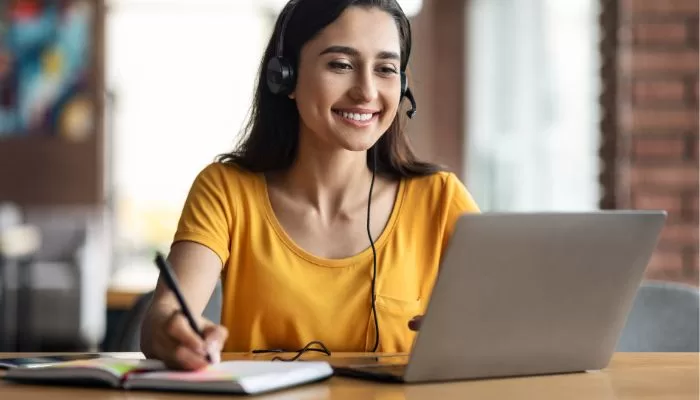 Technological developments continue to transform how people interact and work. In the past, people used to hold face-to-face academic conferences. Although online academic conferences are in the emergence stage, they offer unique benefits, like covering low costs, providing unlimited attendees, eliminating delegates, enhancing inclusivity, reducing environmental pollution, promoting flexibility and convenience, creating easy networking, improving analytics, strengthening professional ties, and allowing constructive feedback. Our research paper service will tell you all about it.   
Covering Low Costs
Online academic conferences are cheaper since they eliminate hiring venues, catering services, or accommodation. Attendees require a stable Internet connection and a suitable device. Besides, the host eliminates installing audio-visual equipment to facilitate the cost. In most cases, hosts can conduct the seminar from the comfort of their homes or offices. 
Providing Unlimited Attendees 
Online academic conferences allow people to host large participants. Some virtual communication platforms allow people to host up to 1000 attendees. Using such online services to maintain an academic seminar allows hosts to avoid possible attendee restrictions when renting small venues. In practice, people register and attend the seminar from their homes or offices. Besides, this feature is crucial during the ongoing pandemic where people require to maintain social distances to avoid infections. 
Eliminating Delegates
Face-to-face academic conferences require people to travel and complete many registrations. Online academic conferences eliminate these challenges by allowing attendees to participate from their offices. In this case, attendees do not have to travel to a specific venue. Instead, they generally pay lower tickets compared with the traditional conference. Besides, several members from an institution may attend the conference without interfering with their operations or duties.    
Enhancing Inclusivity
Virtual academic conferences allow geographically dispersed delegates and opportunity to attend. For instance, people from different countries cannot attend face-to-face conferences due to cost and travel constraints. However, digital technologies enable hosts to use translations and captions to increase user-friendliness and inclusivity. In this case, users from different cultural backgrounds can attend virtual academic seminars without experiencing language barriers.    
Reducing Environmental Pollution
Face-to-face academic seminars contribute to environmental waste. For instance, travel for staff, delegates, speakers, food waste, single-use exhibition buildings, freights, and name badges leave significant environmental footprints. However, online conferences eliminate such factors since people participate from their homes or offices. They can reduce their carbon footprint by hosting academic seminars online.  
Promoting Flexibility and Convenience 
Online academic seminars are shorter than conventional face-to-face conferences. Attendees experience flexible access to pre-recorded content at their workplaces. Such approaches allow people to balance commitments, like work, study, and childcare, while enhancing their knowledge. 
Creating Easy Networking
Online seminars allow delegates to easily connect with keynote speakers, exhibitors, and other attendees. For instance, a delegate requires to make a few mouse clicks to switch from one speaker to another. Such abilities reduce the need for delegates to run through crowded exhibition halls in their attempts to meet specific individuals of interest. In conventional face-to-face academic seminars, one may miss people that they intended to interact with due to congestions and commitments.  
Improving Analytics 
Virtual conference platforms have inbuilt sophisticated data collection and reporting tools. For instance, people who use Internet-based communication tools can easily track leads for sponsors and identify those who engaged with the content provided. Besides, they can determine how long each user interacted with specific content. Such information is useful in enabling online conference hosts to make evidence-based decisions regarding the success of their meetings. 
Strengthening Professional Ties 
Online academic conferences bring together scholars from different countries. Academics from different cultural backgrounds socialize to grow their professional networks and strengthen their bonds. The short breaks offered during online conferences provide unique opportunities for scholars to meet new mentors or associates. Besides, attendees connect with people outside their social circles while establishing influential connections. 
Allowing Constructive Feedback
Online academic conferences allow all users to provide real-time feedback. For instance, critiques and constructive feedback are invaluable in allowing people to appreciate and overcome their weaknesses. Online seminars ensure that hosts gather criticism and suggestions from many attendees. In this case, hosts can utilize the feedback to improve the quality of future seminars. Besides, real-time feedback ensures that seminar hosts and speakers enhance their research on specific topics. 
Conclusion 
Online academic conferences are in the early stage of development but are invaluable tools for communicating important ideas. People can use online academic platforms to reduce costs, attract unlimited attendees, and eliminate the need for delegates. The effective use of Internet-based academic seminars improves inclusivity, reduces environmental pollution, and enhances flexibility and convenience for attendees. Besides, these virtual events create easy networking, improve analytics, strengthen professional ties, and allow hosts and speakers to receive constructive feedback.