Tokio Marine Celebrates Persons Living with Dementia Just the Way They Are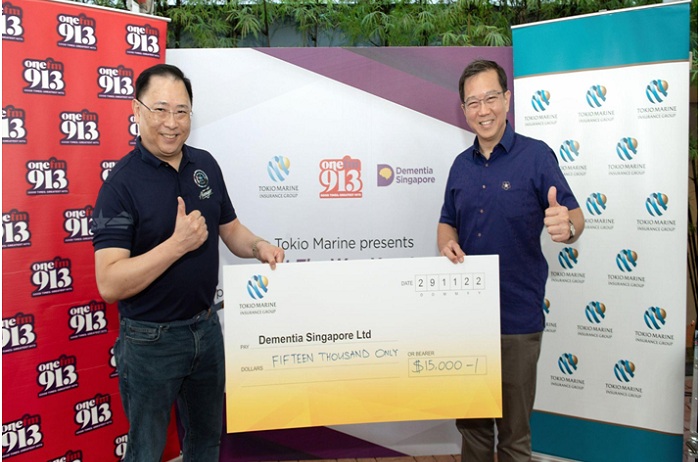 Contributing to a more inclusive society where the differently abled is well-supported is a core pillar of Tokio Marine Life Insurance Singapore (TMLS)' CSR efforts. Driven by its core tenets of Looking Beyond Profit and Delivering on Commitments, the Company held a "Just the Way You Are" Appreciation Dinner for persons living with dementia and their caregivers that ended November 2022 off on a great note.
Full of life. Ask anyone in the audience three words they would use to describe their impression of Alison Lim, a Dementia Singapore beneficiary who shared her journey living with dementia at Tokio Marine Life Insurance Singapore (TMLS)' latest Corporate Social Responsibility (CSR) initiative, and that is what they will say.
"Thank you TMLS and Dementia Singapore for bringing us together with your team, so more can come to know us the way we are." Lim said. "We are alive, and we want to participate actively in society."
She added her hope that more companies will follow in the steps of TMLS, because the Company's willingness to embrace and recognise persons living with dementia for who they are makes it more likely that more will reach out for help earlier and live their best lives.
As a Good Company, TMLS believes in promoting inclusivity — in championing a more diverse and better future. The Company hosted an appreciation dinner for persons living with dementia, their caregivers, and the staff of Dementia Singapore, at Makansutra Gluttons Bay on 29 November 2022. More than a hundred guests attended the event.
Themed "Just the Way You Are", the appreciation night demonstrated TMLS' support for the courage and resilience of persons living with dementia, and the tenacity and selflessness of their caregivers.
Held in partnership with Dementia Singapore and SPH Radio's ONE FM 91.3, the dinner comprised 12 food and beverage delights carefully handpicked by Makansutra food guide founder K F Seetoh — who also graced the event — delightful music performance, and insightful sharing by persons living with dementia and their caregivers.
The sharing by Lim and her daughter and care partner, Jamie Lynn Buitelaar, whose strong bond was clear for all in the audience to see, served to deepen the audience's understanding of dementia and the desire of a person living with dementia to live life to the fullest.
In support of Dementia Singapore's efforts and initiatives to ensure all persons living with dementia are well-supported in the community, TMLS presented a donation of $15,000 to the social service agency at the event.
The amount was raised through the joint effort of TMLS' management and staff across a two-day in-house charity bazaar on 24 and 25 November 2022, during which staff generously donated treasured items for sale.
TMLS' unwavering commitment towards giving back to the community was recognised when the Company won ESG Initiative of the Year – Singapore at the prestigious Insurance Asia Awards this year. As the Company celebrates its 75th anniversary in 2023, it will press on with exemplifying its positive values and set the stage to continue its Good legacy in the decades to come.