'Tis the Season for Festive Treats at Baskin-Robbins: Peppermint Ice Cream and Brrr the Snowman Cake Return for the Holidays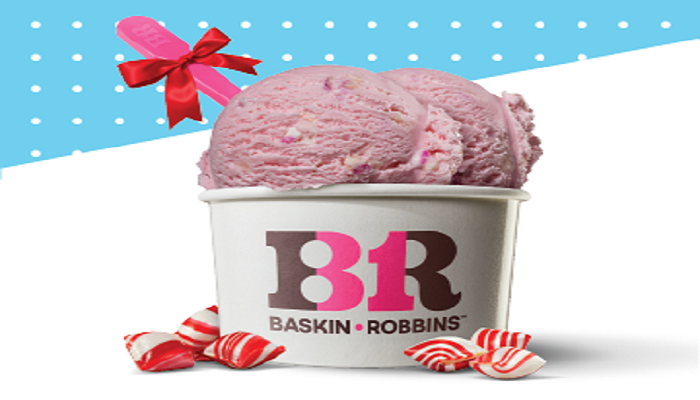 Got all the lights untangled? Finally went ice skating? Whatever the reason, celebrate your winter wins with holiday treats from Baskin-Robbins®. Starting Dec. 1, the brand is celebrating the season with the return of a holiday favorite, Peppermint, as the December Flavor of the Month, and bringing back the fan-favorite Brrr the Snowman Cake. In addition to these winter classics, Baskin-Robbins is introducing a brand-new Peppermint Cocoa Shake.
This December, Baskin-Robbins is scooping a long-time favorite Peppermint, as the Flavor of the Month. Packed with crunchy Peppermint Candy Pieces in sweet Peppermint flavored Ice Cream, this scoop is a cool, refreshing reminder that some flavors are timeless. In addition to the classic scoop, Baskin-Robbins is debuting a brand-new way to experience this festive flavor with the limited-time Peppermint Cocoa Shake. A fresh twist on classic holiday flavors, the new Peppermint Cocoa Shake is made with Peppermint Ice Cream, Whole Milk and Chocolate Syrup. Reminiscent of your favorite winter traditions, the new beverage features festive notes of peppermint and chocolate.
"One of the things that makes the holiday season so special is the classic, nostalgic flavors that return each year," said Jeanne Bolger, Director of Research and Development for Baskin-Robbins. "Peppermint has become a staple flavor that signifies the start of the season at Baskin-Robbins, and we're excited to bring the scoop back for those guests that have made this ice cream a part of their holiday traditions."
Baskin-Robbins is also bringing cheer to the holiday table with the return of Brrr the Snowman Cake. Brrr the Snowman brings all the fun of playing outside in the snow indoors, complete with an icing carrot nose, as well as tree branch arms, festive buttons and a jolly smile all made of fudge. Perfect for any holiday party, this fun and frosty offering is customizable with the guest's favorite cake and ice cream flavor in a 6" Round or 9" Round size. And to make the season sweeter, Baskin-Robbins is offering $5 off any cake purchase of $35 or more throughout the month of December, available in-store* with a mobile app coupon and online with the code SNOW.** Guests can enjoy the Brrr the Snowman Cake before it melts away for the season by pre-ordering online, through the Baskin-Robbins mobile app or by contacting a local Baskin-Robbins shop.
And as an extra holiday treat, Baskin-Robbins is ringing in the new year with 31 percent off all scoops nationwide on Dec. 31. Part of Celebrate 31*, this returning offer pays homage to Baskin-Robbins' original 31 flavors while encouraging ice cream lovers to celebrate with a scoop of their favorite flavor before 2022 ends.
Source: Baskin-Robbins